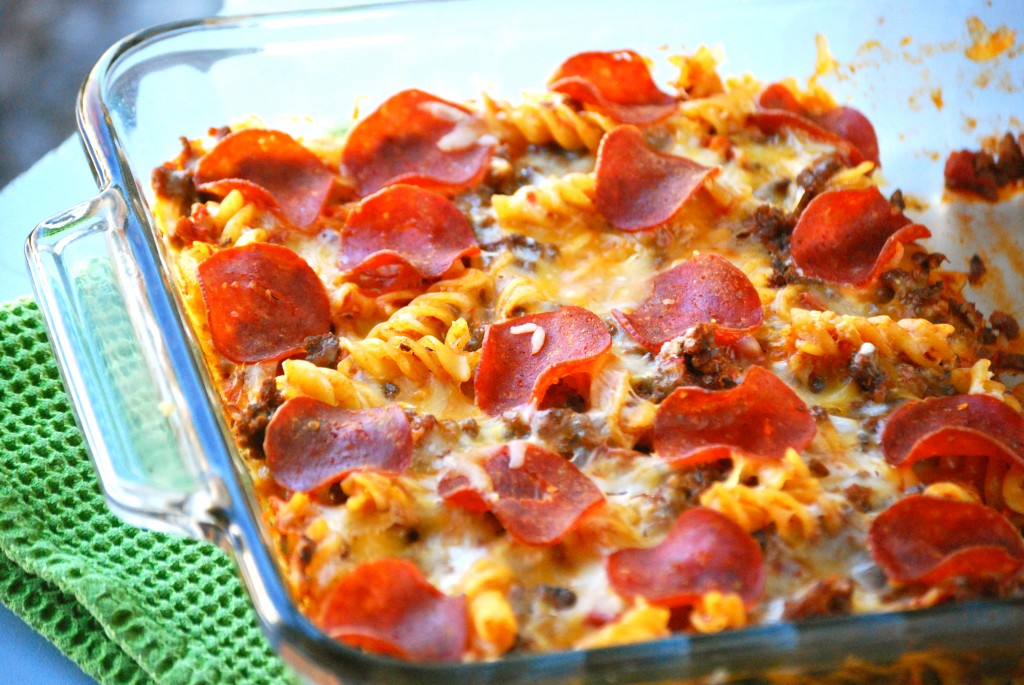 My dearest friend just had her second baby a week ago and I wanted to take them dinner. I had a dish similar to this once and it came to my mind, so I thought it would be a great dish to make for them.  I made this for us earlier in the week to test it out and make sure it turned out good before I made it for them.  It was so fabulous! Adam said it had definitely better go on our regular rotation.  So I made another one for them and they loved it too! You could add any of your favorite pizza toppings into this: green pepper, mushrooms, olives, ham, etc.  This is a great weeknight dish! I bet you could even brown the meat, cook the noodles, and assemble it and put it in the freezer and then thaw it out and bake when you are ready.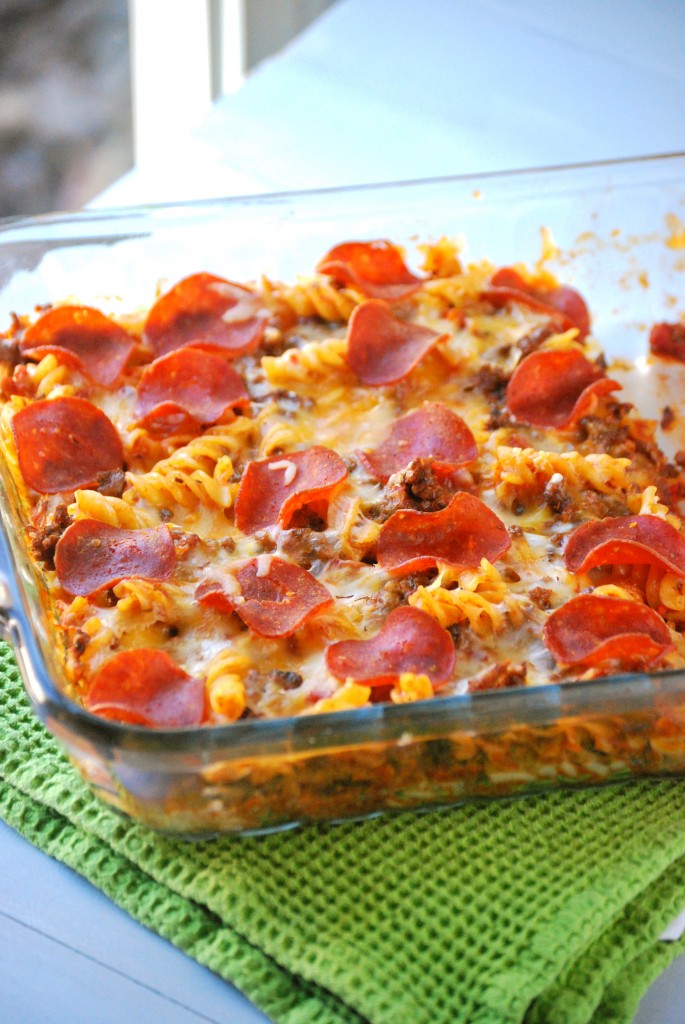 Pizza Pasta Bake
Source: Taste of Home
Makes one 9 x 13 dish
Ingredients:
1 tbsp. extra virgin olive oil
1 lb. ground beef
1/2 onion, chopped
1/2 box of rotini noodles (approx. 2 1/2 cups)
1 jar spaghetti sauce (approx. 4 cups)
1 tbsp. Italian seasoning
salt & pepper to taste
8 oz. shredded mozzarella or cheese of your choice*
Sliced Pepperoni
Other Toppings of Your Choice
Directions:
Preheat oven 35o degrees. Spray a 9 x 13 dish with cooking spray.
In a large skillet, add the olive oil and heat over medium heat.  Add in the onions and saute for a couple minutes, until slightly translucent.  Add ground beef and cook until browned and cooked through.
Meanwhile, bring a medium sized pot of water to boil.  Once boiling add a sprinkling of salt and then add in the rotini noodles.  Cook according to package directions, until al dente.  Drain noodles.
In a large bowl, place the beef mixture. Add in the spaghetti sauce, Italian seasoning, pinch salt & pepper.  Stir together. Add in cooked noodles and stir together.
Pour mixture into the prepared baking dish.  Top with shredded cheese.  Place pepperoni slices on top and any additional toppings of your choice.
Bake for approximately 25 to 30 minutes, until cheese has melted and mixture is slightly bubbly.
Notes: *I used a 4 cheese Mexican blend for ours because that's what I had on hand.