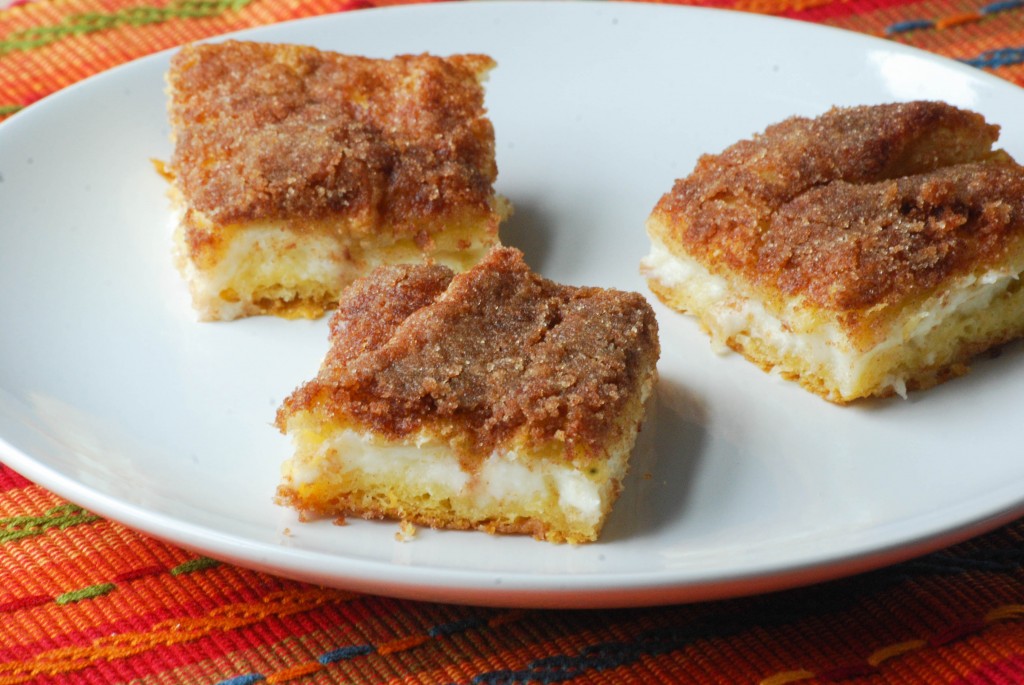 So in continuing with our Mexican fiesta we've been having here the past week, you can't have a fiesta without finishing it with dessert, right?!? These bars couldn't be easier to put together and they would be great for any party, Mexican themed or not.  They are sweet and flaky and the cinnamon sugar & butter form a nice crust on top that gives it a great crunch.  Make these for your next party or gathering and I bet everyone will be asking you for the recipe! I preferred these warm, but they do taste great cold too.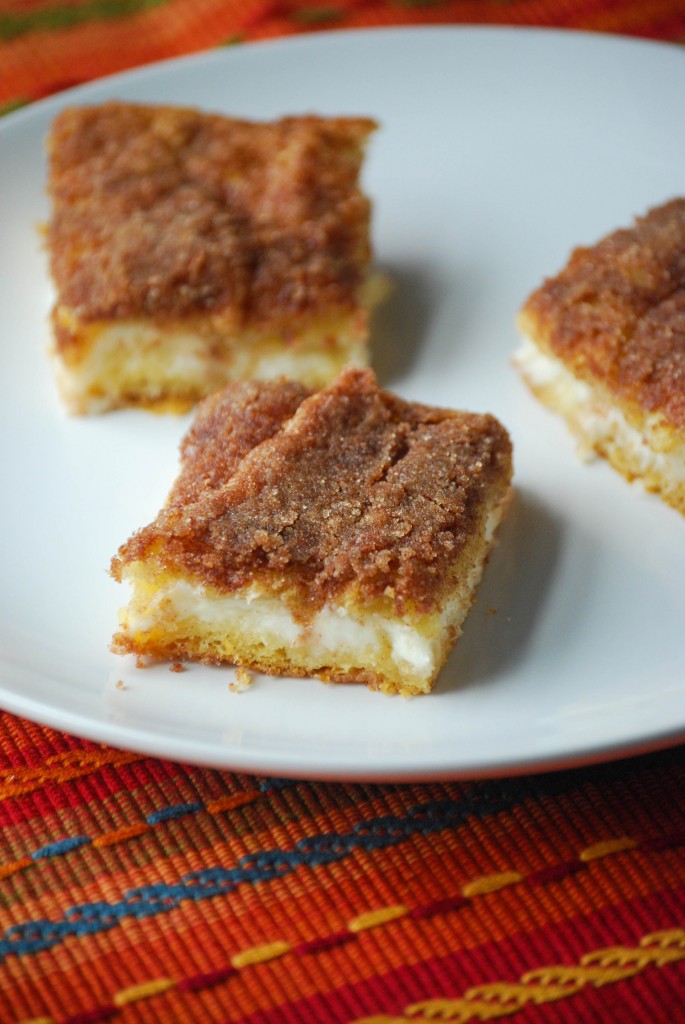 Easy Sopapilla Cheesecake Bars
Source: Pillsbury
Ingredients:
2 canisters (8 oz. each) refrigerated crescent rolls
2 pkgs. (8 oz. each) 1/3 less fat cream cheese, softened
1 cup sugar
1 tsp. vanilla
For Topping:
1/2 cup sugar
1 tbsp. ground cinnamon
1 stick (1/2 cup) unsalted butter, melted
Directions:
Preheat oven to 350 degrees.  Spray a glass 9 x 13 baking dish with cooking spray.
Unroll one of the canisters of crescent rolls and spread dough in a single layer on the bottom of the prepared baking dish, ensuring that all triangles are pressed and sealed together.
In the bowl of a stand mixer, beat together the cream cheese and 1 cup sugar until fully incorporated and light and fluffy in texture.  Add in vanilla and beat until incorporated.
Gently spread the cream cheese mixture over top of the layer of crescent dough. Spread in an even layer.  Unroll remaining canister of crescent roll dough and lay over top of cream cheese mixture in a single layer, and press all triangles together to seal.
In a small bowl, stir together the 1/2 cup sugar and 1 tbsp. cinnamon until combined, set aside.
Melt butter and pour butter evenly over top of the crescent roll layered dish.  Sprinkle the cinnamon sugar mixture over top of the the melted butter in an even layer.  (It will seem like a lot but trust me it's just right!)
Bake for approximately 25 to 30 minutes, until top is browned and crunchy and center of dish has set.
Let cool slightly, and if desired place in the refrigerator to chill to make it easier to cut into squares.  You can reheat the individual squares prior to serving.  I prefer these warm, but they taste good cold too.
Store leftovers in an airtight container in the refrigerator.