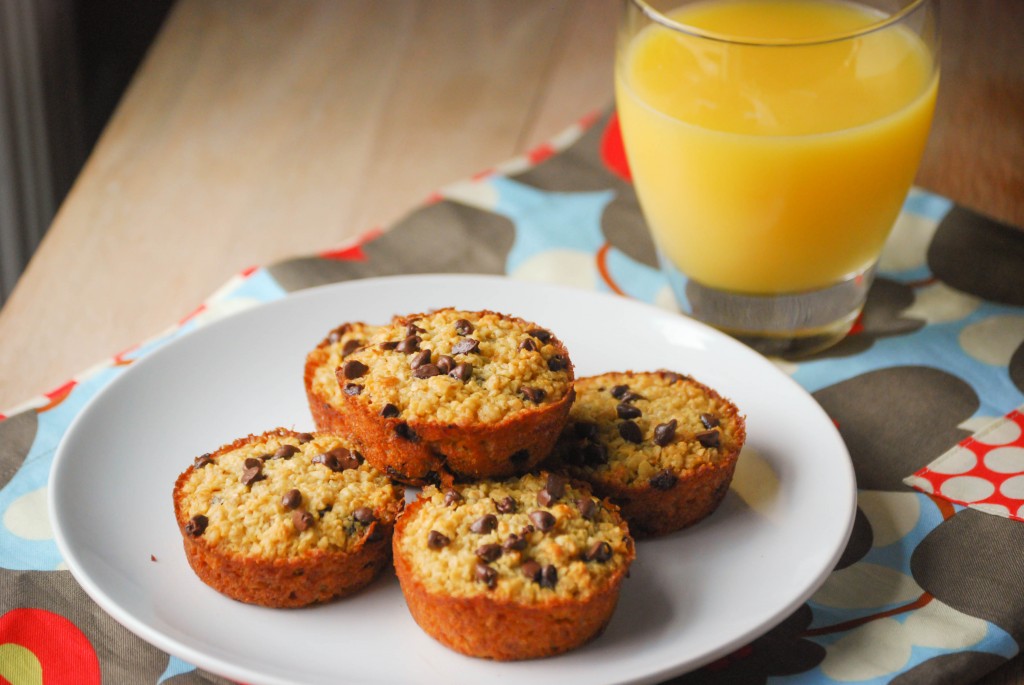 I pretty much eat one of two options for breakfast every morning during the week.  It's either cereal or a Clif bar. Occasionally I have to grab a handful of nuts and a Kashi cookie on my way out the door. 😉 I'm not a morning person at all and sleep until the last possible second with just enough time to get ready, so breakfast has to be quick and easy and sometimes portable for me.  I'm not a huge oatmeal lover, but I do like baked oatmeal so I thought I would try these baked oatmeal cups for a grab & go breakfast alternative.  These were fantastic! Moist and hearty and super easy to eat on the go.  What I love about them is that you can customize them to your taste.  I added in mini chocolate chips, but you could also do your favorite fruit: chopped peaches, strawberries, blueberries, etc.  Or you could even do dried cranberries and nuts, the possibilities are endless! Just make these over the weekend and you have breakfast ready to go Monday morning.  I bet these would freeze great too! What's your go-to weekday breakfast?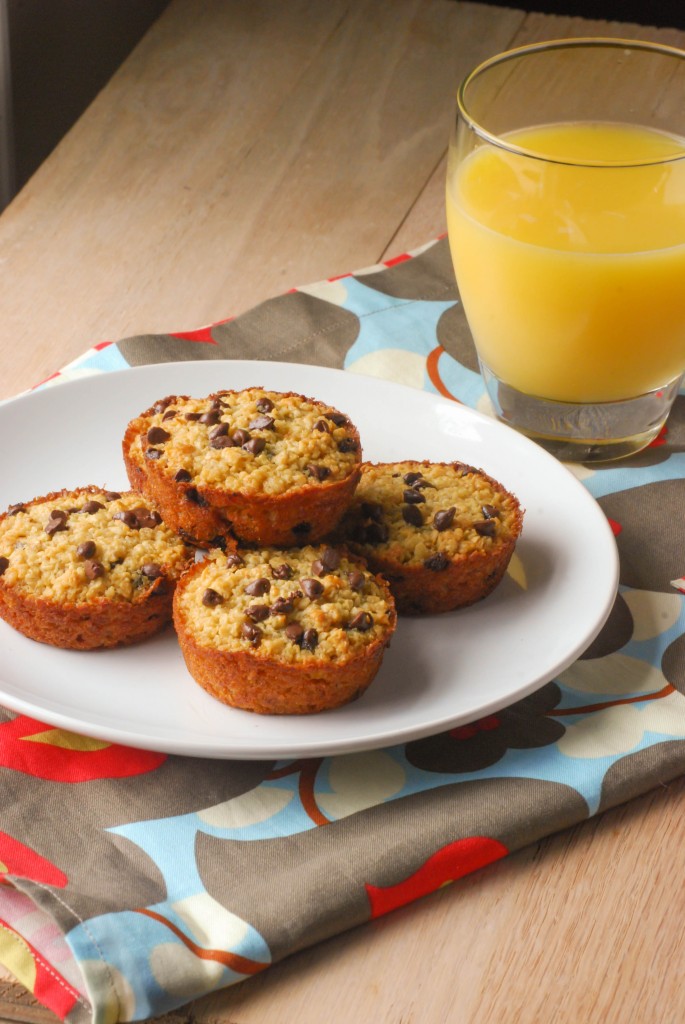 Baked Oatmeal Cups
Source: Heavenly Homemakers
Makes 12 Oatmeal Cups
Ingredients:
2 cups quick cooking oats (rolled oats work as well)
1/4 tsp. kosher salt
1 tsp. baking powder
1/2 cup honey
2 eggs
3/4 cup skim milk
1/3 cup unsalted butter, melted
1/4 cup mini chocolate chips, plus more for topping (optional)
Other Topping Options:
Strawberries
Blueberries
Peaches
Apples
Directions:
Preheat oven to 350 degrees.  Spray a muffin tin liberally with cooking spray,* set aside.
In a large bowl, add the oats, baking powder and salt.  Stir together briefly.  Add honey and stir to combine. Add eggs and then pour in the milk and melted butter.  Mix together until fully incorporated.  Mixture will be quite runny.  Add in 1/4 cup mini chocolate chips, if desired, and stir together to evenly distribute.
Using a large cookie scoop or ice cream scoop, scoop batter into prepared muffin tin, filling each cup about 2/3 of the way full.  Sprinkle tops of each oatmeal cup with additional chocolate chips or desired toppings.
Bake for approximately 25 to 30 minutes, until tops and edges are golden brown.  Remove from oven and let cool in the tin for a few minutes.  Once oatmeal cups have cooled slightly, run a knife around the outside of each muffin and gently lift it out of the tin.  Serve warm or let cool.  Store in an airtight container.
Notes:
*You can also use muffin/cupcake wrappers.  Just be sure that you spray each wrapper with cooking spray before adding in the batter.
*I haven't tried it myself, but I think these should freeze really well.
*Next time, to make them a tad healthier I am going to try and sub 1/2 of the butter with applesauce, I'll report back with how that works, or let me know if you try it.