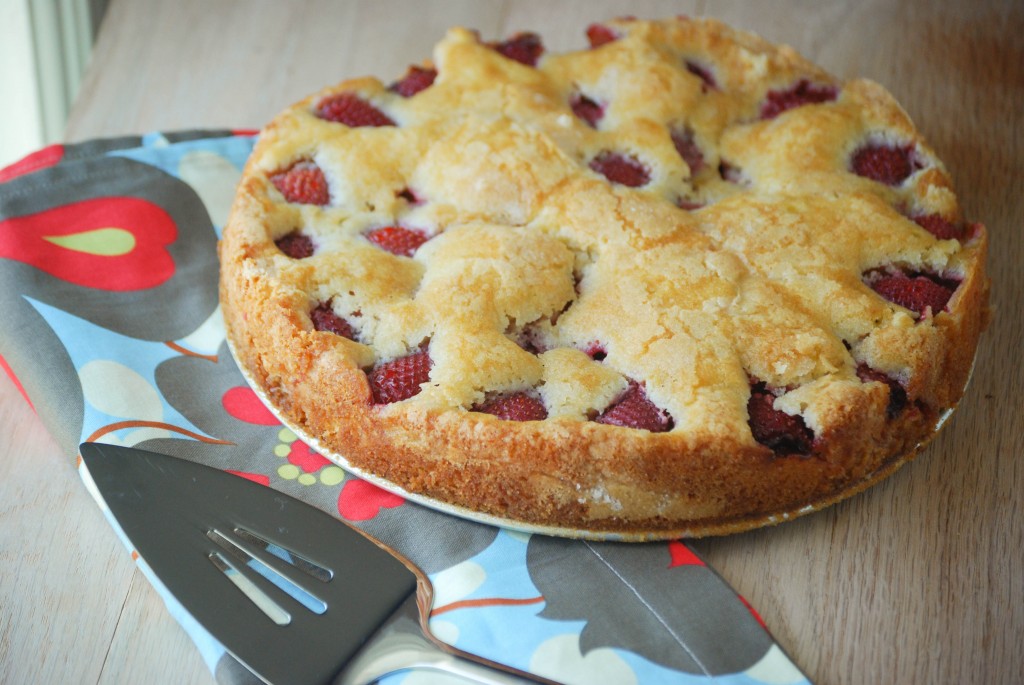 For Mother's Day my mom asked me to make her a dessert with strawberries or some sort of fruit.  Immediately a crumb cake type dessert came to my mine.  This cake was moist and flavorful but not too rich and it really highlighted the strawberries.  Everyone but me topped it with whipped cream (I'm not a whipped cream fan) but I bet it would be great topped with powdered sugar too, though it was fabulous just on it's own.  This was so good that last night right before Adam & I went to bed, we cracked it back open and ate it right out of the pan, haha! I'm sure this would be great with other summer fruits as well. I'm excited to try it with adding in peaches & blueberries.
Fresh Strawberry Cake
Source: Smitten Kitchen, originally Martha Stewart
Ingredients:
1 1/2 cups all purpose flour
1 1/2 tsp. baking powder
1/2 tsp. salt
6 tbsp. unsalted butter, room temperature
1 cup plus 2 tbsp. sugar, divided
1 large egg
1/2 cup milk
1 tsp. vanilla
1 lb. strawberries, hulled & halved
Directions:
Preheat oven to 350 degrees.  Butter a 9 inch spring form  pan (may also work in a 9 inch cake pan or deep dish pie pan), set aside.
In a medium sized bowl, add flour, baking powder & salt and whisk together, set aside.
In the bowl of a stand mixer fitted with the paddle attachment, cream together the butter with 1 cup sugar until fully incorporated and light & fluffy. Add in the egg, milk & vanilla and beat on medium speed just until incorporated.
Reduce mixer to low and gradually add in the flour mixture, beat until just incorporated.  Remove bowl from stand and pour batter into prepared pan.
Place the halved strawberries cut side down on to the top of the batter. Arrange them in a single layer, you may not use quite all of the strawberries, but should use most of them. Sprinkle remaining 2 tbsp. of sugar evenly over top of the cake.
Bake cake for 10 minutes, then reduce oven to 325 degrees and continue baking for 50 more minutes, until cake is lightly golden brown and a toothpick inserted comes out clean.
Keep cake in pan and place pan on cooling rack to cool completely.  Once cool, release outside of pan if using spring form pan.  Store cake in airtight container.  Serve topped with whipped cream &/or powdered sugar if desired.