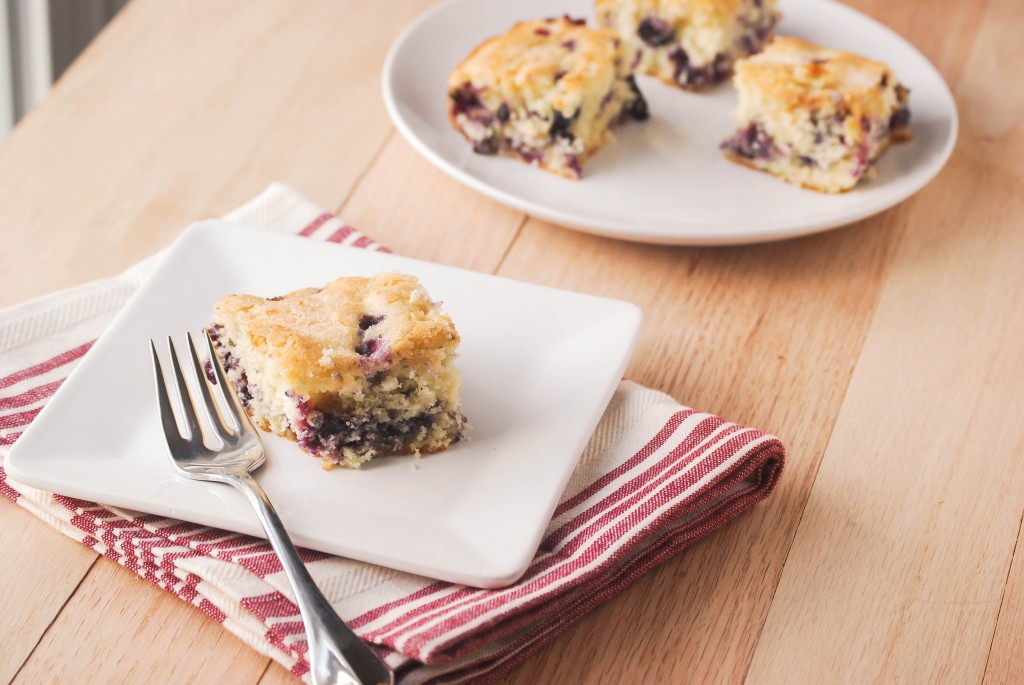 A month or so ago, we had a social during our Sunday School class and everyone brought a breakfast item.  My friend Courtney brought this blueberry breakfast cake and I just couldn't get enough of it! She was so sweet to send me home with some and I asked her for the recipe.  She pointed me to her pinterest board and turns out I had already pinned it! I can't believe I'm just now getting around to making it. I couldn't resist since blueberries are in season and looking and tasting so good right now! This cake is super moist and not overly sweet, so it definitely works for breakfast or dessert.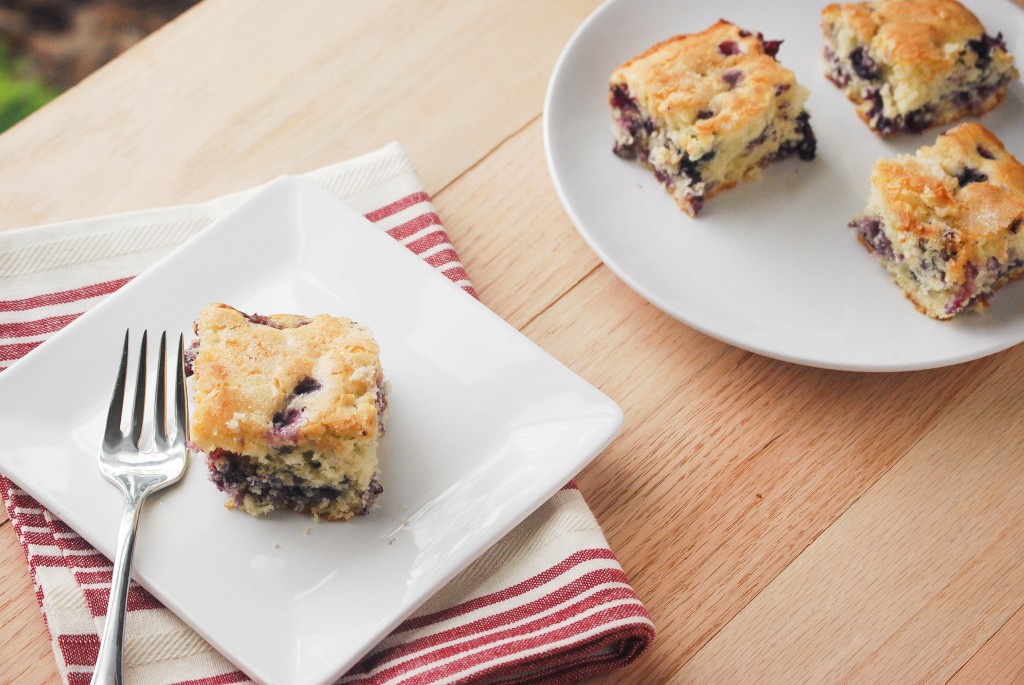 Fresh Blueberry Buttermilk Cake
Source: Alexandra Cooks via my friend Courtney
Ingredients:
2 cups (1 3/4 cup plus 1/4 cup) all purpose flour, divided
2 tsp. baking powder
1 tsp. kosher salt
2 cups (1 pint) fresh blueberries
1/2 cup (1 stick) unsalted butter, room temperature
2 tsp. lemon zest (optional)
3/4 cup plus 2 tbsp. sugar*
1 egg, room temperature
1 tsp. vanilla
1/2 cup buttermilk**
Topping:
1 tbsp. sugar
Directions:
Preheat oven to 350 degrees.  Spray a 9 x 9 baking dish with cooking spray, set aside.
In a medium sized bowl, add the blueberries and 1/4 cup of the flour and toss to combine, set aside.
In a separate medium sized bowl, add the remaining 1 3/4 cups flour, baking powder & salt and whisk together until incorporated, set aside.
In the bowl of a stand mixer, add butter, sugar and lemon zest (if using) and beat together until fully incorporated and a fluffy consistency. Mix in egg and vanilla and beat until fully incorporated.
Add the flour mixture and buttermilk to the stand mixer a little at a time, alternating between each, starting and ending with the flour (add 1/3 of the flour, then 1/2 the buttermilk, then another 1/3 flour, rest of buttermilk, rest of flour).
Pour batter into prepared pan and spread evenly.  Sprinkle top evenly with 1 tbsp. sugar.
Bake for approximately 35 to 40 minutes, until top is lightly golden brown and toothpick inserted comes out clean.  Keep cake in pan and place pan on cooling rack to cool completely.  Once cool, cut into squares and serve. Store leftovers in an airtight container.
Notes: 
* You use a total of 1 cup sugar. 3/4 cup plus 2 tbsp. goes into the cake, then 1 tbsp. goes on top.
**To substitute for buttermilk, place 1/2 tbsp. of white vinegar into a liquid measuring cup.  Fill to the 1/2 cup line with milk.  Let set for 10 minutes and then use in place of buttermilk in the recipe.