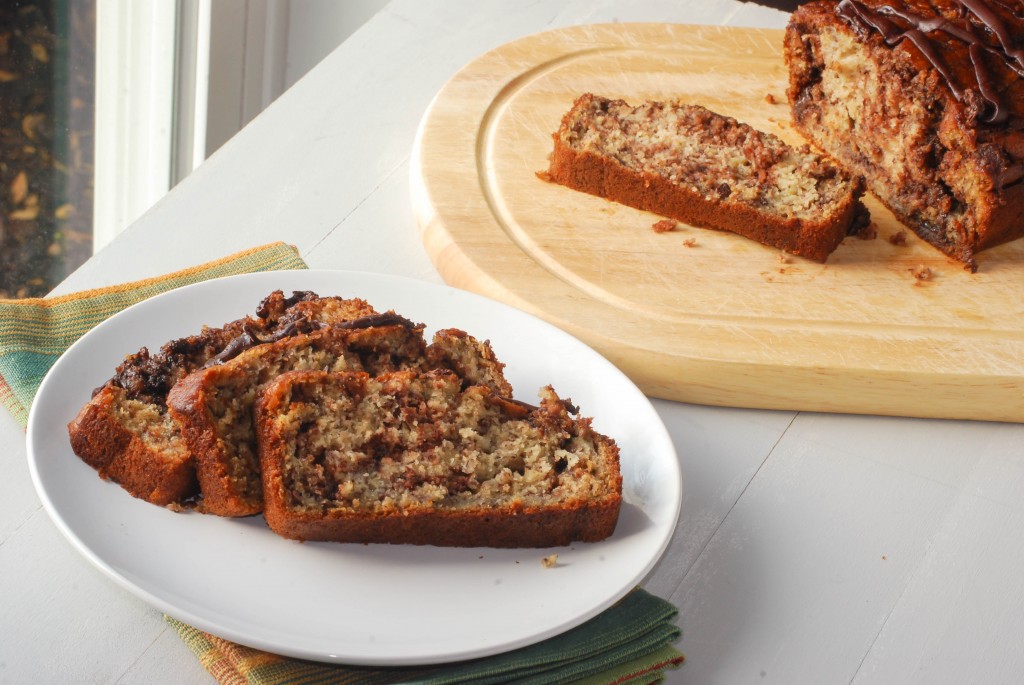 If you follow me on social media, then you know that last week my husband & I escaped to the Caribbean for a week of fun in the sun! I'll be sharing about that later this week. As usual, it's been challenging to get back in the swing of things after such a relaxing week of no responsibilities.  Thankfully, I made this bread before we left so I have something to share with you all this week, because I have definitely not gotten back to cooking yet.  This bread was a fun twist on traditional banana bread and I loved it because you didn't have to wait until your bananas were black, you use medium ripe bananas.  This was super moist and the nutella gave it a great chocolatey bite throughout.  It was a big hit with Adam's coworkers as well.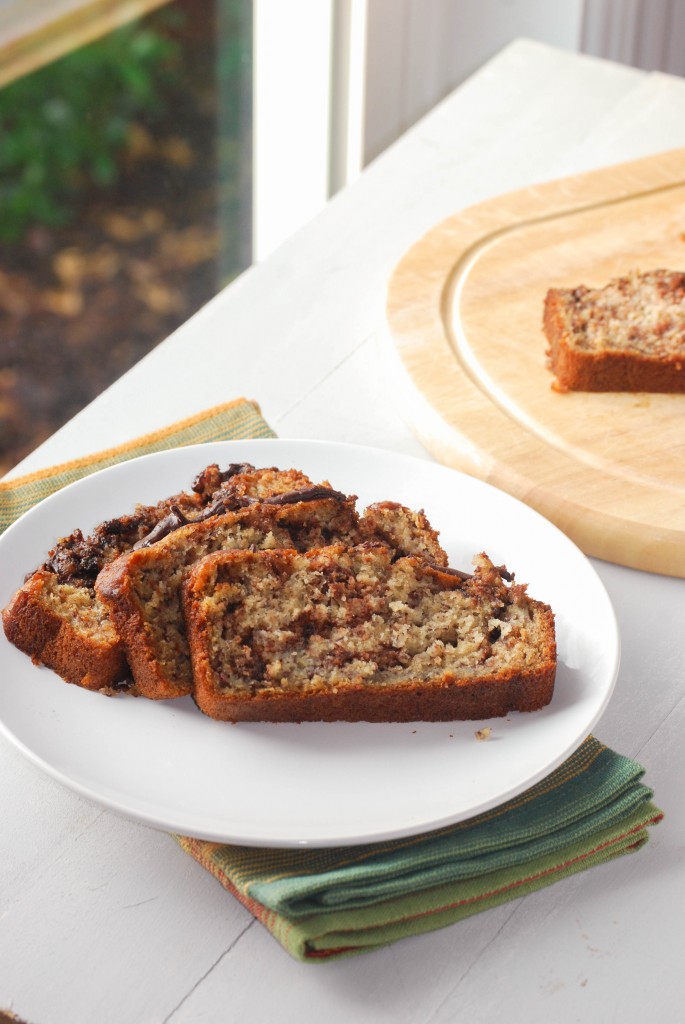 Nutella Swirled Banana Bread
Source: Cooking Light Magazine, October 2012
Ingredients:
5 tbsp. nutella
3 tbsp. plus 1 tsp. canola oil, divided
3 tbsp. unsalted butter, softened
1/2 cup brown sugar, packed
2 medium ripe banans, sliced
2 large eggs
1 1/2 cups all purpose flour
3/4 tsp. baking soda
1/2 tsp. baking powder
1/2 tsp. salt
2/3 cup buttermilk
1 oz. semi-sweet chocolate chips
Directions:
Preheat oven to 350 degrees.  Spray a 9 x 5 loaf pan with cooking spray, set aside.
In the bowl of a stand mixer, add 3 tbsp. canola oil, butter, brown sugar, and banana and mix until fully incorporated and bananas are mashed.  Add in eggs, one at a time, mixing after each addition.
In a small bowl, whisk together flour, baking soda, baking powder & salt.
With the mixer on low, add the flour mixture & buttermilk to the banana mixture, alternating between each, starting and ending with the flour mixture (add 1/3 of the flour, then 1/2 of the buttermilk, then another 1/3 of the flour, rest of the buttermilk, then rest of the flour).  Mix until just incorporated, set aside.
In a microwave safe dish, add the nutella & 1 tsp. canola oil and microwave in 30 second intervals until nutella has melted and is stirrable.  Stir to combine.
Pour 1/2 of batter into prepared loaf pan, spread evenly.  Pour the nutella mixture over top and then add remaining batter and spread evenly.  Using a knife, gently swirl the batter.
Bake for approximately 55 minutes, until set in the middle and a toothpick comes out with moist crumbs attached.  Allow bread to cool for 10 minutes in the pan over a wire rack.  Then run a knife around the edges, and pop the loaf out of the pan.  Cool completely on the wire rack.
Place the chocolate chips in a microwave dish and heat in 20 to 30 second increments until melted. Drizzle over top of the bread. Serve bread warm or at room temperature.  Store in an airtight container.