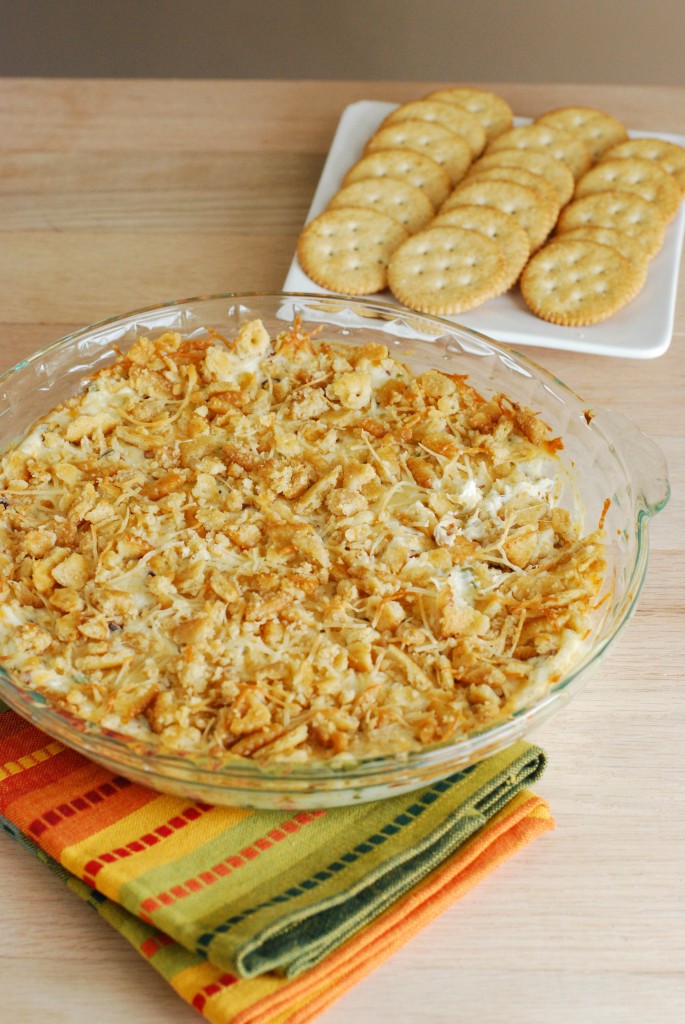 It's the most wonderful time of the year…It's football time!!! College football got underway this past weekend and NFL season starts this week! Which means lots of delicious game day appetizers are just waiting to be devoured! Adam's office had a tailgate party this past friday and everyone was asked to bring a game day inspired dish, so I went the dip route and made this jalapeno popper dip that I'd been eyeing.  This was so creamy and fabulous! I accidentally bought serrano peppers instead and mine were more mild, so next time I will definitely make sure I get the jalapenos because mine could've used some more heat.  I made a 9 inch dish for him to take to work and made a smaller dish for us to keep for ourselves instead of one 12 inch dish, which worked out great! Also, I photographed these with crackers, but in my opinion it tasted way better with tortilla chips as your dipper.  Everyone is going to rave over this dish! I mean how can you go wrong with cream cheese, cheese and bacon baked up and all gooey?!?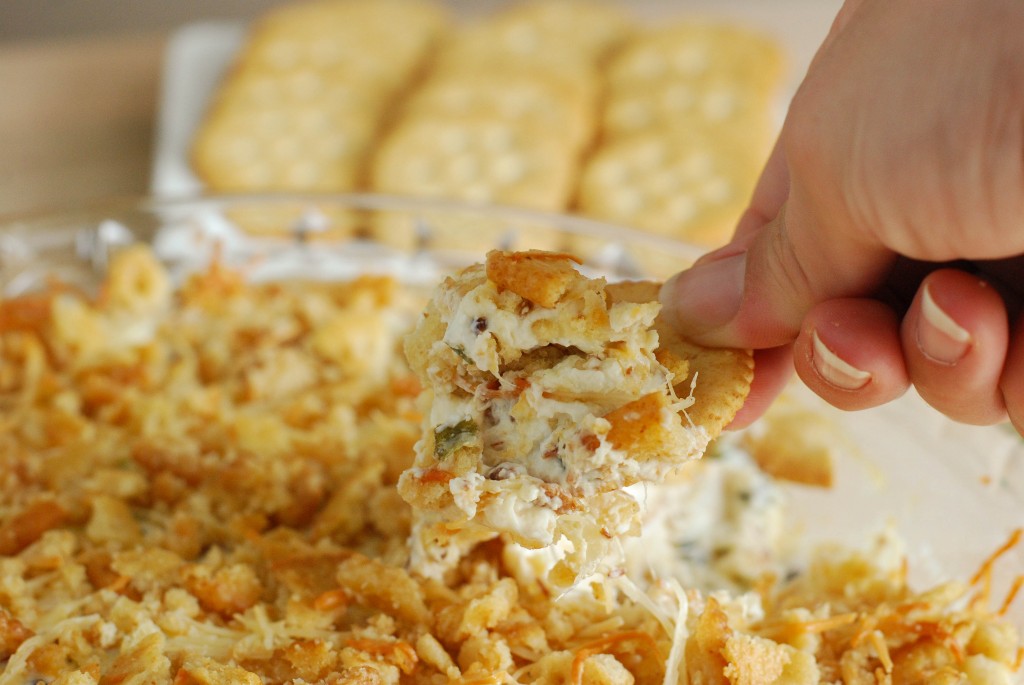 Jalapeno Popper Dip
Source: Simply Gourmet
Ingredients:
1.5 oz Real Bacon Bits (or you can cook 6 pieces bacon & crumble)
2 (8 oz). packages 1/3 less fat cream cheese, softened
1 cup light mayonnaise
3 to 4 jalapenos, deseeded and chopped (or more depending on your heat tolerance)
1 cup cheddar cheese, shredded
1/2 cup mozzarella cheese, shredded
1/4 cup green onion, chopped
For the Topping:
1 cup crushed Ritz crackers
1/2 cup shredded parmesan cheese
1/2 stick unsalted butter, melted
Directions:
Preheat oven to 350 degrees.
In a large bowl, add the bacon bits, cream cheese, mayo, jalapeno, cheddar, mozzarella & green onion.  Stir together until fully incorporated.
Spoon mixture into a 12 inch round baking dish (or a 9 inch round dish and another smaller dish) and spread evenly.  Mixture should be about 1 inch thick once spread.
In a small bowl, stir together the crushed crackers & parmesan.  Pour in the melted butter and stir to coat.
Sprinkle topping evenly over the cream cheese mixture.
Bake for approximately 20 to 25 minutes, until mixture is bubbly and top is golden brown.  Serve warm with tortilla chips.
*Note: I didn't try this, but I think it would be equally as good without the topping if you want to try it that way.