My dear friend Jennifer always makes the best lasagna! The flavor is so wonderful and it's creamy and cheesy and I always get at least seconds if not thirds.  I was planning out some freezer meals to make for when Sophie arrived and I knew that I wanted to make some of her lasagna to have on hand.  I baked one for us to eat for dinner and then froze one for later.  This was such a wonderful meal and really easy to put together.  I've always viewed lasagna as being so complicated and time intensive but this wasn't at all! And the results were amazing!! I will definitely be making this again and again!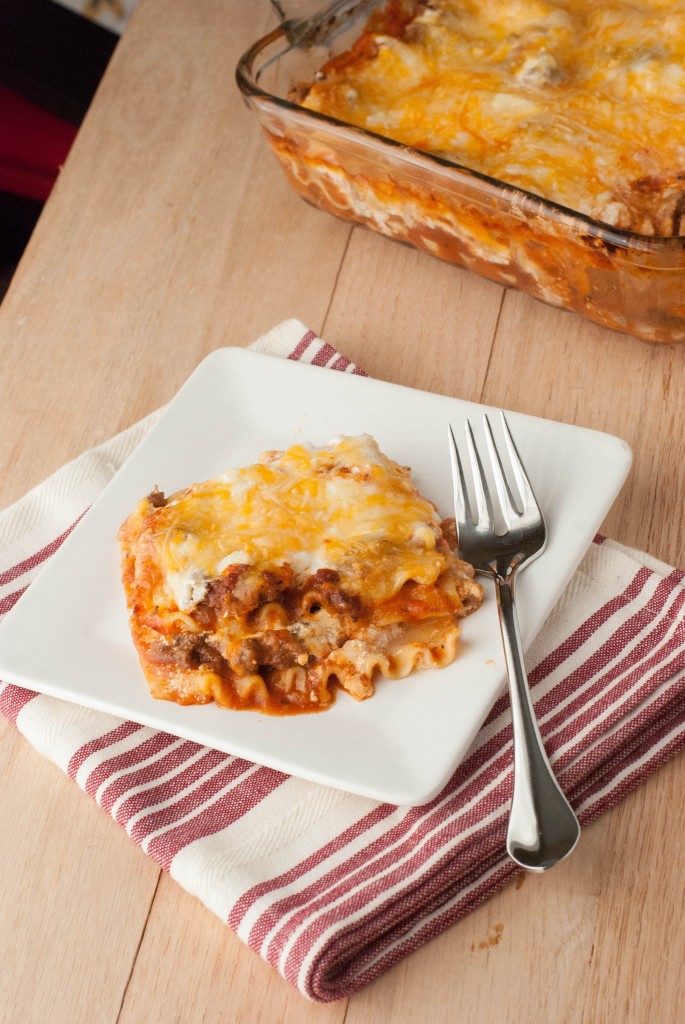 Easy Lasagna
Source: My friend Jennifer
Ingredients:
8 to 9 lasagna noodles
1 tbsp. extra virgin olive oil
1/2 medium onion, chopped
1 lb. ground beef
1/4 tsp. salt
1/8 tsp. freshly ground black pepper
1 jar spaghetti sauce
1 tbsp. Italian Seasoning
1/4 tsp. garlic powder
1 (24 oz). container lowfat cottage cheese
Approximately 3 cups shredded cheese (mozzarella or cheddar)
1/2 cup parmesan cheese
Directions:
Preheat oven to 350 degrees.
Bring a pot of salted water to boil. Add the lasagna noodles and cook until al dente, according to package directions. Drain and set aside.
Meanwhile, in a large skillet, heat olive oil over medium heat.  Add in onions and cook until translucent.  Add in ground beef and sprinkle with the salt & pepper. Stir to combine and brown ground beef until fully cooked through.  Strain off any excess fat.
Add spaghetti sauce, italian seasoning, and garlic powder to beef mixture.  Stir to combine and add a pinch more salt & pepper.  Bring to boil, reduce heat and simmer for 5 to 10 minutes, set aside.
In a medium sized bowl add mozzarella or cheddar (or other cheese of your choice) and parmesan. Stir to combine.
In a 9 x 13 baking dish (or 2 8 x 8 or 9 x 9 dishes), place just a tiny bit of sauce in the bottom to keep the noodles from sticking (just a spoonful or two).  Layer 1/2 the lasagna noodles (4 to 4 1/2 noodles).  Then spread 1/2 of the meat mixture over the top.  Next, spoon 1/2 of the cottage cheese on top of the meat mixture and spread evenly as much as possible.  Sprinkle with half of the cheese mixture.  Repeat the layers, starting with the lasagna noodles, then meat, cottage cheese, and ending with the cheese on top.
Bake for approximately 35 to 45 minutes, until bubbly and cheese has melted.  Serve immediately.
Notes: 
*Can use ricotta in place of cottage cheese, but the cottage cheese makes it so much creamier.
**If using 2 8 x 8 or 9 x 9 dishes, split the ingredients evenly between the two dishes, layering in the same order as above. You still bake for the same amount of time.  I baked one and then put another one in the freezer prebaked.
***It may seem like you don't have quite enough of each layer to spread over top, but just divide evenly and once you bake it up it really is plenty.