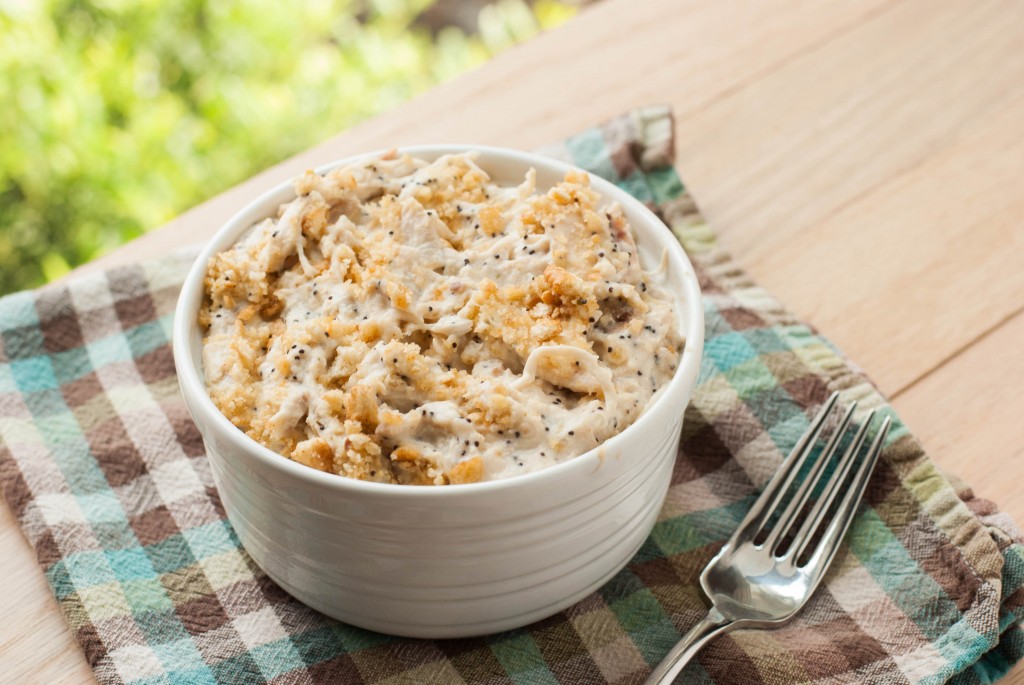 I have had a few versions of this dish at church potluck events in the past. It's always so delicious but usually made with the canned cream of chicken soups.  When I found this recipe where you make your own cream of chicken soup from scratch, I knew I had to try it! This was so creamy and such an easy meal to put together.  I love that you can make the chicken mixture ahead of time and then just add the topping right before you bake.  This is a great comfort meal and would be great to take to a family that's just had a baby too.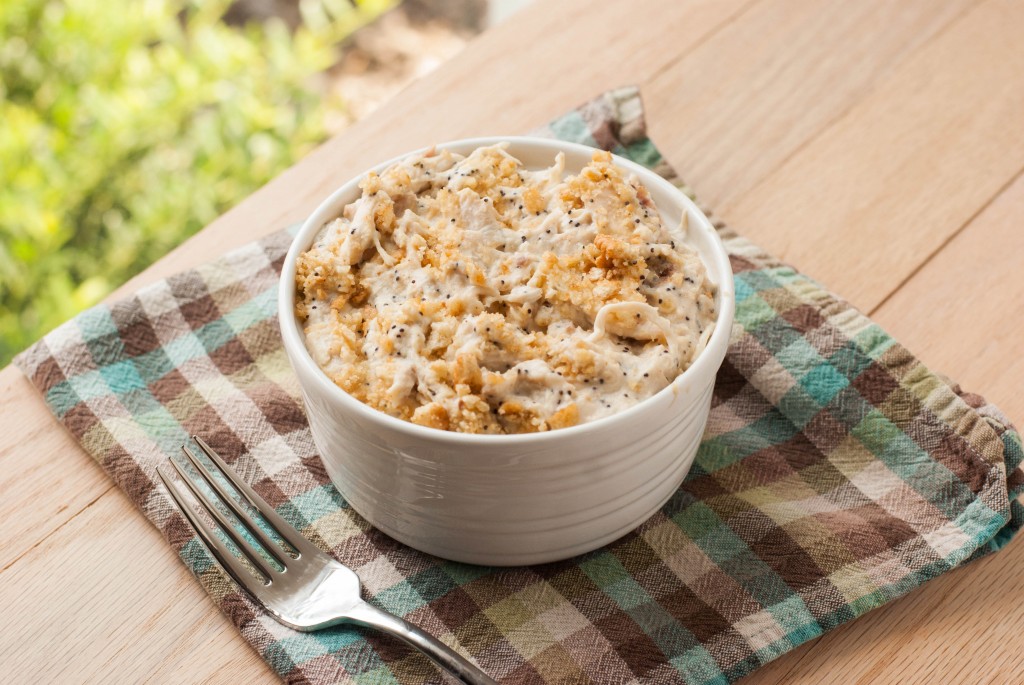 Poppy Seed Chicken Bake
Source: Living Well Kitchen
Ingredients:
1.25 lbs chicken breast, cooked & shredded or 1 rotisserie chicken, shredded
1/2 cup chicken broth
1 tbsp. butter
3 tbsp. all purpose flour
3/4 cup milk
1 tsp. salt
1/2 tsp. freshly ground black pepper
1/2 tsp. garlic powder
1/2 tsp. onion powder
1/4 tsp. paprika
1 tsp. Montreal Chicken Grill Mates Seasoning (or your favorite chicken seasoning)
1 1/2 cups light sour cream*
1 tbsp. poppy seeds
12 to 15 ritz crackers, crushed
1 tbsp. butter, melted
Directions:
Preheat oven to 350 degrees. Spray an an 8 x 8 baking dish or other 2 quart dish with cooking spray, set aside.
In a medium sized pot, add butter and heat over medium heat until melted.  Add in flour and stir to combine.  Cook for a minute or so. Stir in chicken broth and then milk.  Continue stirring until it begins to boil. Allow mixture to boil for 1 minute, then reduce heat to low.
Add in salt, pepper, garlic powder, onion powder, paprika, chicken grill spice and chicken.  Stir to fully incorporate.  Remove mixture from heat.
Add in sour cream and poppy seeds and stir until fully incorporated. Pour mixture into prepared dish.
For the Topping:
Stir together the crushed crackers and melted butter until crackers are moist. Sprinkle coated crackers evenly over top of the chicken mixture in the baking dish.
Cover dish with aluminum foil and bake for approximately 25 minutes.  Uncover and bake for an additional 5 minutes, until topping is golden brown and mixture begins to bubble.
Let chicken bake set for 5 to 10 minutes after baking to allow it to set up.
Notes:
*Can use greek yogurt instead of the sour cream if desired.
**Can prepare the chicken mixture ahead of time and refrigerate and then just add the topping right before baking.