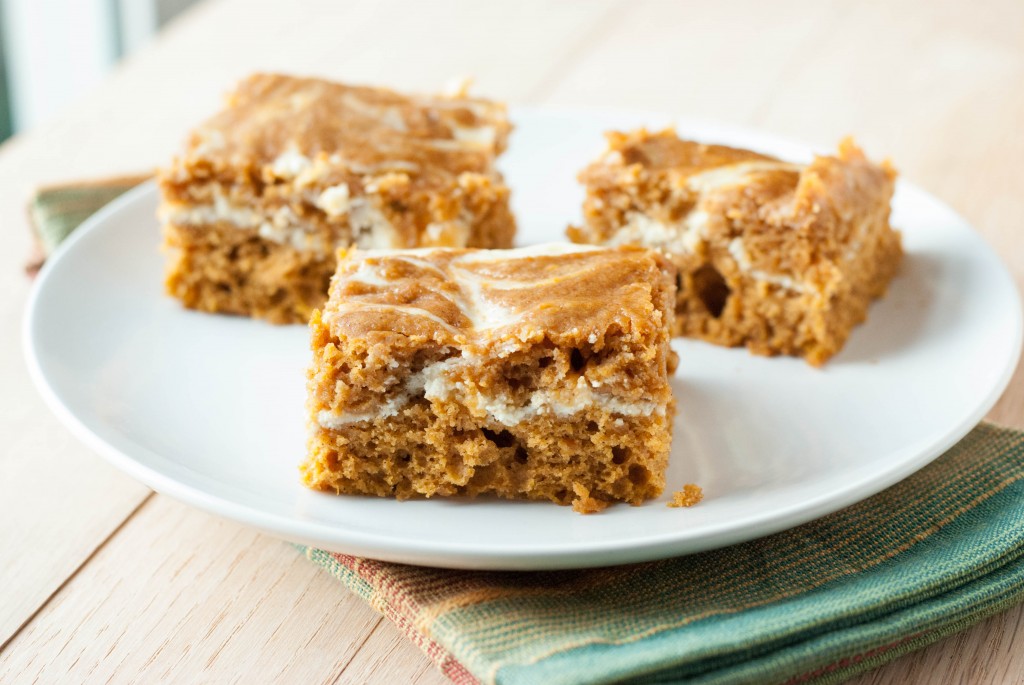 I don't know about you, but I absolutely love a good pumpkin roll.  I love to buy a slice at a fall festival, but I don't love fooling with rolling one up myself.  So when I found this recipe for the same flavors but in bar form, I knew I had hit the jackpot. These were absolutely incredible and tasted just like the traditional pumpkin roll, but so much easier to put together! You have definitely got to try this, your friends and family are going to love it!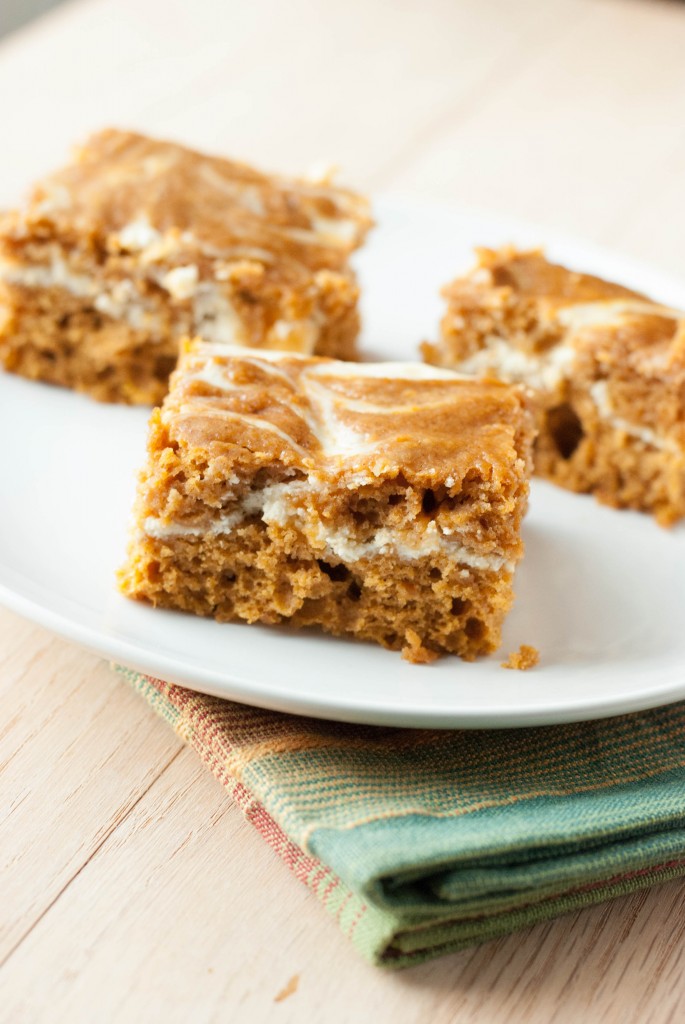 Pumpkin Roll Bars
Source: Six Sisters' Stuff
Ingredients:
For the Cake:
6 tbsp. unsalted butter, melted
1 1/2 cups sugar
2 large eggs
1 (15 oz). can pure pumpkin
1/4 cup water
1 tsp. vanilla
2 cups all purpose flour
2 tsp. ground cinnamon
1/2 tsp. pumpkin pie spice
1/2 tsp. ground nutmeg
1 tsp. baking soda
1/2 tsp. baking powder
1/4 tsp. salt
For the Cream Cheese Filling:
8 oz. cream cheese, softened
1/4 cup sugar
1/2 tsp. vanilla
1 large egg
Directions:
Preheat oven to 350 degrees.  Line a 9 x 13 baking pan with foil and spray with cooking spray, set aside.
For the Cake:
In the bowl of a stand mixer, cream together butter and sugar on medium speed until fluffy and smooth.  Add in eggs, pumpkin, vanilla, and water until fully incorporated.
In a separate bowl, whisk together the flour, cinnamon, pumpkin pie spice, nutmeg, baking soda, baking powder & salt.
With the mixer on low, gradually add the flour mixture into the pumpkin mixture until incorporated.
Spoon 2/3 of the pumpkin batter into the prepared baking pan and spread evenly.
For the Filling:
In the bowl of a stand mixer, add cream cheese, egg, sugar and vanilla. Beat on medium speed until fully incorporated and cmooth, scraping down the sides if necessary.
Spread this cream cheese mixture over the batter in the pan, spreading evenly. Top with the remaining pumpkin cake batter and spread evenly.
Using a butter knife, carefully swirl together the cake batter and cream cheese filling until slightly swirled looking.
Bake for approximately 30 to 35 minutes, until the top of the bars springs back when you touch it and is set in the center.
Remove from oven and place pan on a cooling rack to cool completely.
Once cool, lift bars out of pan using the aluminum foil, cut into squares, taking care not to cut the aluminum foil.  Store in an airtight container in the refrigerator.  These are best served cold.