I'm sure you all are busily getting ready for Thanksgiving on Thursday.  We go to our parents for Thanksgiving so I only make a side dish or dessert to bring.  This year I'm making the Holiday Cranberry Sauce and a dessert I'll be sharing with you soon. What's your favorite dish you are making?
Since I've had my hands a bit full taking care of Sophie, my mother-in-law offered to do a guest post for me.  She made this amazing cake and sent me pictures and the recipe, isn't that the sweetest! She is the most amazing cook & baker and I've shared several of her recipes with you before.  This Italian Cream Cake would be perfect for your holiday table and a great alternative or addition to the traditional pumpkin pie. This cake is so moist and has the consistency and flavor of a spice cake and the frosting is rich and creamy.
Hope you all have a Happy Thanksgiving!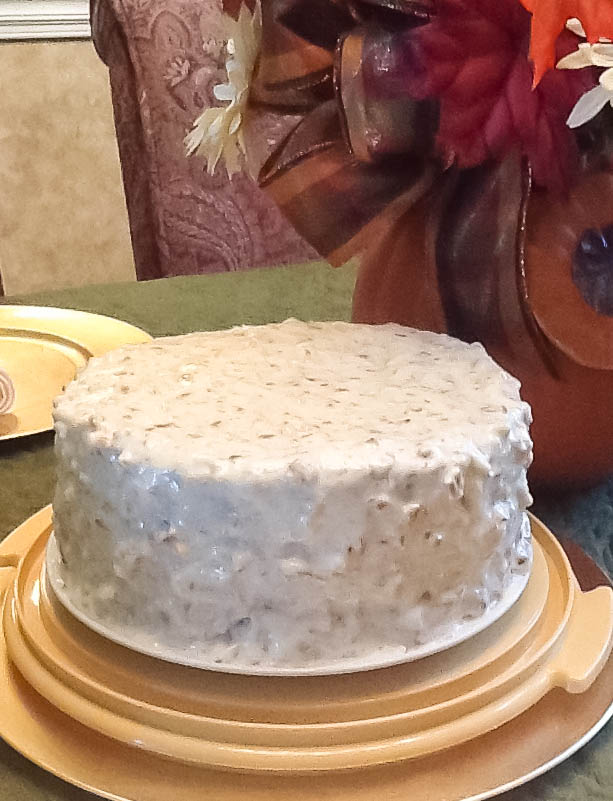 Italian Cream Cake
Ingredients:
For the Cake:
1 stick butter
1/2 cup shortening
2 cups sugar
5 egg yolks
2 cups all purpose flour
1 tsp. baking soda
1 cup buttermilk
2 tsp. vanilla
1 small can shredded coconut
1 to 1 1/2 cups chopped pecans
5 egg whites, beaten stiff
For the Cream Cheese Frosting:
1 (8 oz). pkg. cream cheese, softened
1/2 stick  butter, softened
1 box confectioner's sugar
1 cup chopped pecans
Directions:
Preheat oven to 350 degrees.  Grease & flour three 8 inch round cake pans, set aside.
In the bowl of a stand mixer, cream together the butter & shortening. Add in sugar and beat until smooth. Add in egg yolks and beat well.
In a separate medium sized bowl, whisk together flour & baking soda.
Add the flour mixture to the butter/shortening mixture, alternating with the buttermilk.  Stir in the vanilla, coconut & pecans until evenly distributed.  Gently fold in the beaten egg whites.  Pour cake batter into the prepared pans.  Bake for approximately 20 to 25 minutes, until lightly golden and toothpick inserted comes out clean. Let cakes cool completely. Remove from pan and prepare to frost.
For the Frosting:
In the bowl of a stand mixer cream together the cream cheese & butter until light & fluffy. Gradually add in the confectioner's sugar and beat until a spreadable consistency. Stir in chopped pecans.
To Assemble:
Place on cake on your serving dish. Spread a thin layer of frosting over top. Top with second cake & repeat.  Top with final cake and frost the entire outside of the cake.  Store cake in an airtight container.