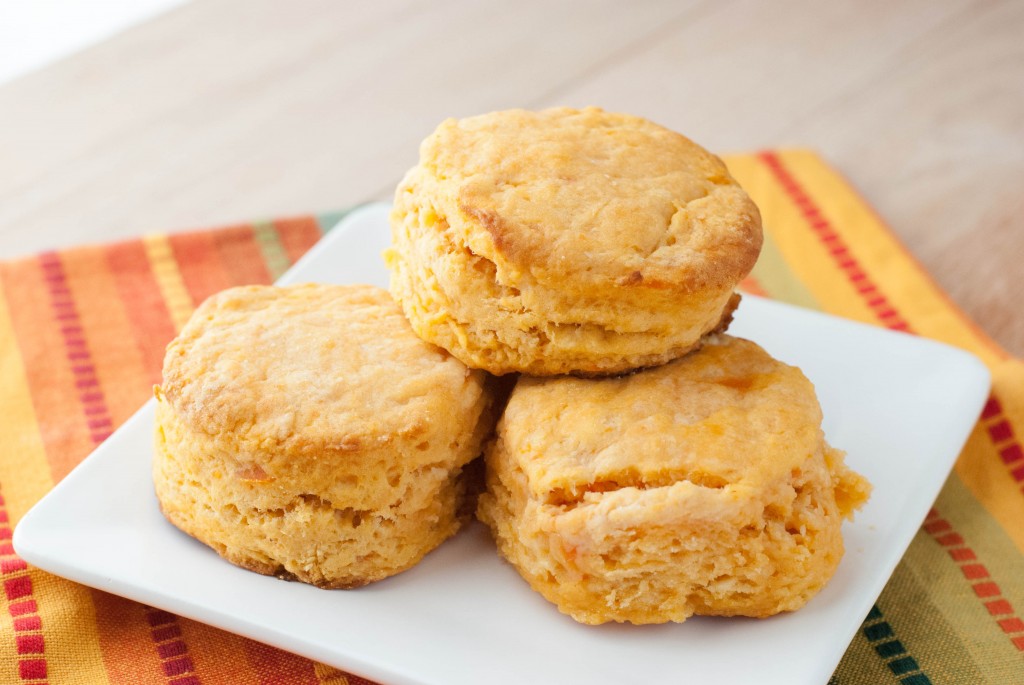 I have been wanting to make sweet potato biscuits for quite some time and when I saw a facebook friend share a recipe for them, I decided now was the time to try them. I am so very glad that I did! These were amazing!! So moist and flaky and tender, everything a biscuit should be.  Plus they had the fall flavor factor with the sweet potatoes.  And don't worry, the sweet potatoes aren't overpowering, you taste just a hint of them.  These are great with apple butter or with just butter.  They are so versatile and paired perfectly with our fancy meal of pork tenderloin and then the next night for a more casual meal with chili. They would also be great to make for your Thanksgiving or Christmas Day feast.  And they really don't take that long to make, I actually made these on a weeknight!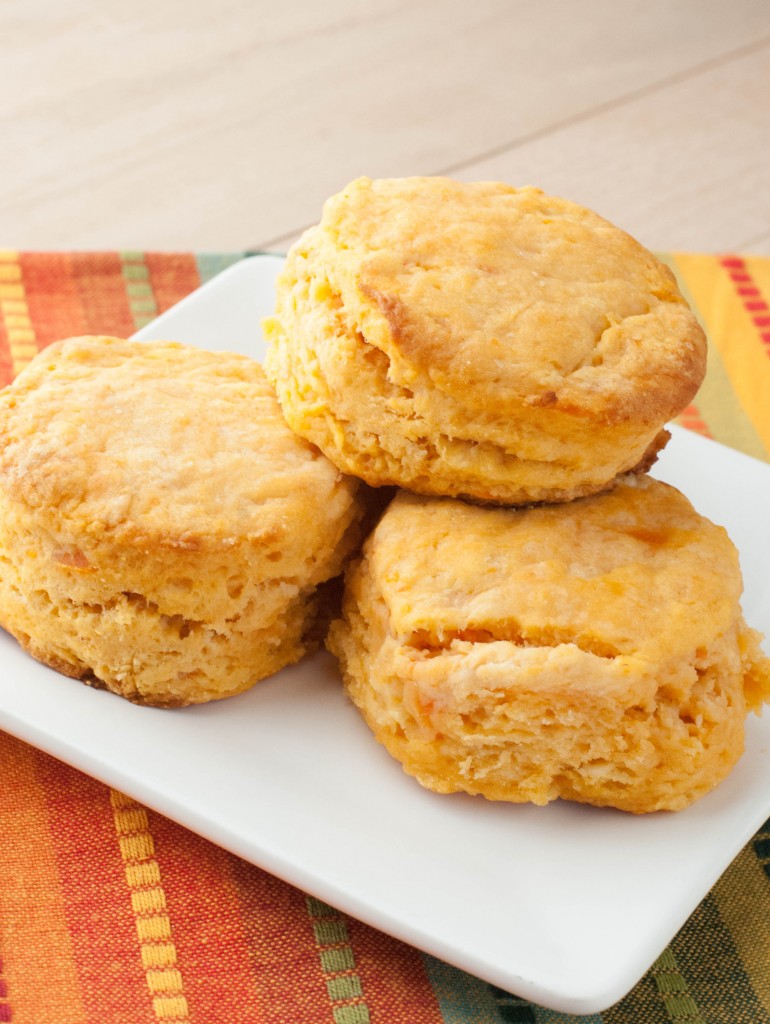 Sweet Potato Biscuits
Source: Blackberry Farm
Makes approximately 20 biscuits, depending on size you cut them
Ingredients:
2 cups sweet potato puree*
4 1/3 cups all purpose flour
3 tbsp. light brown sugar
2 tbsp. plus 1/4 tsp. baking powder
1/2 lb (2 sticks) unsalted butter, cold & cubed
2/3 cup milk or cream
Directions:
For the Sweet Potatoes:
Preheat oven to 400 degrees.  Cut sweet potatoes in half and place cut side down on a greased cookie sheet.  Bake for approximately 30 minutes, until centers are cooked through.  Allow to cool and scoop the sweet potatoes out of the skin.  Place cooked sweet potatoes into a food processor or blender and blend until a smooth pureed consistency.
For the Biscuits:
Preheat oven to 425 degrees. Cover a baking sheet with parchment paper, set aside.
In a large bowl, add the flour, brown sugar & baking powder.  Whisk to combine.  Add the cubed butter and using a pastry cutter, cut the butter into the flour mixture until it resembles course sand.
Make a well in the center of the butter/flour mixture and add the sweet potato puree and the milk. Using a spatula or large spoon, gradually mix the flour into the wet ingredients.  Once they wet ingredients are somewhat incorporated, use your hands to mix the dough together just until it becomes one big ball of dough.
Lightly flour a clean surface and turn the dough out onto it.  Roll the dough out to approximately 3/4 inch thick.  Cut into circles approximately 2 inches in diameter with a biscuit cutter.  Place on prepared baking sheet, putting biscuits side by side.
Bake for approximately 20 minutes, rotating the pan half way through, until biscuits are lightly golden.
Remove from oven and brush tops with melted butter if desired.  Serve warm.
Notes:
*I halved this recipe and used 4 very small sweet potatoes to get the 2 cups.  If you have medium to large sweet potatoes, you could definitely use less.
Also I used skim milk because that is what I had on hand and it worked great.