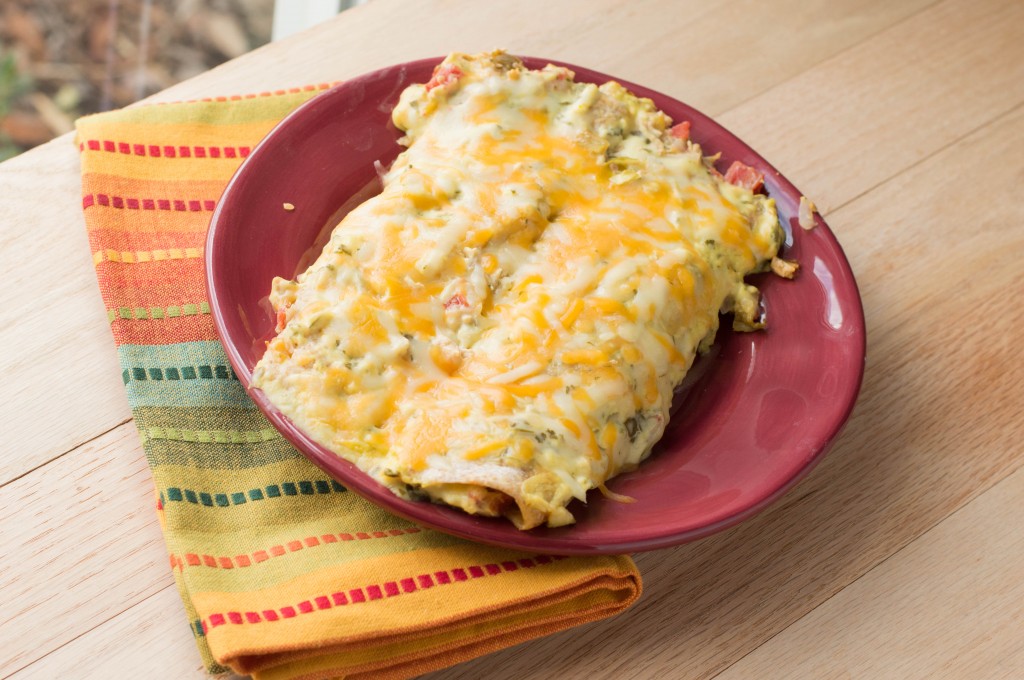 I am really trying to lose this baby weight. It's been hard because right now I'm the weight I was at my heaviest in college. I worked so hard to lose that weight and keep it off, now I feel as if I'm back at square one.  But I do have one thing I didn't have back then and that's knowledge. God has showed me the tools I need to lose weight & keep it off.  I know what works for me and what doesn't, which is a blessing.  Right now I'm eating lean meats, whole grains, fruits, veggies & healthy fats.  I'm eating really super strict (no desserts or diet cokes, for instance) for 2 weeks to jump start my metabolism and then will add a few things back in. I will say that having Sophie was so worth the weight gain, but I'm definitely ready to get it off! 😉
  I've had my eye on trying these enchiladas for a while now and they did not disappoint.  I actually ate these before I started my super strict 2 week detox, but they are a great way to feel like you are indulging without all the calories. They definitely did not taste lightened up at all! I didn't let my sauce thin out quite enough but the flavor was wonderful, so I know what I need to do differently next time.  And there will be a next time, for sure! These would go great paired with some brown rice on the side.  You can always make these without using the light ingredients for a more indulgent meal.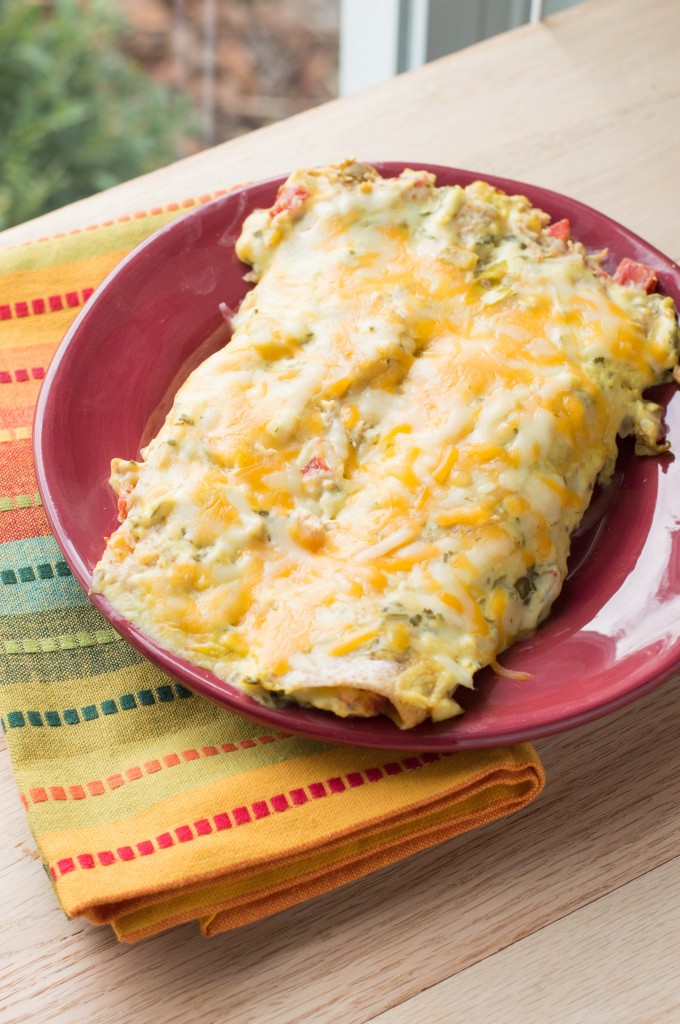 Skinny Sour Cream Chicken Enchiladas
Source: Skinny Mom
Ingredients:
8 oz. light sour cream
1/4 cup skim milk
1 (10 3/4 oz.) can Campbell's Healthy Request Cream of Chicken Soup
1 tbsp. chopped fresh cilantro
2 large chicken breasts, cooked & shredded
1 (10 oz.) can Rotel
1/2 medium onion, chopped
pinch salt & pepper
8 wheat tortillas
1/2 cup 2 % Mexican shredded cheese
1 (4.5 oz.) can green chiles
Directions:
Preheat oven to 350 degrees.  Spray a 9 x 13 dish with cooking spray, set aside.
In a small saucepan, add sour cream, milk, cream of chicken soup & cilantro. Stir together and heat over medium heat until heated and thinned out, stirring frequently.
In a large skillet, add chicken, rotel, onions & green chiles. Add salt & pepper to taste. Stir to combine and heat over medium heat until cooked through and onions begin to be translucent.
If tortillas aren't pliable, heat in microwave. You can do this by placing 3-4 tortillas spread out on a plate and covered with a damp paper towel.  Microwave for approximately 15 seconds.
Place approximately 2 to 2 1/2 tbsp. of the chicken mixture into the center of a tortilla. Roll up the tortilla and place in prepared dish with the seam side down.  Repeat for remaining tortillas.  Pour the sour cream sauce over top of the enchiladas, spreading evenly.  Sprinkle evenly with the shredded cheese.
Bake for approximately 25 to 30 minutes, until cheese has melted and sauce is bubbly.