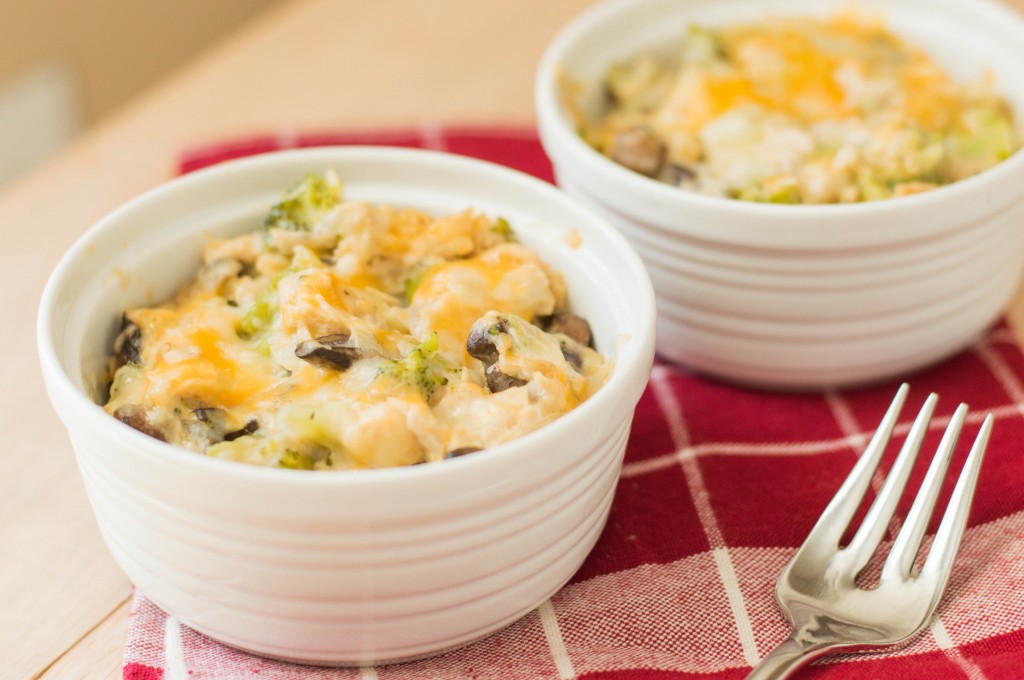 As I've mentioned previously, I'm on a healthy eating plan to lose this baby weight and thankfully it's starting to come off, Praise the Lord! I'm constantly on the look for healthy recipes and I especially love comfort foods that have been lightened up.  When I found this one, I was so excited and couldn't wait to try it! It definitely did not disappoint! Creamy and cheesy and did not taste skinny at all! Plus I loved that it didn't include canned soup as most casseroles do. This is definitely going into our regular rotation. Do you have a favorite skinny recipe? If so, I would love for you to share it with me!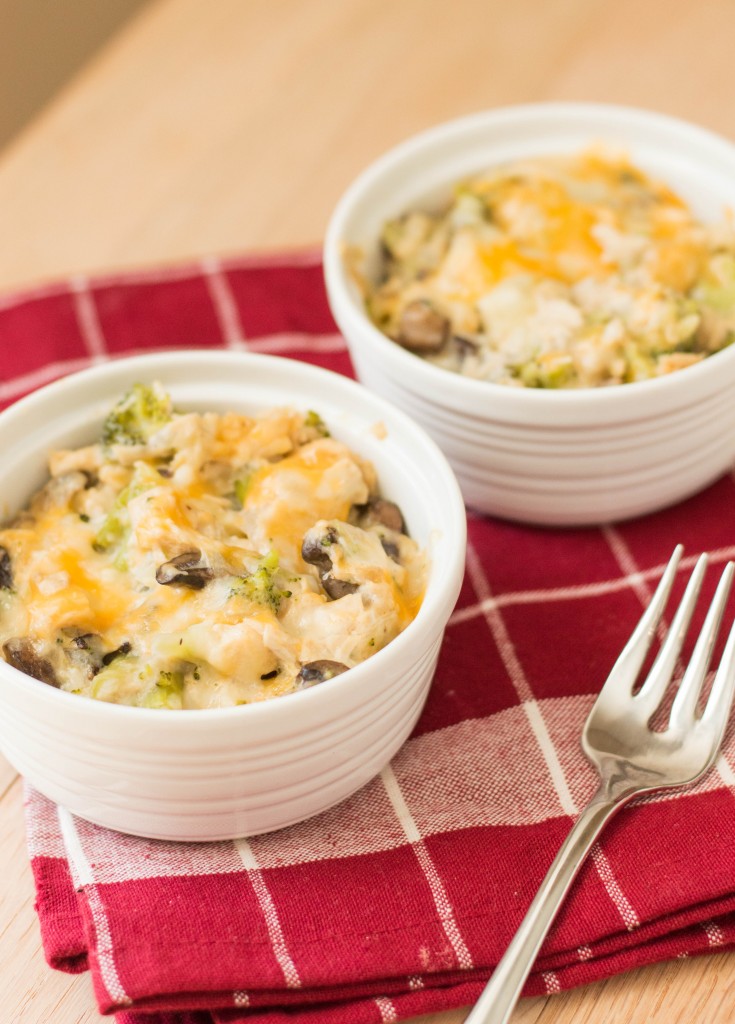 Skinny Chicken & Broccoli Casserole
Source: Slightly Adapted from Cooking Light
Serves 6
Ingredients:
1 (12 oz.) package steam-in-bag broccoli florets
1 tbsp. extra virgin olive oil
1/2 medium onion, chopped
1 (8 oz.) pkg. sliced baby bella mushrooms, roughly chopped
3 tbsp. all purpose flour
1 1/2 cups skim milk
2 large chicken breasts, cooked & chopped
1/2 cup plain fat free Greek yogurt
1/4 cup light mayonnaise
1/2 tsp. freshly ground black pepper
1/4 tsp. salt
1/2 cup 2% cheddar cheese
1/4 cup shredded parmesan cheese
Directions:
Preheat oven to 375 degrees. Spray an 8 x 8 glass baking dish with cooking spray, set aside.
Steam broccoli in microwave according to package directions.  Let broccoli cool and chop into slightly smaller pieces, set aside.
Place a large skillet over medium high heat.  Add olive oil and swirl pan to evenly distribute.  Add onions & mushrooms and cook, stirring occasionally, until onions are translucent and mushrooms have shrunk in size & turned dark brown, approximately 7-10 minutes.
Sprinkle flour over top of mushroom mixture and cook for 1 minute, continually stirring.  Add in milk and stir to combine.  Bring mixture to a boil and then cook for approximately 3 minutes, until mixture is bubbly and has thickened slightly.  Add in the broccoli and chicken and stir to coat.  Cook for 1 minute more.
Remove mixture from heat, add in the yogurt, mayo, pepper & salt.  Stir until fully incorporated. Pour mixture into your prepared baking dish. Sprinkle parmesan and cheddar cheeses on top. Bake for 15 to 20 minutes, until cheese is melted and mixture is bubbly.
Notes:
*Can use 16 oz. of mushrooms if desired
*You can also just buy a bag of frozen broccoli florets, place in a microwave dish and cover with water, cook for 5 minutes, stir, cook for 3 minutes, stir, then 2 more minutes and stir.  If still not completely tender cook for a few more minutes. Drain water and let cool.
*If you want to prep ahead, you can make the broccoli, chop the onion and chop the chicken a little bit ahead of time and store in the fridge until ready to cook.
*To save time, you can buy a rotisserie chicken and use the breasts from that.
*I adapted the recipe slightly by changing from canola oil to extra virgin olive oil & I used 2% cheeses so the nutrition values may be slightly different, but the original recipe has 277 calories & 11.9 g fat per serving. Serving is approximately 1 1/2 cups.