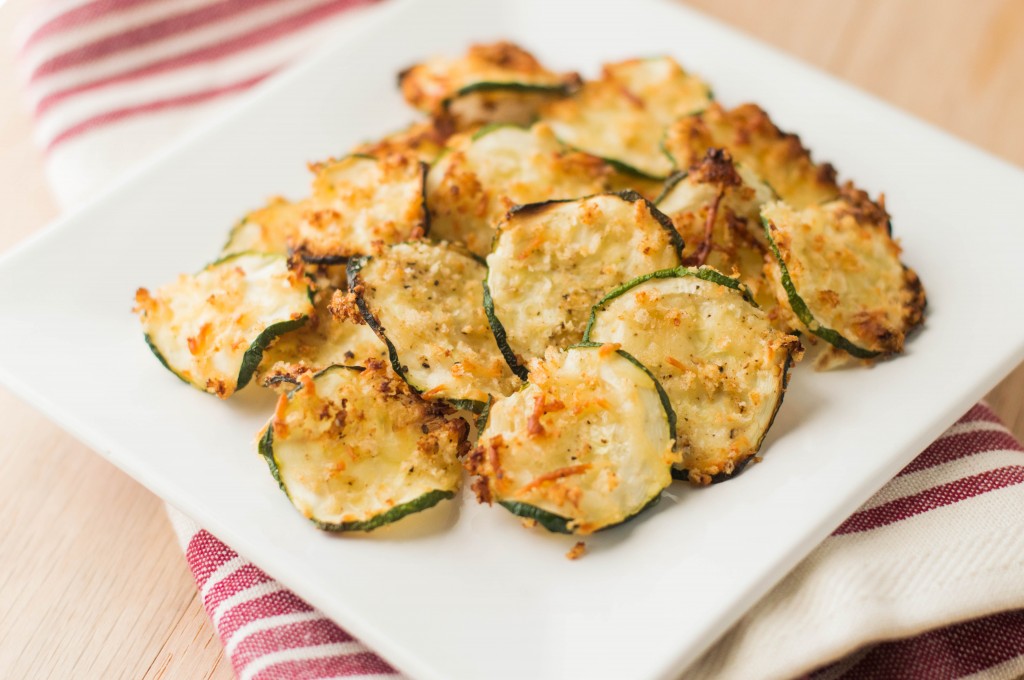 I'm not a big green veggie lover.  I like salads and green beans and broccoli (if it's covered in cheese, haha). So I can have a hard time getting in my green veggies in without eating the same thing all the time.  I'm always in search of a new way to eat green veggies and when I found this recipe I knew I had to try them right away.  Veggies in chip form, count me in! The first time I made these, I cut them too thick and they didn't crisp up, but the second time I sliced them really thin and they worked great! These were so good and were so fun to eat! They are a bit addictive, but that's okay because they are healthy chips!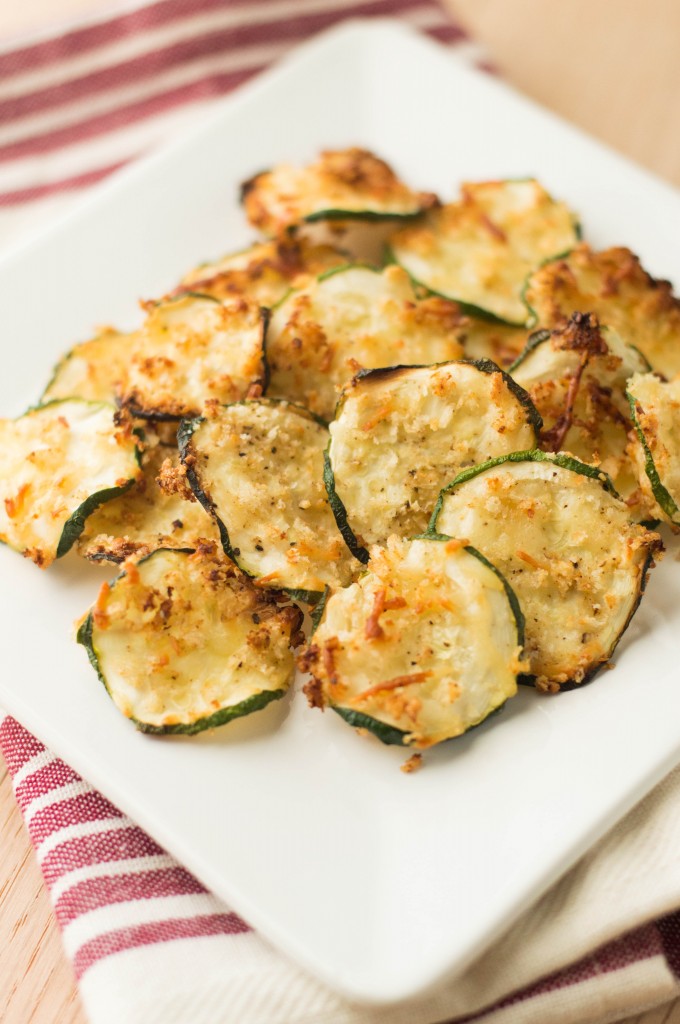 Oven Baked Zucchini Chips
Source: Nutritionist in the Kitch
Ingredients:
1/4 cup panko breadcrumbs
1/4 cup grated or shredded Parmesan cheese
1/4 tsp. seasoned salt
1/4 tsp. garlic powder
1/8 tsp. freshly ground black pepper
1/4 cup skim milk
1 large zucchini (approx. 2 1/2 cups), sliced thin (approx. 1/8″ thick)
Directions:
Preheat oven to 425 degrees.  Line a rimmed baking sheet with aluminum foil and place cooling rack on top of foil. Spray cooling rack with cooking spray, set aside.
In a small bowl, stir together the panko, parmesan, seasoned salt, garlic powder, & pepper until fully incorporated.
In a separate small shallow bowl, add milk.
Dredge each zucchini slice into the milk and then into the breadcrumb mixture.  You wont get a ton of the breadcrumbs to stick but it doesn't need much to get the flavor and crispiness. Place each zucchini on the prepared cooling rack.  Repeat until all zucchini & breadcrumbs are used.
Bake for approximately 20 to 30 minutes, until crispy. Remove baking sheet from oven and very carefully lift the chips off the rack so they don't stick.  Serve warm or room temperature.
Notes:
*Oven temps vary, so I would check on these periodically and see if they are crispy enough. Once they are done they can burn quickly, so definitely start checking them after 20 minutes especially if you cut them super thin.  You could also try baking them at 400 degrees for a tad longer.
*I would recommend doubling this recipe as it made just enough for the 2 of us.
*If you cut the slices too thick, as I did the first time, they won't crisp up, but they will still have good flavor.