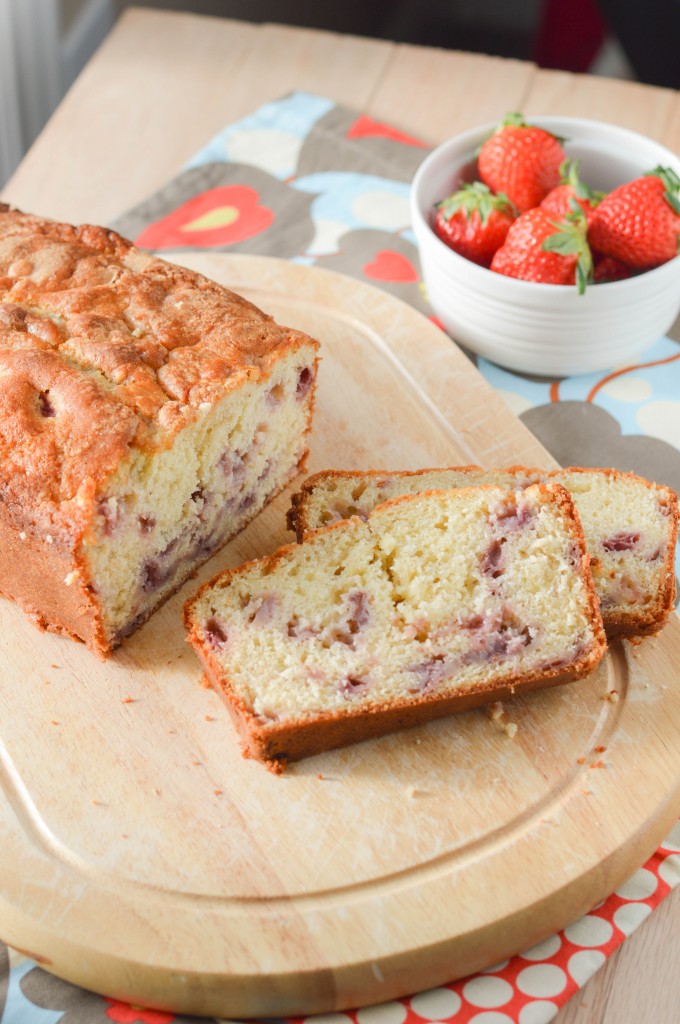 I just bought some strawberries at the grocery on sale and kind of forgot about them once I got them home.  They were about to go bad and we can't have that! So I went searching for a recipe to use them up and came back across this bread that I pinned a while back.  This strawberry bread was wonderful! Super moist and just the right amount of sweetness.  This is a great breakfast or snack! I think this would also work great with other fruit too: blueberries, blackberries, peaches, etc. Let me know if you try it with any of these.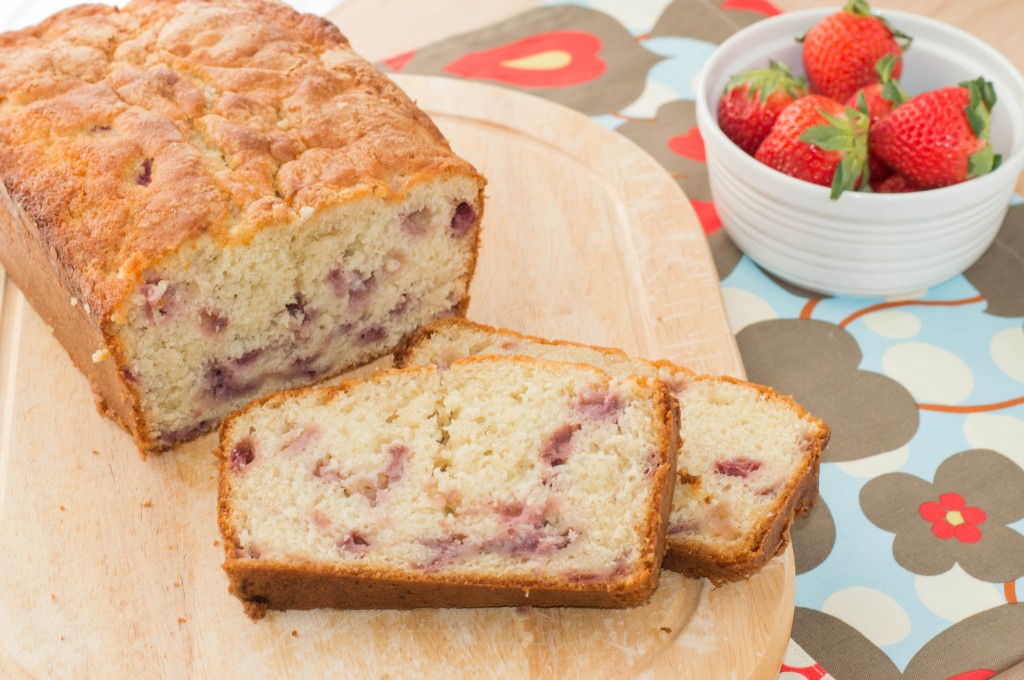 Strawberry Cheesecake Bread
Source: Living Beyond Measure, originally My Baking Addiction
Ingredients:
1/2 cup (1 stick) unsalted butter, softened
4 oz. 1/3 less fat cream cheese, softened
1 cup sugar
2 eggs
1 tsp. vanilla
2 cups all purpose flour
2 tsp. baking powder
1/2 tsp. baking soda
1/2 tsp. kosher salt
1/2 cup buttermilk*
1 1/2 cups chopped strawberries
Optional:
1 tsp. all purpose flour
1-2 tsp. sugar (for topping)
Directions:
Preheat oven to 350 degrees.  Grease & flour a 9 x 5 inch loaf pan or spray with cooking spray, set aside.
Rinse strawberries, pat them dry and then chop into small pieces.  Place in small bowl and if desired add in the 1 tsp. of flour (listed under optional ingredients). Stir together and set aside. The mixing with flour is to help keep the strawberries from settling to the bottom when baking.
In the bowl of a stand mixer, add butter, cream cheese & sugar and beat until creamy.  Add in the eggs, one at a time, beating between each addition.  Add in vanilla and beat until incorporated.
In a separate medium sized bowl, whisk together flour, baking powder, baking soda & salt.
Add the flour mixture & buttermilk to the cream cheese mixture in batches, starting and ending with the flour (1/3 of the flour, 1/2 the buttermilk, 1/3 flour, rest of buttermilk, rest of flour).  Beat on low speed after each addition until just incorporated.
Remove bowl from stand and gently fold in chopped strawberries. Pour into prepared loaf pan. If desired, sprinkle a tsp. or 2 of sugar over top.
Bake for approximately 50 to 60 minutes until a toothpick inserted comes out with moist crumbs attached.  Keep bread in pan and place on cooling rack to cool completely.  Once cool, gently turn pan out and remove bread.  Place in an airtight container.
Note:
*Buttermilk Substitute: Place 1/2 tbsp. vinegar in a liquid measuring cup.  Add milk and fill to the 1/2 cup mark.  Let stand for 10 minutes and use as directed for buttermilk in recipe.