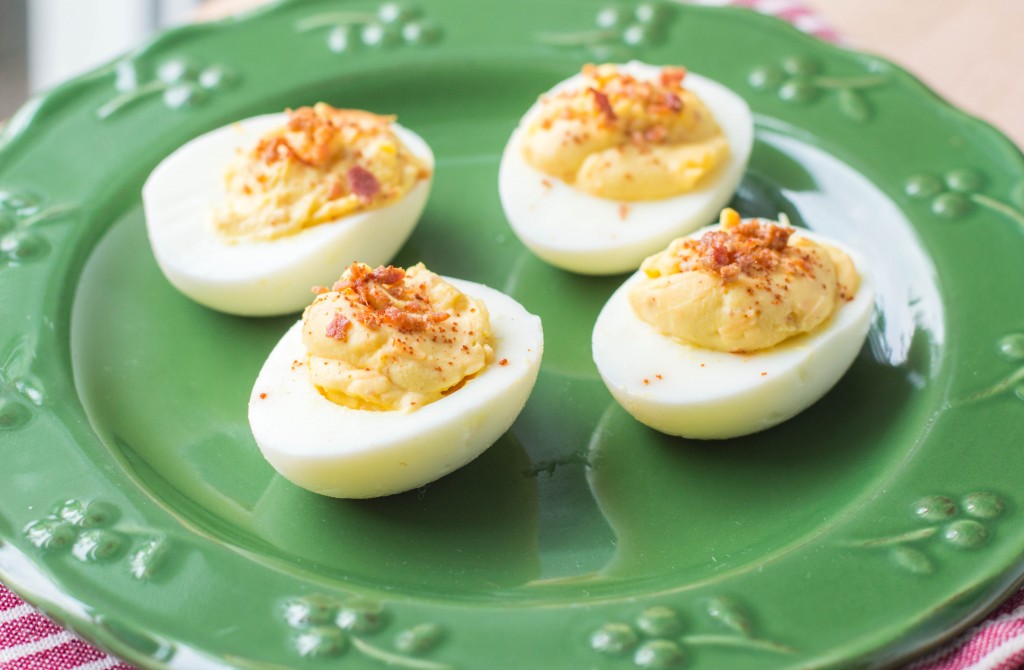 I made these for Easter weekend and my family just raved over them! I think they might be the best deviled eggs I've ever had, which is saying a lot! They are so creamy and have such a great flavor!! These would be great at a Memorial Day cookout or Fourth of July or I might just make them for a mid week meal, haha! Good thing about this recipe is that it is easily halved to make 1 dozen instead of two.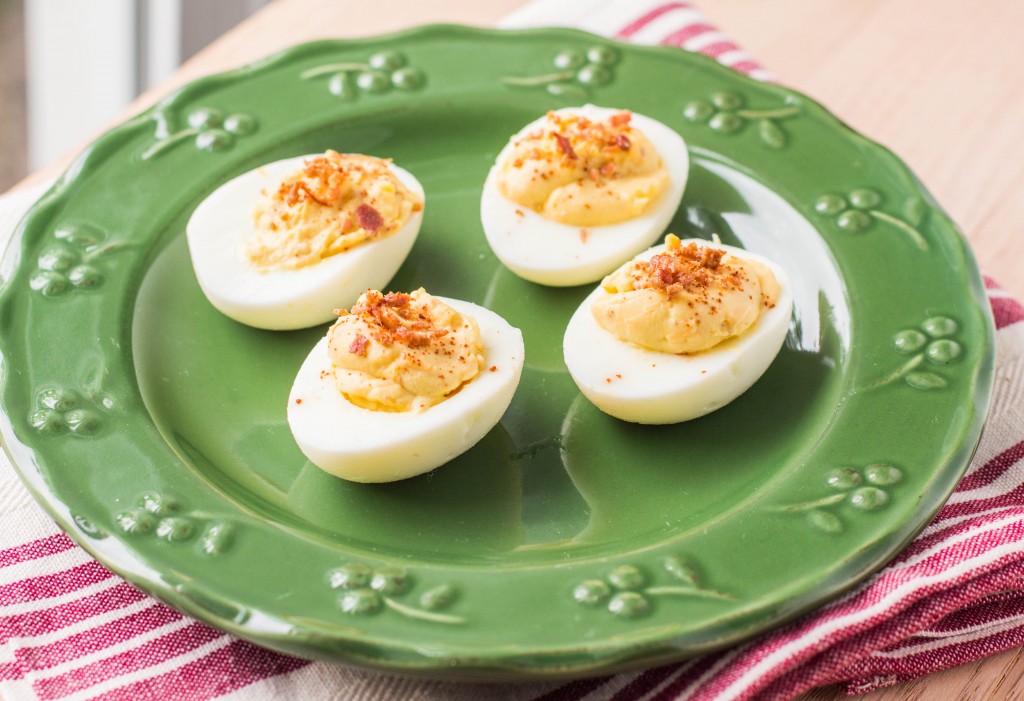 Bacon Cheddar Deviled Eggs
Source: AllRecipes.com
Makes 24
Ingredients:
12 eggs
1/4 cup plus 1 tbsp. light mayonnaise
1/4 cup plus 1 tbsp. light sour cream
4 tbsp. finely shredded cheddar cheese
2 tbsp. real bacon bits* (plus more for topping)
1 1/2 tbsp. prepared mustard
pinch cayenne
pinch paprika (for topping)
Directions:
Place eggs in a large saucepan and cover with cold water until water is approximately 1 inch over the eggs. Bring water to a boil then remove from heat immediately.  Cover pot and let stand for 13 minutes.  Remove eggs from hot water and let cool completely.  Can rinse eggs with cold water to speed up this process if necessary.
Peel the boiled eggs carefully. I googled and found a good way was to submerge the egg in room temperature water and peel them underneath the water.  Once eggs are peeled, slice the eggs in half and pop out the yolks. Place egg white halves in an airtight container and store in the refrigerator until ready to fill.
Place the egg yolks in a medium sized bowl and mash with a fork.  Add the mayo, sour cream, cheese, bacon bits, mustard & cayenne.  Mash together and stir until fully incorporated and creamy. At this point you can place in an airtight container and store in the refrigerator until ready to fill the egg whites.
To fill the eggs, place the yolk mixture into a ziploc bag and cut off the tip or use a pastry bag. Pipe the yolk mixture into the eggs until filled. Repeat for all egg white halves. Sprinkle each egg with a bit of paprika and a few bacon bits if desired.  Store in an airtight container in the refrigerator.
Notes:
*Feel free to cook your own bacon and crumble, I used store bought real bacon bits to save some time/effort.