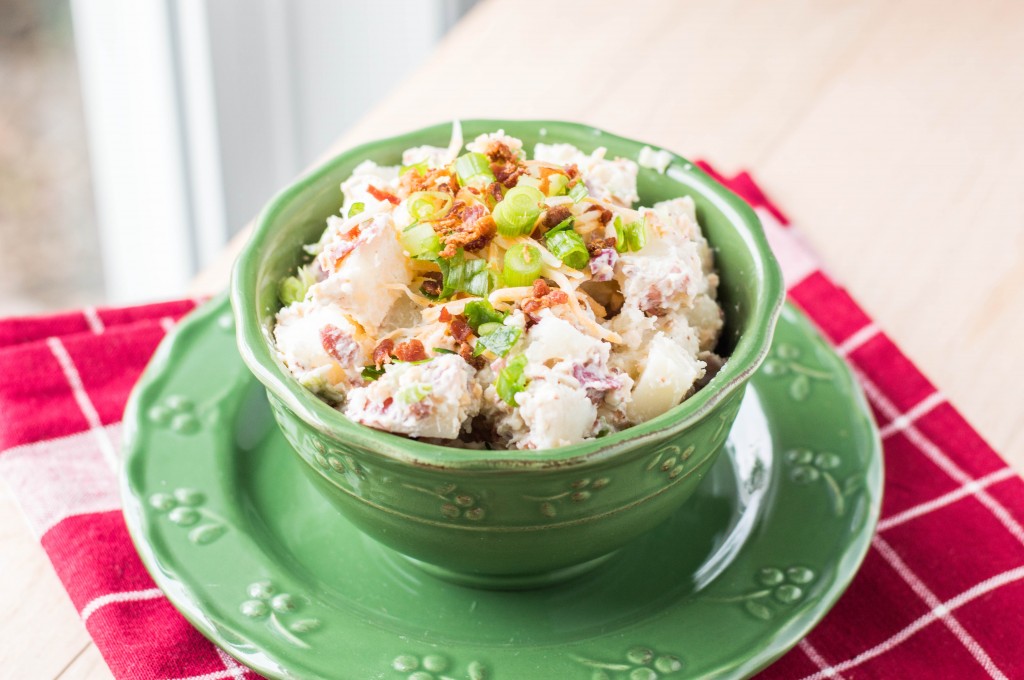 I love the classic mustard based potato salad but I thought it would be fun to try a different twist and pack in all the flavors of a loaded baked potato. Adam absolutely loves loaded baked potatoes so I thought he would like this. He didn't just like it, he went crazy for it!! He said, we better be having this again! He's always saying I make things he likes but that he never gets to have them again because I'm always making something new. He made sure I knew this was to go on his list of favorites and get it in our regular dinner rotation. I absolutely loved it too, so I will be thrilled to make it again and again. This makes quite a bit so it lasted several meals for us and would be great for a party.  Of course, you can always halve this if you don't want so many leftovers.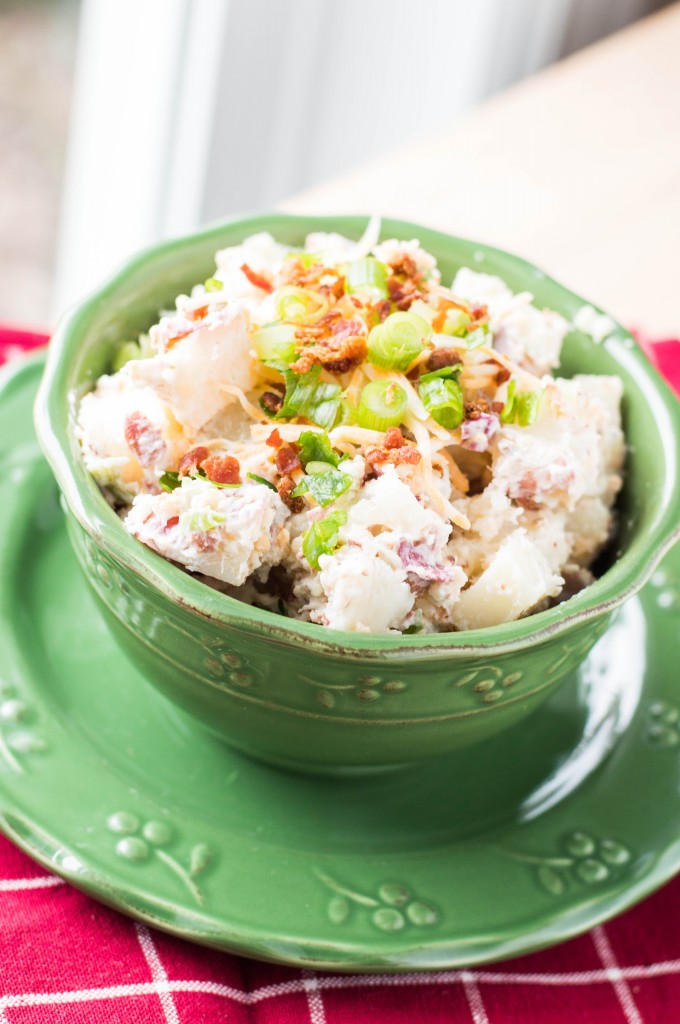 Loaded Potato Salad
Source: Six Sister's Stuff
Makes Approximately 8-10 servings, depending on portion size
Ingredients:
2 1/2 lbs. red potatoes, skin on & diced
1 cup light sour cream
1/2 cup light mayo
1 cup shredded cheddar cheese
1 1/2 oz. (approx. 1/2 container) bacon bits*
1/4 tsp. seasoned salt
3-4 green onions, chopped
Topping:
Additional cheese, bacon bits & green onions
Directions:
Cut potatoes into bite size pieces. Place in a large pot and cover with water.  Bring potatoes to a boil and boil for approximately 10 to 15 minutes.  You want them to be just fork tender, if they get too soft they will break apart. Once cooked, drain water and rinse potatoes, then drain once more. Place potatoes in a large bowl and refrigerate until cooled.
Meanwhile, in a medium sized bowl, stir together the sour cream, mayo, cheese, bacon bits, seasoned salt & green onions until fully incorporated.
Once potatoes have cooled, add the sour cream mixture to the potatoes and stir until potatoes are fully coated and mixture is evenly distributed.  Taste and add additional seasoned salt if necessary. Refrigerate for at least 30 minutes prior to serving to allow flavors to marry.
For serving, top with additional cheese, bacon & green onions if desired.