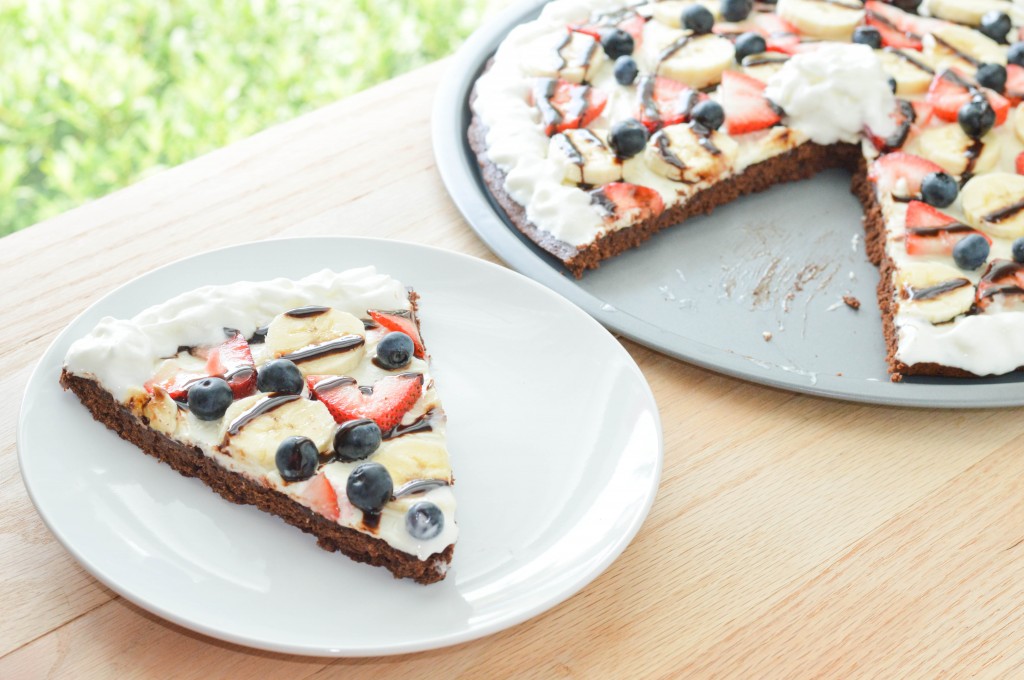 I know I normally post on Tuesday/Thursday but since Independence Day falls this Friday I thought I would move things up a bit in case you want to get the ingredients for the holiday weekend. Today is actually my birthday and I thought what better reason to make a fun & festive treat! We got together with some friends recently and one of the girls brought this brownie pizza. I knew I had to make it soon, so I made it for my birthday weekend. I saved a couple pieces for Adam & I and then sent the rest with Adam to work. This was so good and super easy! It's festive for holidays and super kid friendly too! I mean who wouldn't love brownies in a pizza form?!
Banana Split Brownie Pizza
Source: Food.com, originally Pampered Chef
Ingredients:
1 Family size brownie mix (9 x 13)
1 (8 oz.) package cream cheese, softened
3 tbsp. sugar
Strawberries (Approximately 8-10), sliced
1 Banana, sliced
Blueberries (small handful)
Chocolate Syrup
Whipped Cream (optional)
Directions:
Preheat oven to 375 degrees. Cover a 13″ round rimmed baking pan with foil, leaving some overhang, and spray with cooking spray, set aside.
Mix brownies according to package directions. Spread into prepared pan and bake for approximately 15 minutes, until set in the center. Let cool completely.
Meanwhile, in the bowl of a stand mixer, beat cream cheese and sugar together until a creamy, spreadable consistency.
Once brownies are cool, lift up out of the pan and peel off foil very carefully. Return to pizza pan or place on serving platter.
Spread cream cheese mixture in an even layer onto brownies, leaving about 1/2 inch border at the edge. Top with strawberries, bananas, & blueberries in whatever pattern desired. Sprinkle with blueberries. Drizzle chocolate syrup over top.
Place in refrigerator to chill for at least 20-30 minutes. Serve top with whipped cream on the outside edge if desired. Cut into triangles and enjoy. Store leftovers in an airtight container in the refrigerator.
Notes:
*This is best made day-of your event so that the fruit is freshest. If you do make it a couple hours in advance, be sure to cover it in the fridge so the brownie layer doesn't dry out.
*My pan was 13″ and it worked great, but if you want a thinner brownie layer, use a 14″ round pan or use a pizza stone and manipulate the foil to make a 14″ ring. Of course you could make this a rectangular pizza too.