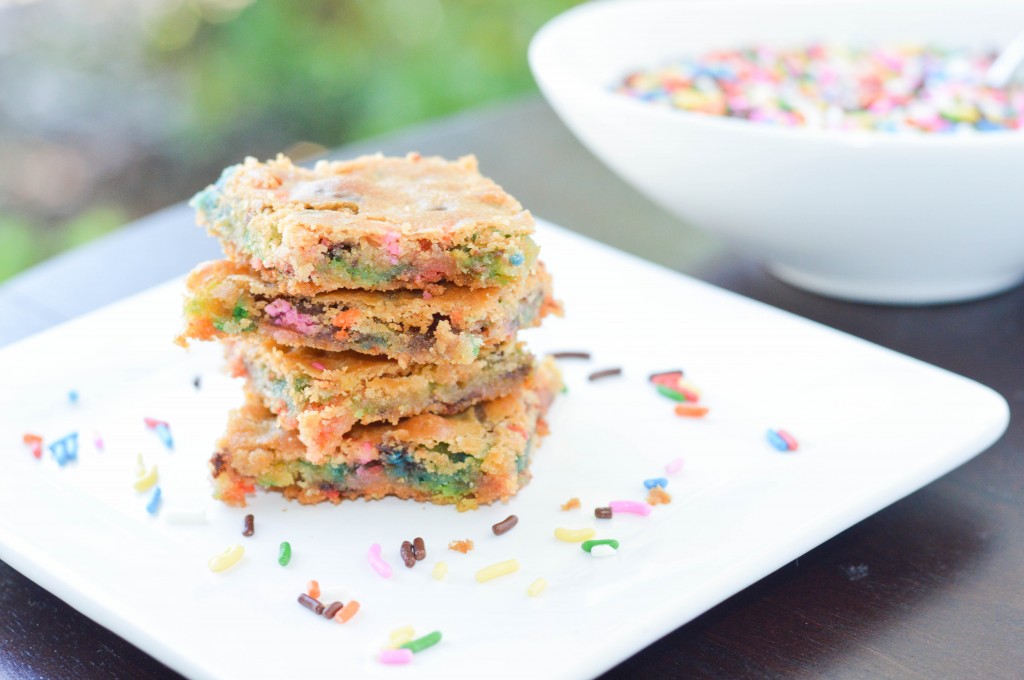 Last week, we went to a potluck picnic meeting and I made these blondies to take with me. I had tons of sprinkles leftover from the funfetti cupcakes I made recently and thought these blondies would be the perfect way to use them up! For you all, I broke from my diet and tried a very small bite and these were fabulous! Perfectly soft, chewy and buttery, just the way blondies should be! Plus they are super fun and festive when you add the sprinkles. Because lets face it, everything is better with sprinkles!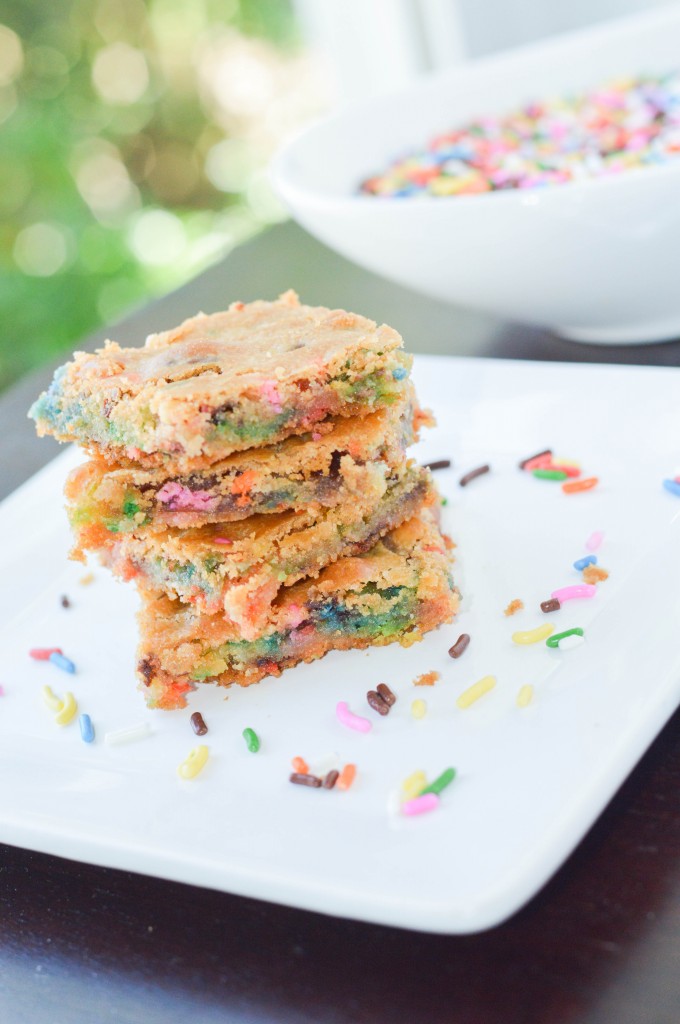 Funfetti Cake Batter Blondies From Scratch
Source: An Edible Mosaic
Makes 16-20 squares, depending on how large you cut them
Ingredients:
3/4 cup all purpose flour
1/4 tsp. baking powder
1/16 tsp. baking soda
1/4 tsp. salt
1/3 cup white chocolate chips (optional)
1/4 cup rainbow sprinkles
6 tbsp. unsalted butter, rom temperature
3/4 cup sugar
1 tsp. honey
1 large egg
1 1/2 tsp. vanilla
Directions:
Preheat oven to 350 degrees. Line an 8 x 8 baking pan with aluminum foil, allowing it to hang over the sides. Spray with cooking spray, set aside.
In a medium sized bowl, add flour, baking powder, baking soda, & salt. Whisk together, then add sprinkles & white chocolate chips (if using) and stir to combine.
In the bowl of a stand mixer, add the butter & sugar and beat together until incorporated. Add honey, egg, & vanilla and beat together until fully incorporated and light and fluffy in consistency.
With the mixer on low, gradually add the flour mixture and beat until just incorporated. The batter will have a cookie dough consistency.
Press batter into the prepared pan and spread evenly. Bake for approximately 25 to 30 minutes, until golden brown on top and set in the middle and a toothpick inserted comes out with a few moist crumbs attached.  Let cool completely, then using the foil overhang, lift the blondies out of the pan. Carefully peel off the foil and cut into squares.
Note:
*I didn't add the white chocolate chips because I was out of them, but I bet they would make these even better!