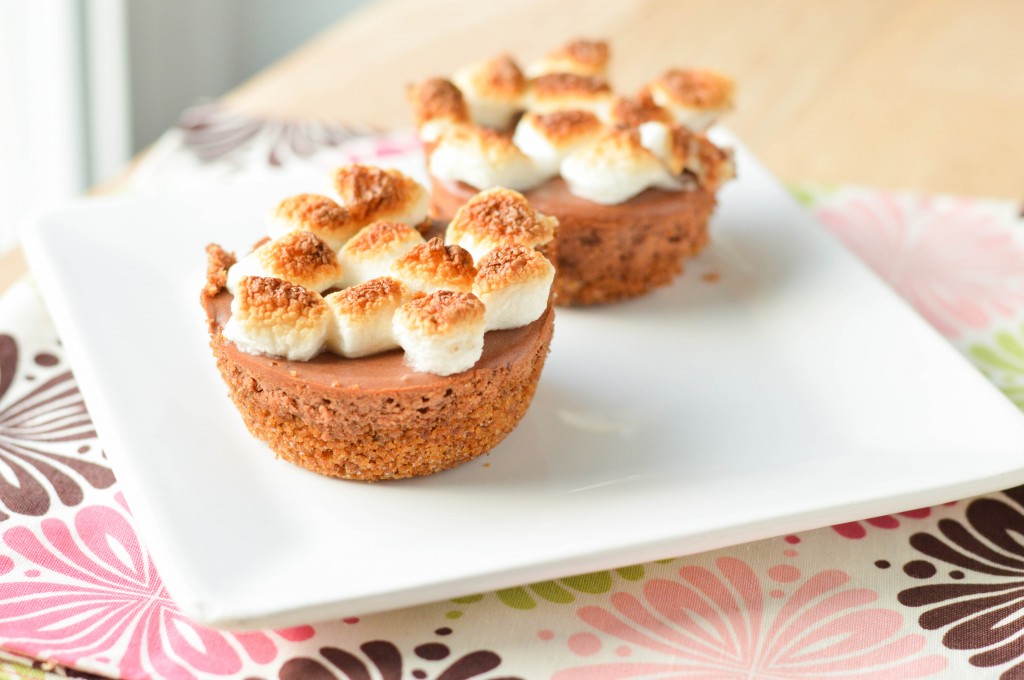 Last week we had a dinner planning meeting for a college retreat we are leading this fall. I signed up to bring a dessert and immediately thought of making s'mores mini cheesecakes. The Cheesecake Factory has this AMAZING S'mores cheesecake (seriously you have GOT to try it) and I knew I wanted to make something similar and when I found this recipe it fit the bill! A chocolate cheesecake with graham cracker crust and marshmallow topping. These turned out wonderfully!! The cheesecake was so creamy and the toasted marshmallow added that s'mores flavor & consistency.
My first try at making these they turned out great except that crust didn't adhere completely to the cheesecake layer. Determined not to give up, I remade them and noticed you were supposed to let them come to room temperature after baking and before refrigerating. In my absent minded mommy brain mode last week, I overlooked that part. So I followed that direction and they turned out perfectly! These were a huge hit! And you can make them into bars if desired too (directions for that below).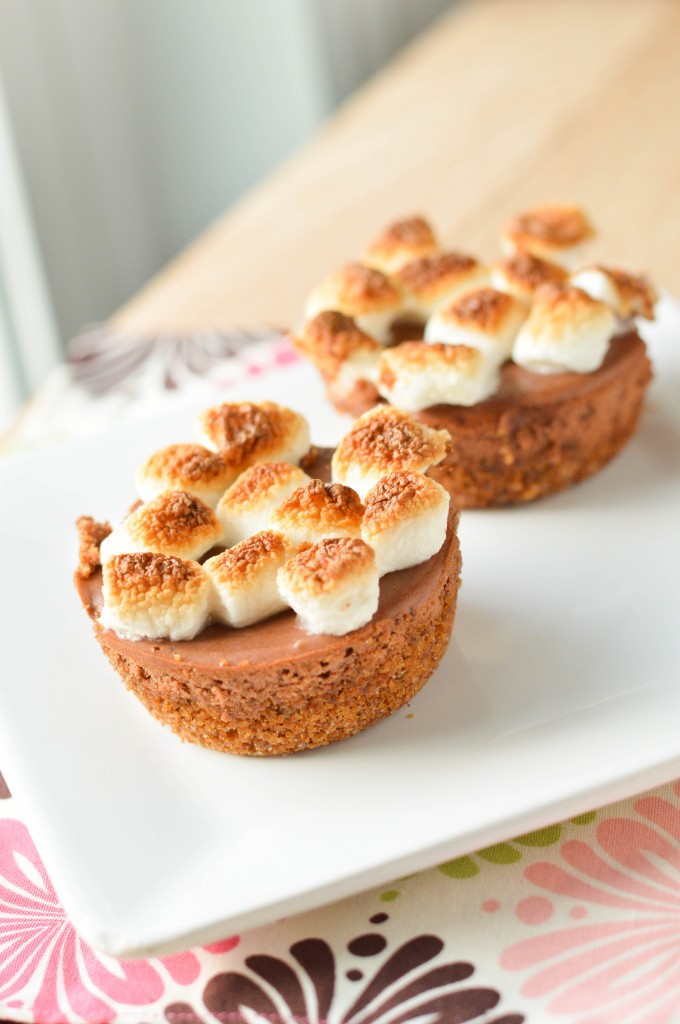 S'mores Mini Cheesecakes
Source: Annie's Eats, originally Sugar Plum
Ingredients:
For the Crust:
1 cup graham cracker crumbs
1 tbsp. sugar
4tbsp. unsalted butter, melted
For the cheesecake:
4 oz. semi-sweet chocolate chips or chopped chocolate
8 oz. cream cheese, room temperature
1/4 cup sour cream
1/2 cup marshmallow cream
2 tsp. cocoa powder
3/4 tsp. vanilla
2 large eggs
For the topping:
1 1/2 to 2 cups mini marshmallows
Directions:
For the Crust:
Preheat the oven 350 degrees. Spray a muffin tin with cooking spray, set aside.
In a small bowl, stir together graham cracker crumbs, sugar, and butter until all crumbs are moist, resembling wet sand. Firmly press a little bit of the mixture into each muffin cup, coating the bottom of each cup evenly.
Bake for 8 minutes, until lightly golden and toasted looking. Remove from oven and place tin on cooling rack while you prepare filling.
Reduce oven temperature to 325 degrees.
For the Filling:
Place a small pot of water over medium heat and bring to a simmer. Place chocolate chips or chocolate pieces in a double boiler (or heat safe bowl) and place over the water. Heat chocolate until melted, stirring often. Remove bowl of chocolate from heat and let cool slightly. (Alternatively you can heat in microwave in 20 second increments until melted, if desired).
Meanwhile, in the bowl of a stand mixer, beat together the cream cheese, sour cream, and marshmallow cream on medium speed, until fully incorporated and smooth in texture. Add cocoa powder, vanilla, & eggs and beat until combined.
Remove bowl from stand and pour in the melted chocolate. Stir until fully incorporated. Using a large cookie scoop or ice cream scoop, scoop batter into the prepared muffin tins, filling approximately 2/3 of the way full (you want to divide the batter evenly between the 12 muffin cups). Bake for approximately 12-15 minutes, until centers are set and no longer wobbly. Remove cheesecakes from the oven and place oven on broil setting.
Sprinkle each muffin cup liberally with marshmallows in an even layer. Place cheesecakes back in the oven under the broiler for approximately 30 seconds (watch VERY closely as the marshmallows brown SUPER QUICK). Remove from oven and place tin on cooling rack. Allow cheesecakes to cool to room temperature. Once cooled, place in refrigerator to chill for at least 3 hours or overnight.
Once chilled, run a knife around the outside edge of each tin and pop each cheesecake out. Place in an airtight container and store in the refrigerator.
Notes:
*It's very important to let the cheesecakes cool to room temperature before chilling. I didn't do this with the first batch and my crust somewhat separated from my filling.
*You can make these into bars if desired. Follow same methods and directions, except make in a 8×8 baking dish and bake filled cheesecakes for approximately 30 minutes instead of 12-15.
*You can use a kitchen torch for the marshmallow layer instead of broiling, if desired. After layering with the marshmallows, place back in the 325 degree oven for 2-3 minutes to melt the marshmallows slightly.