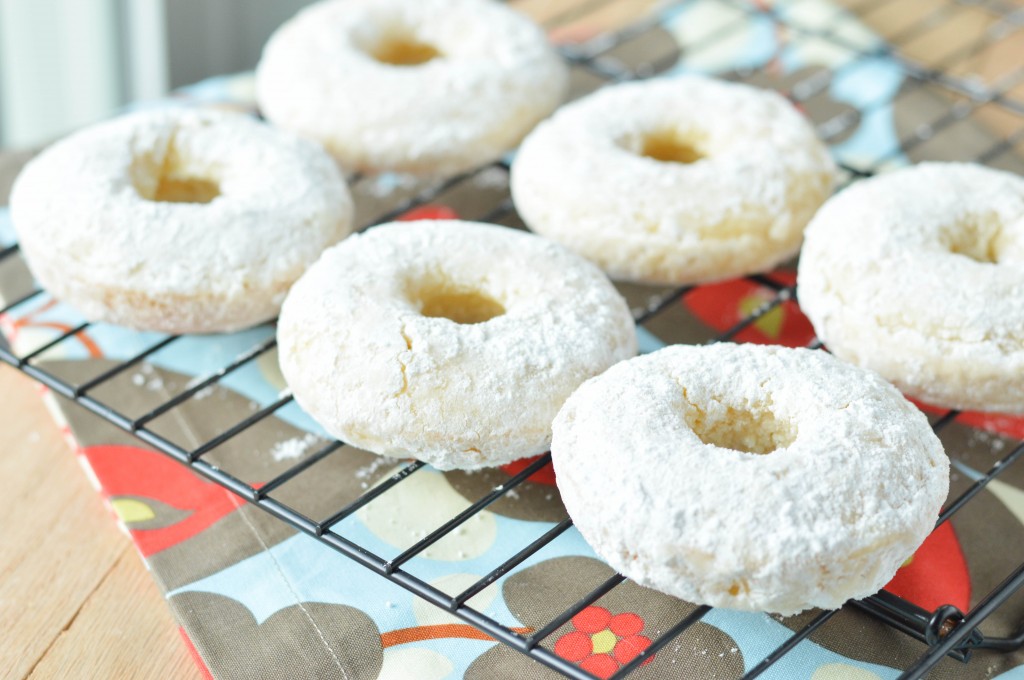 Powdered donuts were one of my favorite treats as a child. You know the ones that come in the little packs at the grocery store, so good! My friend Terri of Love and Confections is celebrating her 30th birthday today and some of us bloggers got together to give her a virtual birthday party! Terri and I have become good friends through Instagram and her little girl is just a few months younger than Sophie, so we have lots in common being first time moms.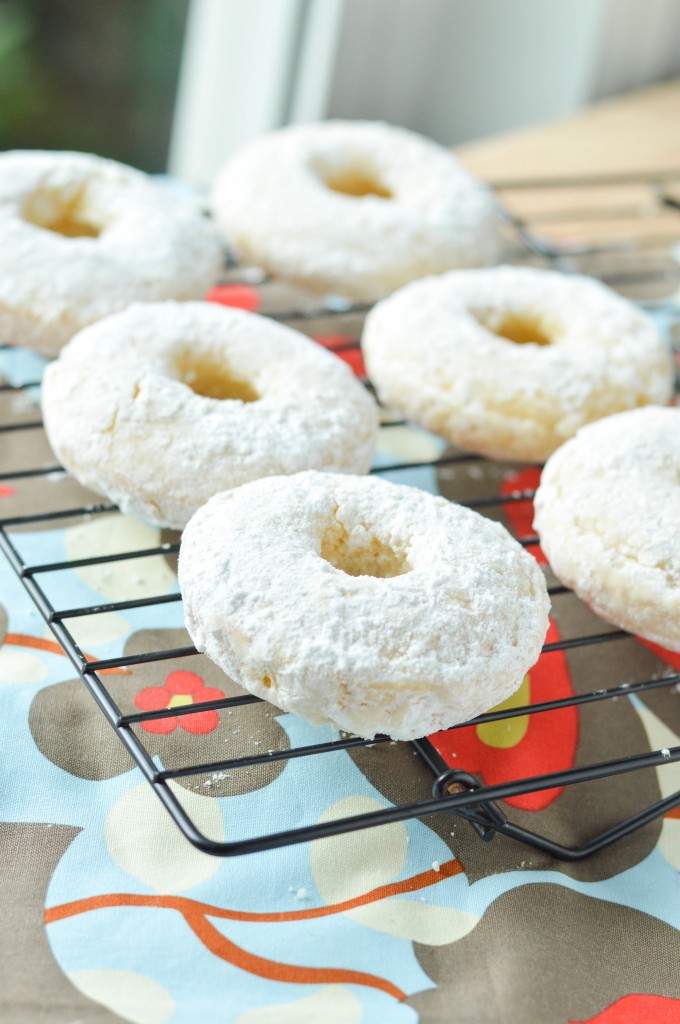 This year for my birthday I really wanted to get donuts for breakfast, I suppose because I only eat them every once in a while. So I thought I would make some for Terri for her birthday too! These were SO FABULOUS!! They were light and airy and just the right amount of sweetness. Adam took one bite and said "Wow!" I made these into regular sized donuts, but you could definitely do mini donuts, muffins, or mini muffins as well. Happy Birthday Terri!
Join me and my other Food Blog Friends as we celebrate with dishes, drinks and desserts for a milestone birthday party!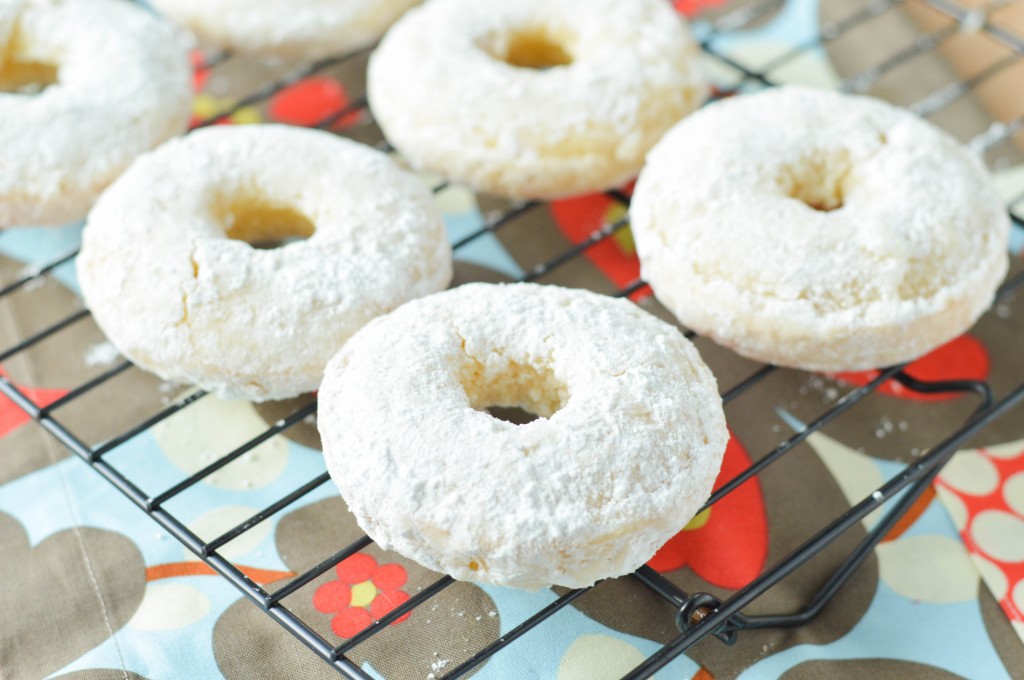 Powdered Donuts
Source: On Sugar Mountain
Ingredients:

For Donuts:
1 cup all purpose flour
3/4 cup sugar
1 tsp. baking powder
1/4 tsp. salt
pinch cinnamon
1/2 cup buttermilk*
1 egg
2 tbsp. unsalted butter, melted & cooled
1 tsp. vanilla
For Topping:
6 tbsp. unsalted butter, melted & cooled
1-2 cups confectioner's sugar
Directions:
Preheat oven to 350 degrees. Spray a donut pan* with cooking spray, set aside.
In a medium sized bowl, add flour, sugar, baking powder, salt & cinnamon. Whisk together until incorporated.
In a separate small bowl, add egg and lightly beat. Add in buttermilk, 2 tbsp. melted butter & vanilla. Whisk together until incorporated.
Pour egg mixture into the flour mixture and whisk until just incorporated. Spoon batter into prepared donut pan (can also place in a piping bag or ziploc bag with tip cut off and pipe into pan). Fill each donut tin approximately 1/2 way full.
Bake for 10 minutes, until tops spring back and a toothpick inserted comes out clean. Place pan on a cooling rack and let donuts cool in pan for approximately 5 minutes. Run a knife around the edge of each donut and pop them out. Place on a cooling rack to cool completely.
For the Topping:
Place 1 cup of confectioner's sugar in a large ziploc bag, or place in a shallow bowl.
Once cooled, dip each donut in the butter on both sides, letting the excess drip off. Then place the donut into the confectioner's sugar and roll it around to coat it completely. Remove and place on cooling rack to set. Once you've dipped all the donuts in the butter/confectioner's sugar, add some more confectioner's sugar to your bowl or bag and dip them all again in the confectioner's sugar to get a nice coating (don't put back in the butter). You can do it a third time, if desired. Eat right away or place in an airtight container.
Notes:
*Can use a mini donut pan or mini muffin pan, follow same directions but bake for 5-7 minutes.
*Can use buttermilk substitute: Place 1/2 tbsp. vinegar in a liquid measuring cup, fill the rest of the way to the 1/2 cup mark with milk. Let stand for 10 minutes and use as directed in recipe.
*If you make regular sized donuts as I did, they are a bit more fragile so that's why I recommend rolling them in the confectioner's sugar instead of shaking them in the bag. If you make mini donuts or mini muffins, you can shake them up with the confectioner's sugar.
*These are best eaten the day you make them. If you do make them the night before, you may have to dredge them in the confectioner's sugar again as it kind of melts into the donut. You could also bake them the night before and then dip them right before you go to serve them.