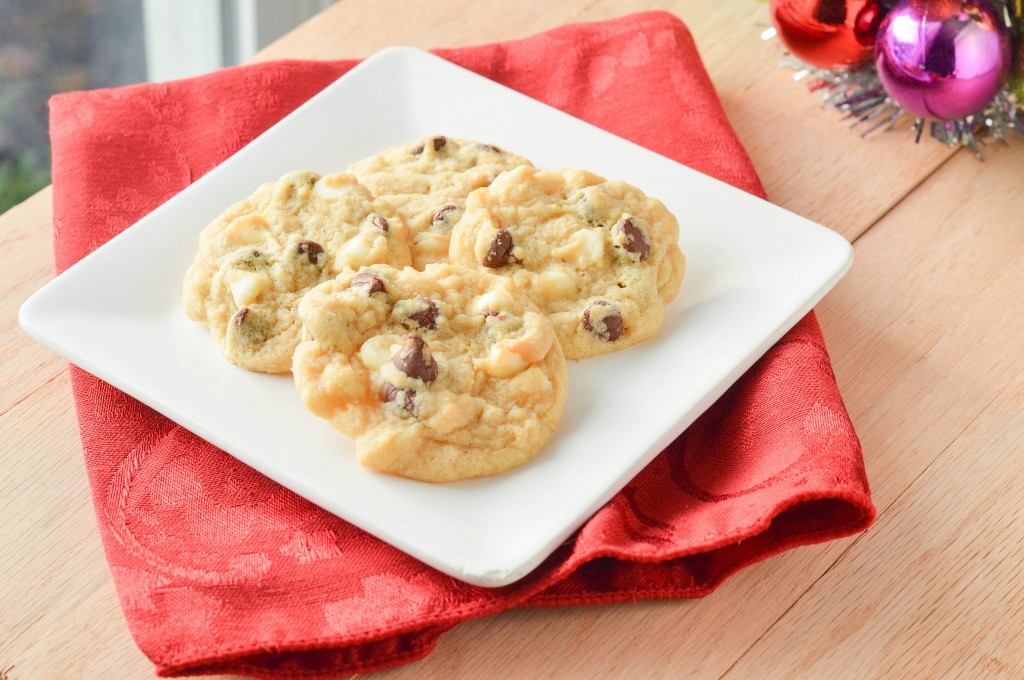 It's officially Christmas time! Do you have your tree up yet? I couldn't wait and put ours up the week before Thanksgiving. Partly because we were going out of town for Thanksgiving and partly because I just love the decorations! We had our first Christmas party last night and I took these Double Chocolate Chip Pudding Cookies. They were apparently a big hit because I went back at the end to pack them up and they were all gone! Sophie loved these too and kept reaching up toward them on the counter saying "more, more!" These were so soft and just melt in your mouth! Santa will be super happy with a big glass of milk and a few of these cookies!!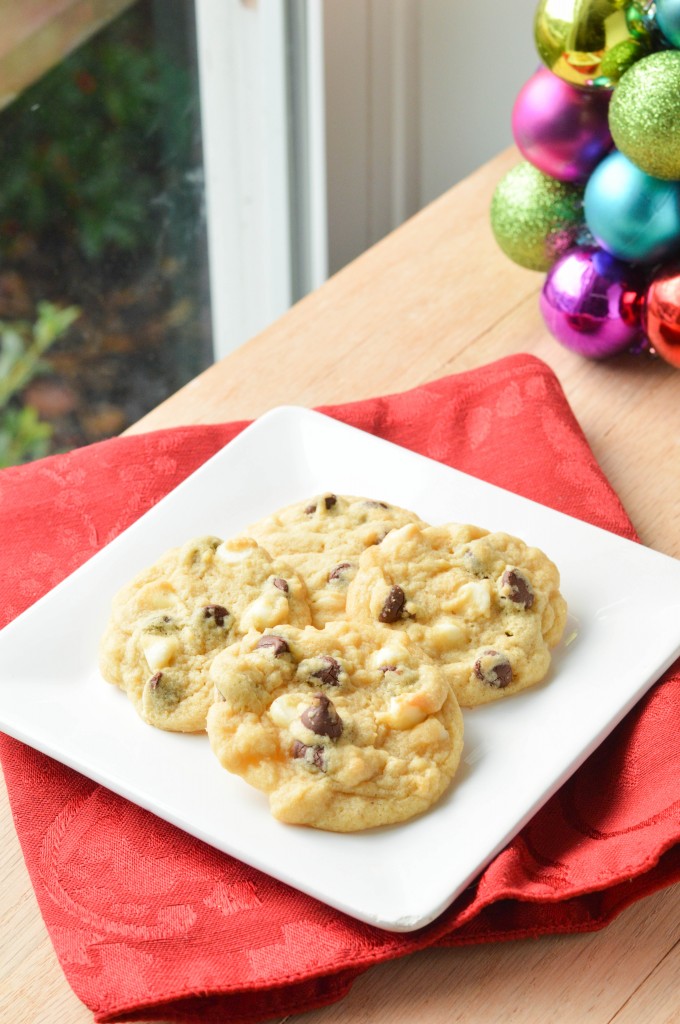 Double Chocolate Chip Pudding Cookies
Source: I Heart Nap Time
Ingredients:
2 1/4 cups flour
1 tsp. baking soda
1/2 tsp. baking powder
1 cup (2 sticks) unsalted butter, room temperature
1/2 cup light brown sugar, packed
1/2 cup sugar
1 (3.4 oz.) pkg. instant vanilla pudding mix
2 eggs
1 tsp. vanilla
1 cup semi-sweet chocolate chip cookies
1 cup white chocolate chips
Directions:
Preheat oven to 350 degrees. Cover a baking sheet with parchment paper, set aside.
In a medium sized bowl, whisk together flour, baking soda, & baking powder until incorporated, set aside.
In the bowl of a stand mixer, add butter, sugar, & brown sugar and beat until fully incorporated. With mixer on medium low, add in pudding mix & vanilla. Beat until incorporated. Add in eggs one at a time, beating between each addition.
With the mixer on low, gradually add in the flour mixture a little at a time until just incorporated.
Using a small cookie scoop, scoop out balls of dough (approx. 1 1/2 tbsp.) and place them on cookie sheet approximately 2 inches apart. Bake for 9-11 minutes until edges just start to turn golden.
Remove cookie sheet from oven and let cookies cool on sheet for a couple of minutes. Transfer to a cooling rack to cool completely or eat warm from the oven.
Notes:
To get the look where you see the chips really well on the top, I scooped the dough into balls and then split the balls in half and kind of smashed the backs of the halves together with the insides now on the outside.