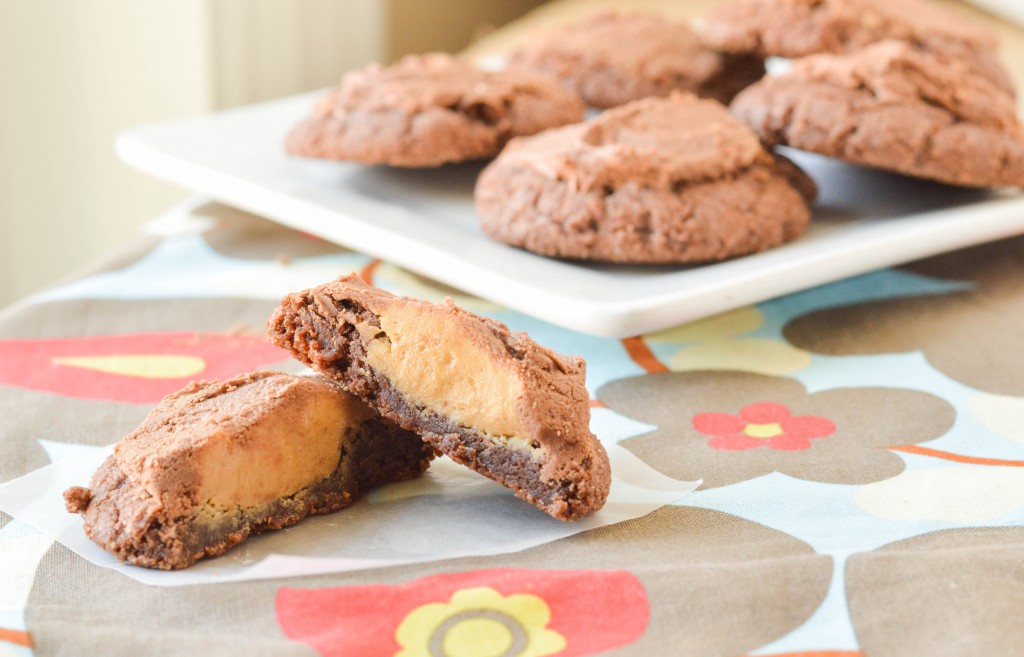 So it's the month to celebrate love and you know what that means…lots of chocolate!!! What better way to celebrate right?! These Buckeye Cookies will completely blow your mind, I'm not even kidding! They are fudgy and decadent and will melt right in your mouth! I seriously can't wait to make them again! Kids and adults alike will enjoy this treats for Valentine's Day or any holiday…or just a special treat on any day of the week.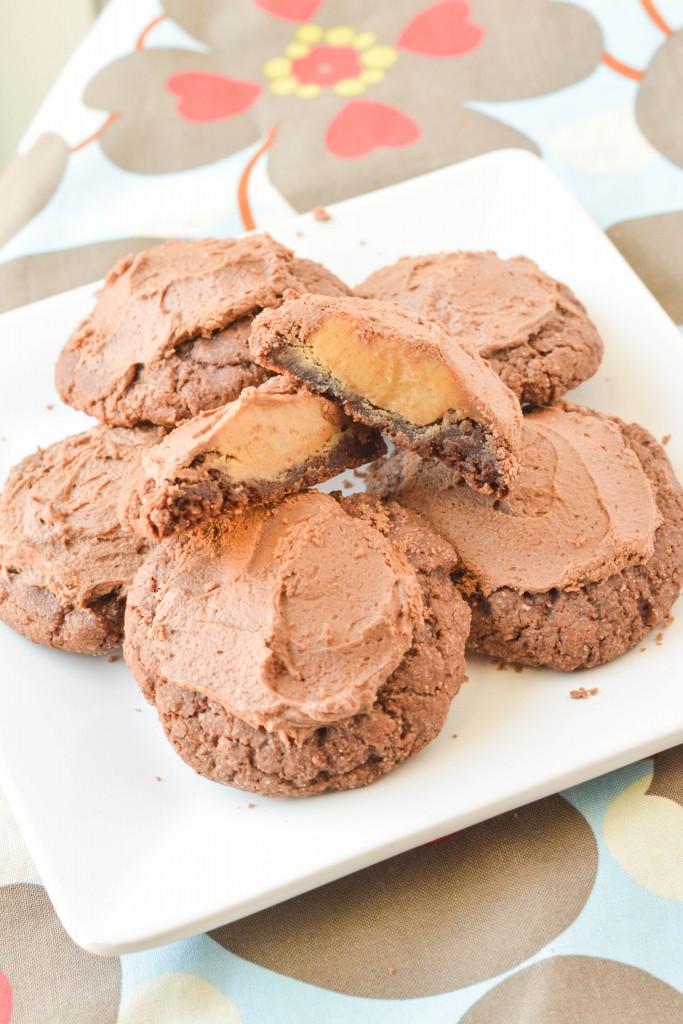 Buckeye Bars
Source: Adapted from Cookies & Cups, Brownie Mix from Stick a Fork, Frosting from Lauren's Latest
Ingredients:
For the Cookie Base:
1 1/4 cups all purpose flour
1 tsp. baking powder
1 tsp. salt
2/3 cup unsweetened cocoa powder
2 cups sugar
1/4 cup unsalted butter, melted
1/2 cup cream cheese, room temperature
1 egg
For the Filling:
3/4 cup creamy peanut butter
3/4 cup confectioner's sugar
For the Frosting:
1/4 cup unsalted butter, softened
1/4 cup unsweetened cocoa powder
1 1/2 cups confectioner's sugar
1 tbsp. milk
1/4 tsp. vanilla
Directions:
Preheat oven to 350 degrees. Cover baking sheet with parchment paper, set aside.
In a medium sized bowl, whisk together the flour, baking powder, salt, cocoa powder, & sugar. Add melted butter, cream cheese, & egg. Stir together with a spatula until fully incorporated.
Roll dough into tablespoon sized balls and place on baking sheet, approximately 2 inches apart. Press down in the middle of each ball of dough with your thumb, creating a well.
For the Filling:
In a medium sized bowl, stir together peanut butter & confectioner's sugar until incorporated. Roll peanut butter mixture into teaspoon sized balls and place each ball in the cookie well and press down into the cookie base.
Bake for approximately 10-12 minutes, until edges are just set. Let cookies set on baking sheet for just a minute or two, then transfer to a cooling rack to cool completely.
For the Frosting:
In the bowl of a stand mixer, beat together butter & cocoa powder until incorporated. Add in vanilla & confectioner's sugar and beat until incorporated. Add in milk & beat together until light & fluffy and spreadable consistency.
To Assemble:
Once cookies have cooled, spread frosting over top of the peanut butter layer. Place on cooling rack until frosting is set. Store in an airtight container.
Notes:
*For the cookie base, you can substitute a brownie mix for the flour through the sugar listed above.