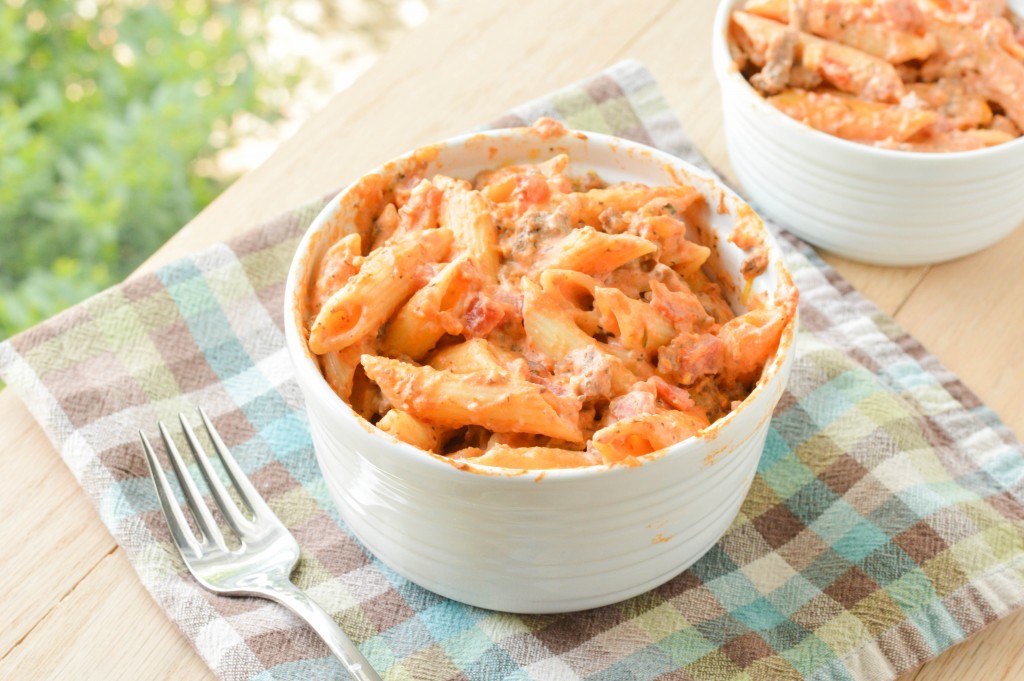 A friend of mine recently had a baby and I was planning to take her dinner. I wanted to try something different than I normally take and I thought baked ziti would work perfectly and travel well. I divided this recipe and baked it in two 8×8 dishes so that we could have some for dinner also. This was so creamy, comforting, and delicious! It was super easy to prepare and I bet you could even freeze half of it for later too. This would be a great dish for a dinner party or family gathering as it makes quite a bit!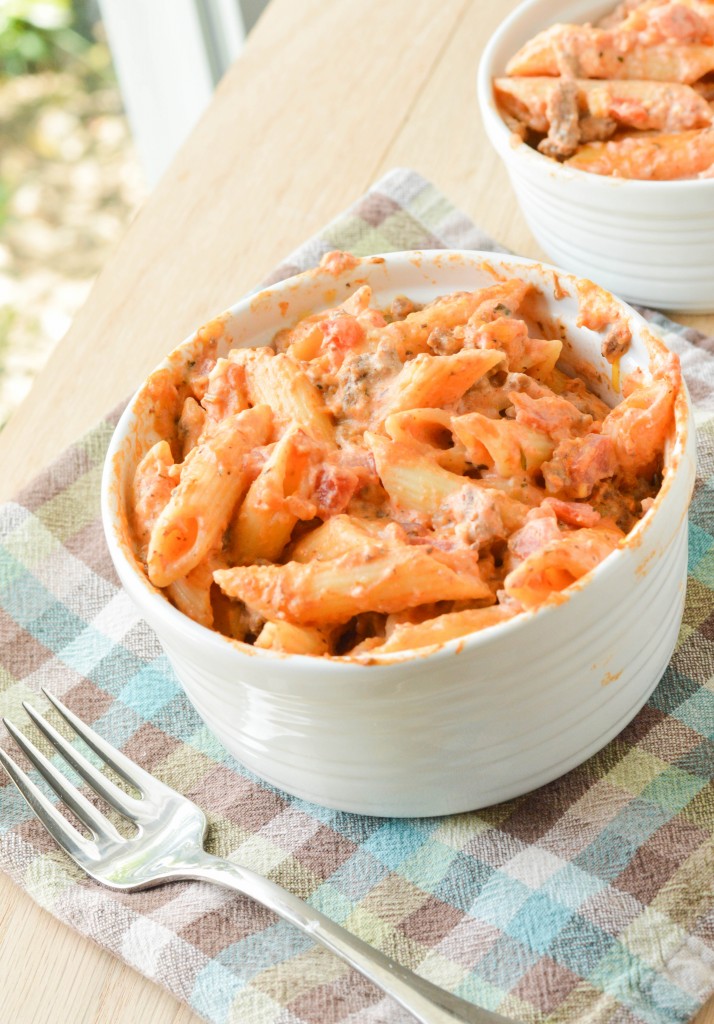 Creamy Baked Ziti
Source: Kraft via AllRecipes.com
Serves 8 to 10
Ingredients:
4 cups ziti or penne pasta, uncooked
1 lb. lean ground beef
1 (24 oz.) can or jar marinara sauce
1 tbsp. Italian seasoning
pinch garlic powder
1 (14.5 oz.) can petite diced tomatoes, undrained
1 (8 oz.) pkg. 1/3 less fat cream cheese, cubed
3/4 cup light sour cream
2 cups shredded Mozzarella or Cheddar cheese
1/3 cup grated Parmesan cheese
Directions:
Preheat oven to 375 degrees. Spray a 9 x 13 baking dish with cooking spray, set aside.
Cook pasta according to package directions. Drain and set aside.
Meanwhile, in a large skillet, brown the ground beef. Add marinara sauce, Italian seasoning, garlic powder, & diced tomatoes. Stir to incorporate. Add in cream cheese and sour cream. Stir and heat over low heat until cream cheese has melted.
Pour marinara mixture over the prepared pasta and stir to incorporate.
In the prepared baking dish, add half of the pasta mixture and spread evenly. Sprinkle with half of the shredded cheese, then 1/2 of the Parmesan. Spread the remaining pasta mixture over top and then the remaining cheese & parmesan.
Bake for approximately 20-25 minutes, until mixture is bubbly and cheese has melted.
Notes:
*You can omit the ground beef if desired, if so reduce cream cheese to 6 oz.
*Can divide and bake in two 8 x 8 dishes, directions are the same.