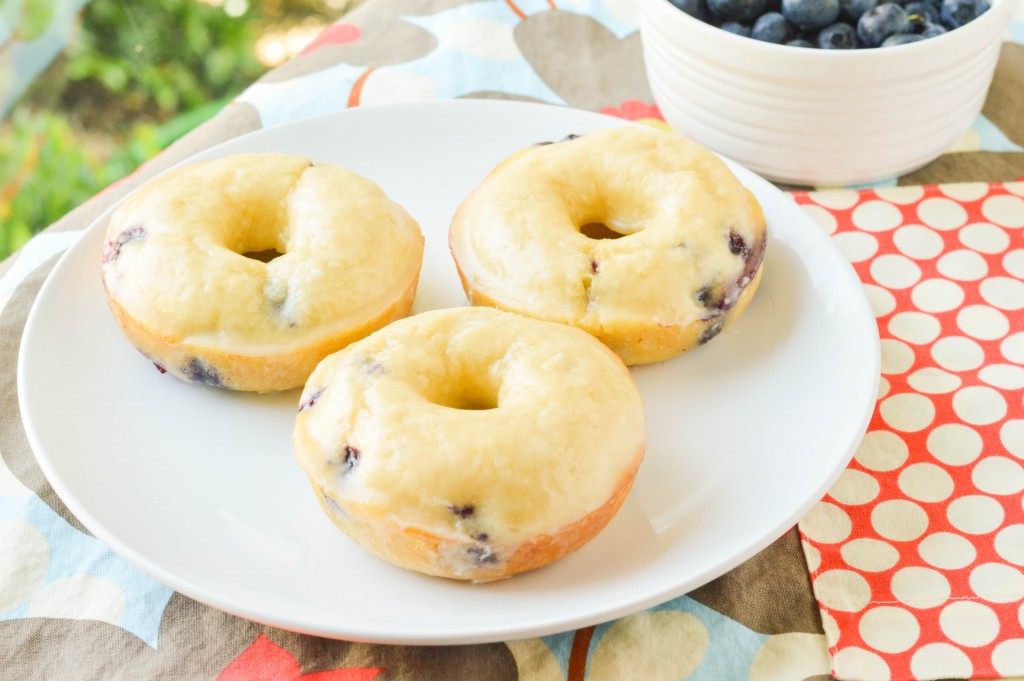 It's the time of year when so many delicious fruits and vegetables are in season. That's one of my favorite parts of summer! Blueberries are in their prime and the cost goes down significantly! On our vacation we visited a donut truck quite frequently so I have been having donut withdrawals and I had some blueberries that needed to be used up. This was the perfect excuse for making blueberry donuts! These Baked Blueberry Cake Donuts were so soft and light and the blueberries gave a refreshing burst of flavor in your mouth. I also made half of these without blueberries and this made a great plain glazed donut too! This is such a great base recipe too, so feel free to mix it up with other fruits or toppings! Also, some baked donut recipes I've tried taste a lot like cake but this truly does have a more donut like feel to the consistency.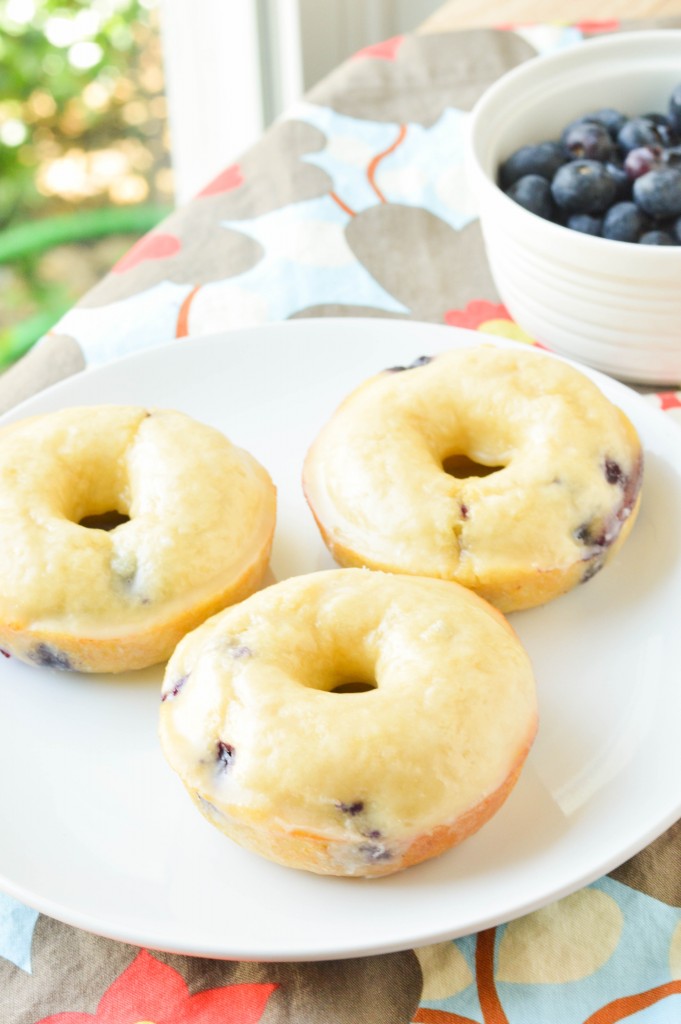 Baked Blueberry Cake Donuts
Source: All Recipes, Glaze from Alton Brown 
Makes approximately 12 donuts
Ingredients:
For the Donuts:
2 cups all purpose flour
3/4 cup granulated sugar
2 tsp. baking powder
1 tsp. salt
3/4 cup buttermilk*
2 eggs, beaten
2 tbsp. unsalted butter, melted
1 tsp. vanilla
1 cup fresh blueberries
For the Glaze:
1/4 cup milk
1 tsp. vanilla
2 cups confectioner's sugar
Directions:
Preheat oven to 400 degrees. Spray a donut pan with cooking spray, set aside.
In a medium sized bowl, add the flour, sugar, baking powder, & salt. Whisk together to incorporate. Add a pinch of the flour to the blueberries and toss to lightly coat (this helps the blueberries not sink to the bottom).
In a separate medium sized bowl, add buttermilk, egg, melted butter, & vanilla. Stir together to incorporate.
Gradually add the dry flour mixture to the buttermilk mixture and stir together until just incorporated. Add in blueberries and gently stir to evenly distribute.
Spoon the batter into your prepared donut pan, filling each tin approximately 1/2 full. Bake for approximately 8-9 minutes, until the tops spring back when touched or a toothpick inserted comes out clean. (Note, these do not turn golden brown, they will be a pale yellow color).
Let cool in the pans for a couple minutes, then run a knife around the edges and pop the donuts out and place on a cooling rack to cool slightly.
For the Glaze:
Toward the end of the donuts baking, in a small pot add the milk and vanilla and stir to incorporate. Heat over low heat until warm (just a couple of minutes). Remove from heat and add in the confectioner's sugar and stir until all confectioner's sugar is dissolved. This will be a very dippable liquid glaze. Place pan over a bowl of warm water to keep it a dippable consistency.
For assembly:
Place a baking sheet or piece of parchment paper under the cooling rack to catch the drips. Once donuts are cool enough to handle, dip both sides of the donut into the glaze and place on the cooling rack to cool completely. Store in an airtight container at room temperature.
Notes:
*For the buttermilk: You can place 3/4 tbsp. vinegar in a liquid measuring cup. Fill to the 3/4 cup line with milk and let stand for approximately 10 minutes. Use as directed in the recipe.
*This is a great base donut recipe and was great with or without the blueberries. Feel free to use other fruits or icings to mix it up!