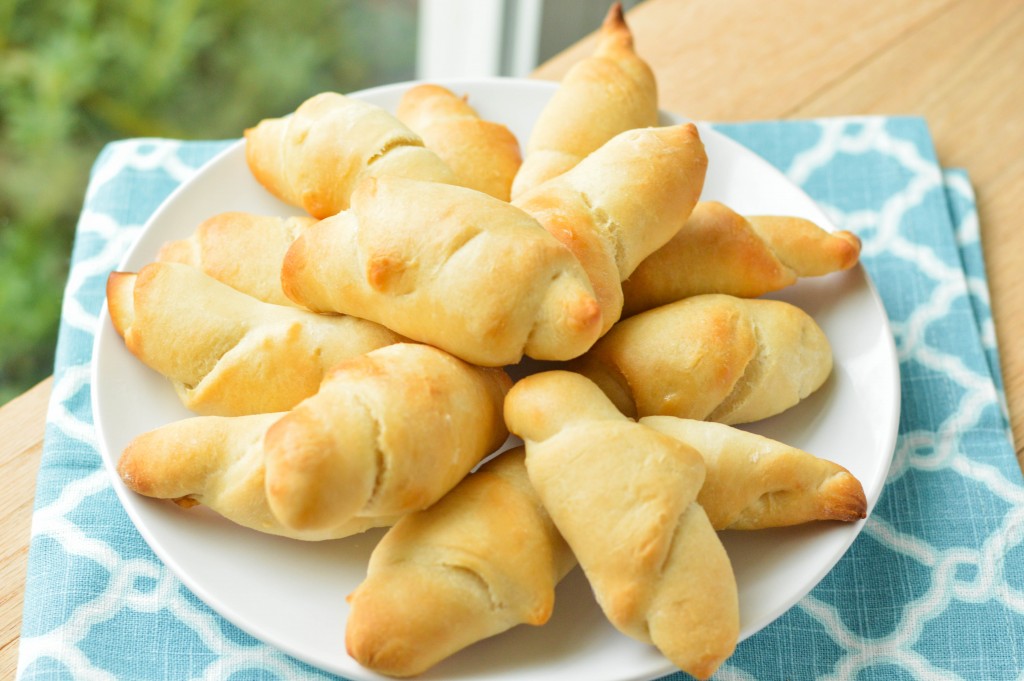 I love fresh baked bread or rolls. The problem is, I don't always have the patience to wait hours on all the rises. When I found this recipe for 1 Hour Crescent Rolls I knew I had hit the jackpot! All the taste and fluffiness of bread baked all day but in just 1 hour!! These were so good, light, buttery & fluffy. They are perfect for any party or holiday table too. Your friends and family will think you slaved away all day, but you know it just took about an hour!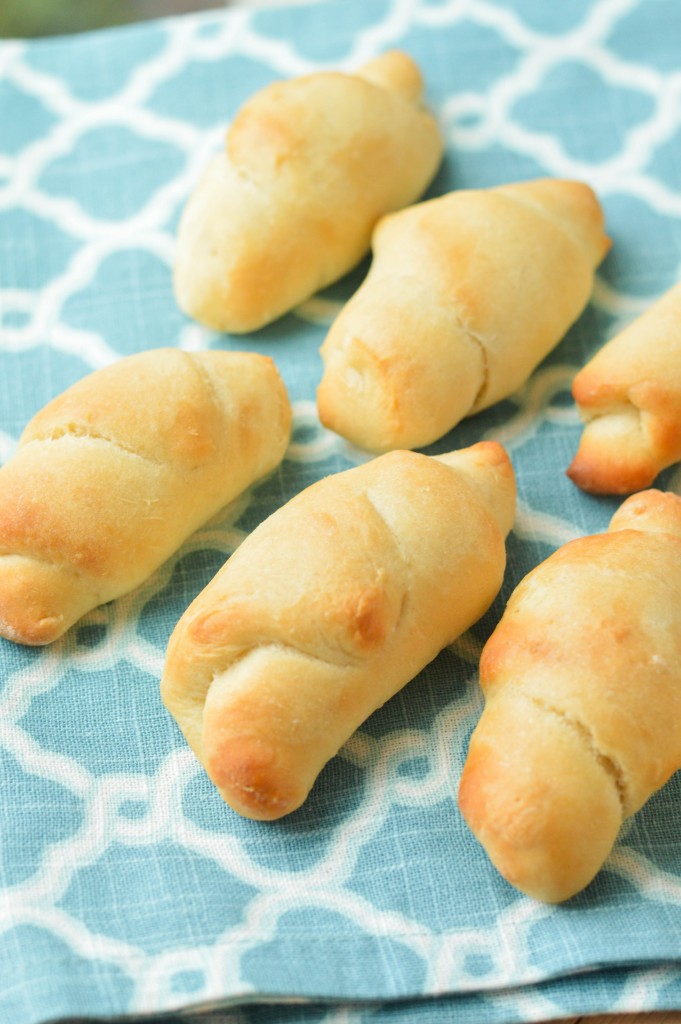 1 Hour Crescent Rolls
Source: Inquiring Chef
Makes approximately 32 small rolls
Ingredients:
1 1/2 cups warm water
1 tbsp. instant yeast
2 tbsp. granulated sugar
2 tbsp. unsalted butter, softenend
1 tsp. salt
4 cups all purpose flour, spooned & leveled
For topping:
3 tbsp unsalted butter, melted
1/2 tsp. salt
Directions:
In the bowl of a stand mixer, using the dough hook, add warm water, yeast, & sugar and stir together. Let sit for approximately 5-6 minutes, until creamy & frothy (until the yeast "blooms").
Add in the  2 tbsp. butter, 1 tsp. salt, and 2 cups of the flour. Turn the mixer on low and beat until just incorporated. Add in 1 cup of the remaining flour and beat for 1 minute. Add in remaining cup of flour and beat until fully incorporated. Knead the dough on medium speed for approximately 5 minutes, until smooth and the dough begins to slap the sides of the bowl.
Remove the bowl from the stand and cover with a towel. Let stand for approximately 20 minutes, until doubled in size.
Cover 2 baking sheets with parchment paper, set aside.
Turn the dough out onto a clean lightly floured surface and form into a ball. Divide the ball into 4 equal quarters. Take 1 quarter of dough at a time and roll it into a circle approximately 15 inches in diameter. Cut the circle into 8 triangles. Starting at the wide end, roll each triangle up to form the crescent. Place each one 1 inch apart on your prepared baking sheets. Allow rolls to rise for approximately 20 minutes.
Preheat oven to 400 degrees. Once rolls have risen, brush with half of the melted butter prior to baking.
Bake for approximately 13-15 minutes, until golden. Remove from oven and immediately brush with remaining melted butter and sprinkle with salt.
Notes:
*Recipe can easily be halved to make 16 rolls
*These can also be frozen at the step prior to baking or after baking.