So it's almost Memorial Day, which typically signals the unofficial beginning of summer with most pools opening and school getting out! Yay! It also means the start of grilling out & lots of fresh fruit & veggies available. Plus, lots of cookouts with friends and family. In light of that, I thought I would share a delicious treat that you could take to a cookout that includes my favorite dessert flavor: s'mores! This S'mores Poke Cake is moist and decadent and has all the flavors of s'mores without worrying about the bonfire. Your family & friends are going to be in love with this cake!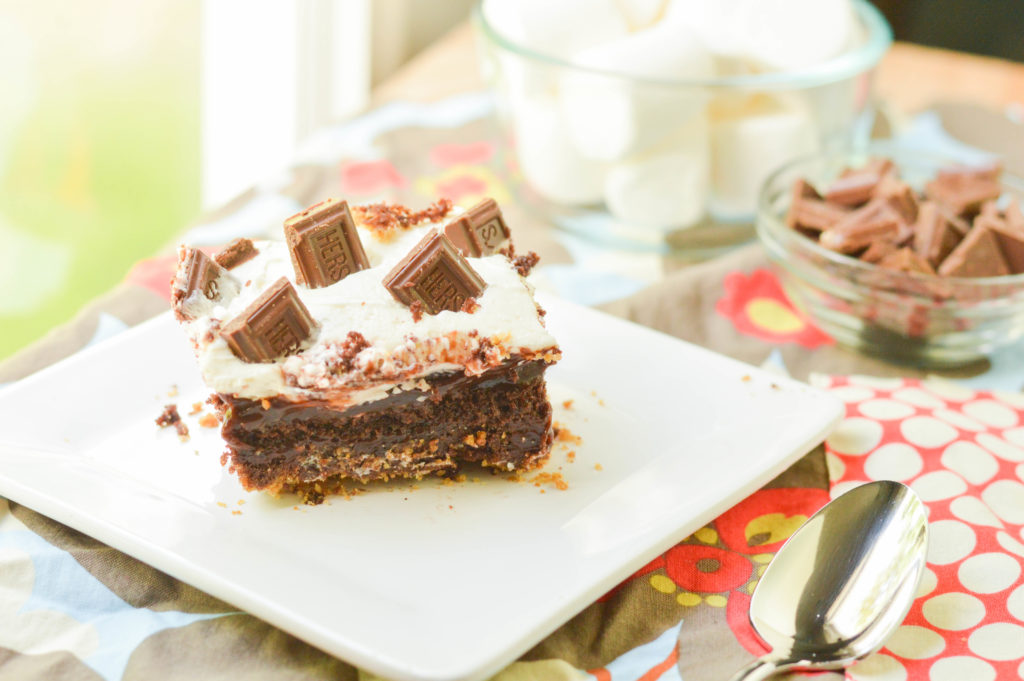 So, I couldn't quite decide on the topping…so for half of the cake, I just topped with marshmallows and toasted them under the broiler. Oh and don't worry if you burn them and set them on fire, just scoop them off and replace with other marshmallows and try again. Not that I would know anything about that! 😉 For the other half, I did a marshmallow frosting topped with chopped hershey bars. Both toppings are equally delicious! If you are in a hurry and don't have time to make the frosting, the toasted marshmallows give it a classic s'mores flavor & look. If you have a bit more time or are serving a crowd that has a bit more of a sweet tooth, then go for the icing!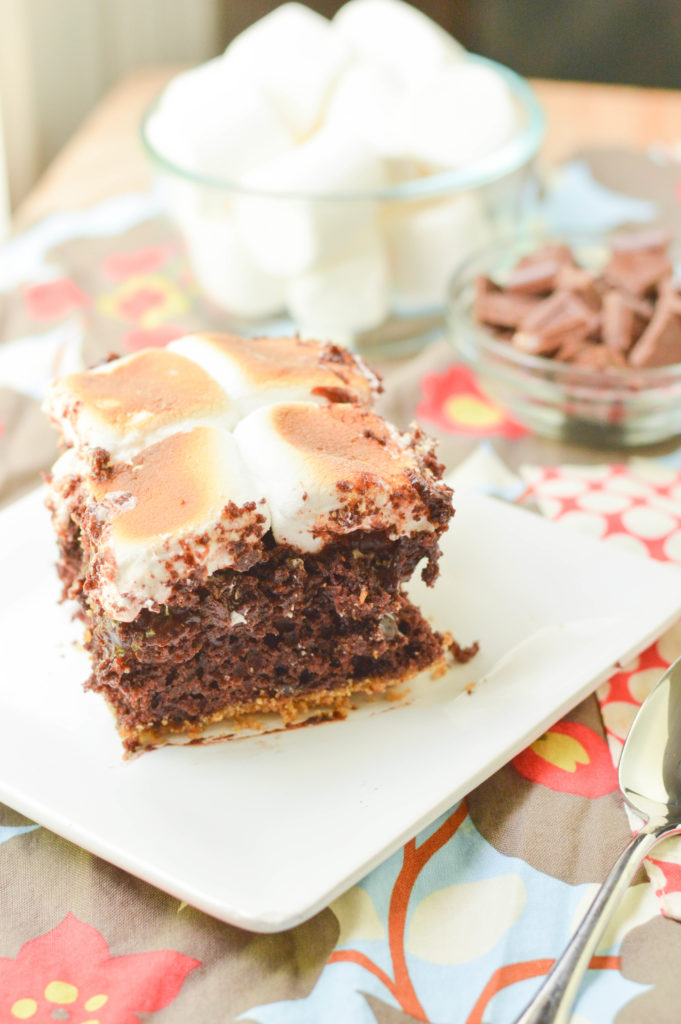 S'mores Poke Cake
Source: Cake from Inside Bru Crew Life, Frosting from Land O' Lakes
Ingredients:
For the Cake:
2 cups graham cracker crumbs (Approx. 10 full graham cracker sheets)
1 stick (1/2 cup) unsalted butter, melted
1 (15.25 oz.) box Devil's Food Cake
1 (3.9 oz.) box instant vanilla pudding
2 cups milk
Topping Choice 1: Toasted Marshmallows
1/2 of a 10 oz. bag marshmallows
Topping Choice 2: Marshmallow Frosting
1 1/2 cups (3 sticks) unsalted butter
1 1/2 cups confectioner's sugar
2 tsp. vanilla
2 (7 oz.) jars marshmallow creme
3 Hershey Bars, chopped
Directions:
Preheat oven to 350 degrees. Spray a 9 x 13 baking pan with cooking spray, set aside.
Stir together the graham cracker crumbs & melted butter until it resembles coarse sand. Press mixture into the bottom of prepared pan, distributing evenly.
Mix together the cake mix according to the package directions. Stir together until fully incorporated. Pour batter on top of the graham cracker crust and spread in an even layer. Bake cake for 28 to 30 minutes, until a toothpick inserted in the center comes out clean and the cake springs back when touched.
Remove cake from oven and let cool for 10 minutes then use the back of a wooden spoon or a skewer and poke holes all across the top of the cake.
In a separate medium sized bowl, add the pudding mix and the milk, whisk until pudding forms. Immediately pour over the warm cake, taking care to get the pudding to go down into the holes and spreading evenly. Allow cake to cool for 30 minutes. After cake has cooled, place in refrigerator for at least 30 minutes until chilled through.
For the Marshmallow Topping:
Remove cake from refrigerator and heat oven on broiler setting. Top cake with marshmallows, covering evenly. Place in oven under the broiler for approximately 1 to 1 1/2 minutes, watching very closely, until lightly toasted. Remove from oven and let cool and serve.
For the Frosting Topping:
In the bowl of a stand mixer, beat the butter until creamy, add in confectioner's sugar and vanilla and beat until fluffy. Add in marshmallow creme and beat until fully incorporated and light and fluffy. Spread in an even layer over the cake and top with chopped Hershey Bars.