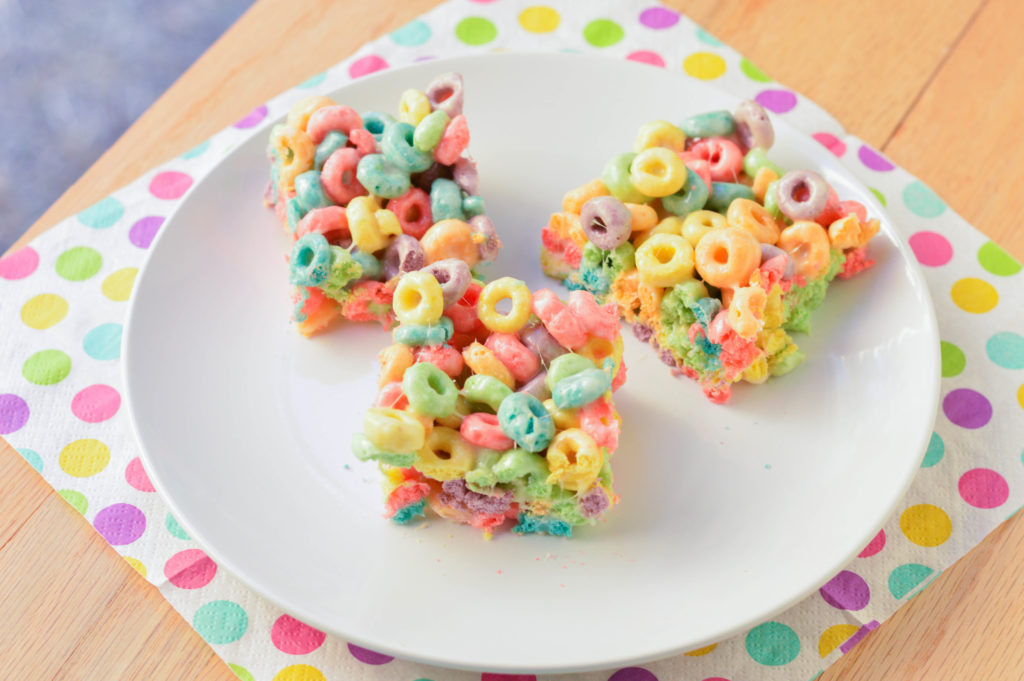 So sorry no recipe or this past week! One other reason, aside from pregnancy, that I've been posting more infrequently this summer is that I've been taking classes and studying to get my real estate license. I took my license exam this past week and passed, Praise Jesus!!! So now that all that is over, I'm hoping to get back to my regular posting schedule.
So this past weekend we had a small little birthday party a little early to celebrate Sophie's 3rd Birthday. It was a Donuts & Pajamas Breakfast Party, which I will share about in a separate post soon. With the favors, I included these Rainbow Cereal Treats. These were so fun and festive and were so tasty! Such a fun twist on traditional rice krispie treats!
Rainbow Cereal Treats
Source: Bloom Designs 
Make 16 Bars
Ingredients:
3 Tbsp. unsalted butter
8 oz. mini marshmallows
6 cups Fruit Loops
Directions:
Line an 8 x 8 baking pan with aluminum foil, allowing some to hang over the side and spray with cooking spray, set aside.
In a medium sauce pan, melt butter over medium heat. Once butter is melted, add in marshmallows and cook until melted and fully smooth, stirring frequently. Remove mixture from heat. Stir in fruit loops, ensuring to coat completely. Press evenly into prepared pan. Let stand until set.
Lift bars out of the pan using the foil overhang. Peel off foil and place bars on a cutting board and cut into squares. Store in an airtight container.
Notes: 
*Can easily double and use a 9 x 13 baking pan