These Sugar Cookie Cheesecake Bars are sheerly amazing!! They are buttery and creamy and the texture from the crust & the cookie layers give them a nice crunch. I made them for Valentine's Day and they got rave reviews! I seriously may make these for myself for my birthday, they are that good!! Kids and adults alike will love these treats and you can make them for different holidays with different colored sprinkles. These are semi-homemade as I used store bought cookie dough for the topping but you can definitely make your own.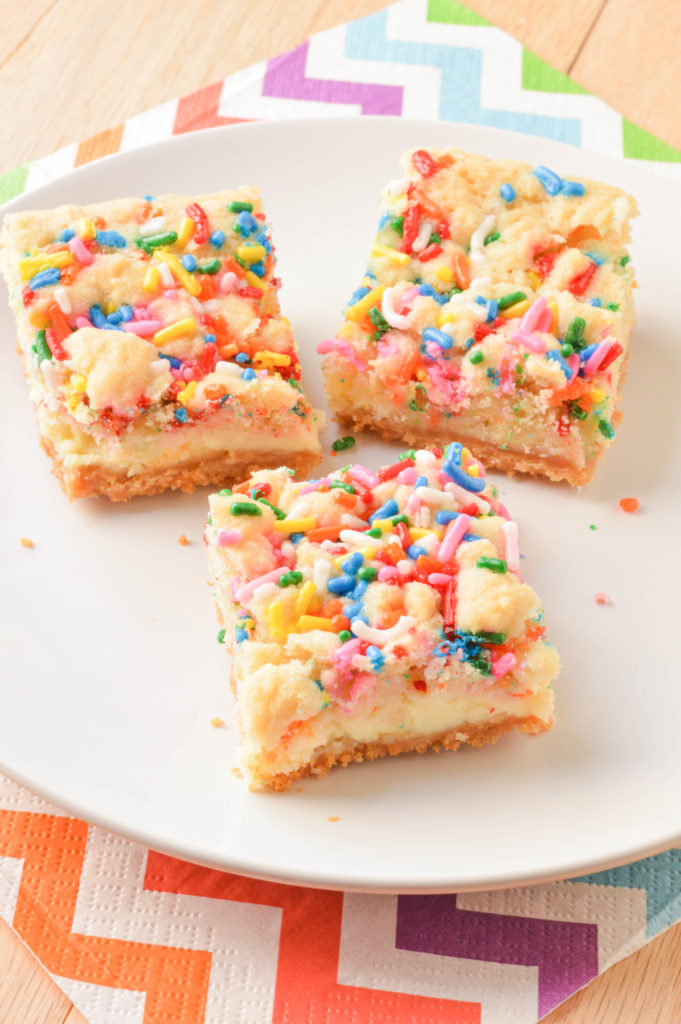 Sugar Cookie Cheesecake Bars
Source: Belle of the Kitchen
Ingredients:
24 Golden Oreos, crushed
1/4 cup (1/2 stick) unsalted butter, melted
1 (8 oz.) pkg. cream cheese, softened
1/2 cup granulated sugar
1 egg
1 tsp. vanilla
1 (16.5 oz.) pkg. prepared sugar cookie dough (or homemade)
Sprinkles
Directions:
Preheat oven to 350 degrees. Line a 9 x 9 inch square pan with aluminum foil, spray with cooking spray & set aside.
In a food processor or blender and add the golden oreos and pulse until oreos are crushed (can also do by hand). Transfer to a medium sized bowl and add the melted butter and stir until golden oreo crumbs are moistened and the texture of wet sand. Press moistened crumbs evenly into the bottom of prepared pan.
In the bowl of a stand mixer, add cream cheese, sugar, egg & vanilla. Beat until fully incorporated and smooth. Pour mixture over the oreo crust layer.
Using your hands, pinch of little pieces of the sugar cookie dough and drop over top of the cheesecake layer, covering completely (may not use all the dough). Evenly top with sprinkles.
Bake for approximately 30-35 minutes until edges are lightly golden and top is set. Place pan on cooling rack to cool completely. Once cool, place in refrigerator for approximately 1 1/2 to 3 hours to chill and set up.
Once chilled, lift out of pan using the foil and gently peel foil off. Cut into squares and store in an airtight container in the refrigerator.