There are so many different chocolate chip cookie recipes out there. I'm not sure why there are so many different variations, but these Mrs. Fields Copycat Chocolate Chip Cookies are ones you definitely need to try! They are soft yet chewy and chocolatey. It's hard to eat just one! These might be my new fave chocolate chip cookie recipe.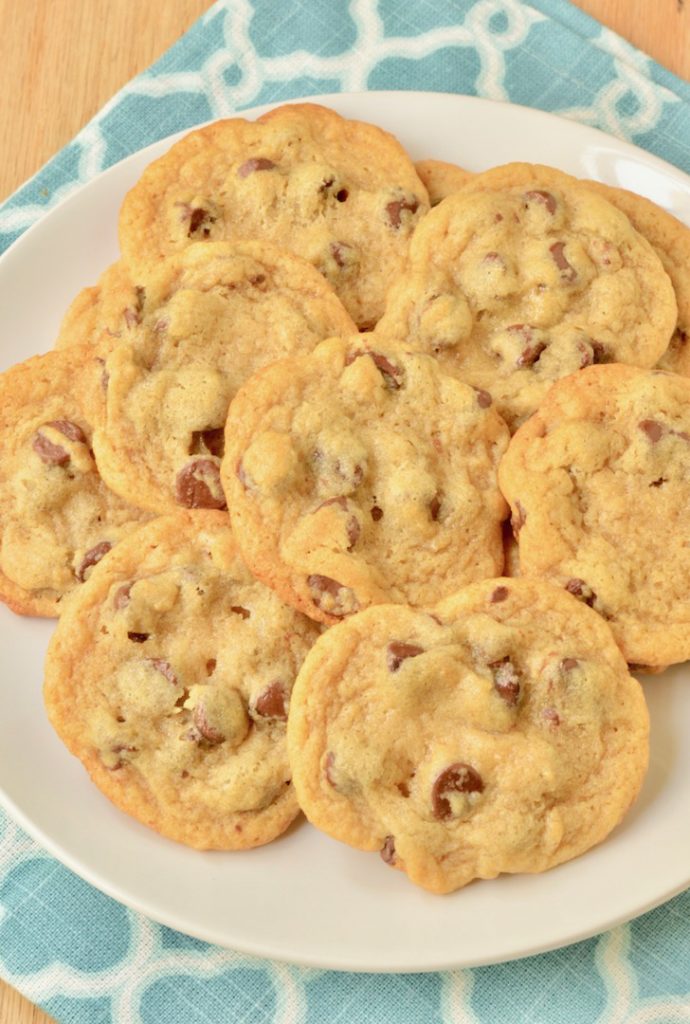 Mrs. Fields Copycat Chocolate Chip Cookies
Source: Can't Stay Out of the Kitchen
Makes approx. 2 dozen cookies
Ingredients:
1/2 cup (1 stick) unsalted butter, room temperature
1/4 cup granulated sugar
3/4 cup light brown sugar, packed
1 egg
1 1/4 tsp. vanilla
1 1/2 cups all purpose flour
1/4 tsp. salt
1/2 tsp. baking powder
1/2 tsp. baking soda
1 cup semi-sweet chocolate chips
Directions:
In the bowl of a stand mixer, beat together the butter, sugar & brown sugar until fully incorporated. Add in egg and vanilla and beat until incorporated.
In a small bowl, whisk together the flour, salt, baking powder, & baking soda. Gradually add the flour mixture into the butter mixture until just incorporated.
Remove bowl from stand. Stir in chocolate chips and chill dough for 1-2 hours.
Once dough has chilled, preheat oven to 350 degrees. Line a baking sheet with parchment paper.
Using a small cookie scoop, scoop out cookie dough and place on cookie sheet spacing them 2 inches apart. Bake for 9-10 minutes (really no longer than that) until edges are just lightly golden. Centers may still look wet but remove from oven and keep cookies on sheets for a few minutes to set up. Once they have set up, transfer to cooling rack to cool completely. Store in airtight container.
Notes:
*I made the first batch without chilling and the cookies spread quite a bit so I definitely recommend that you make sure you chill the dough