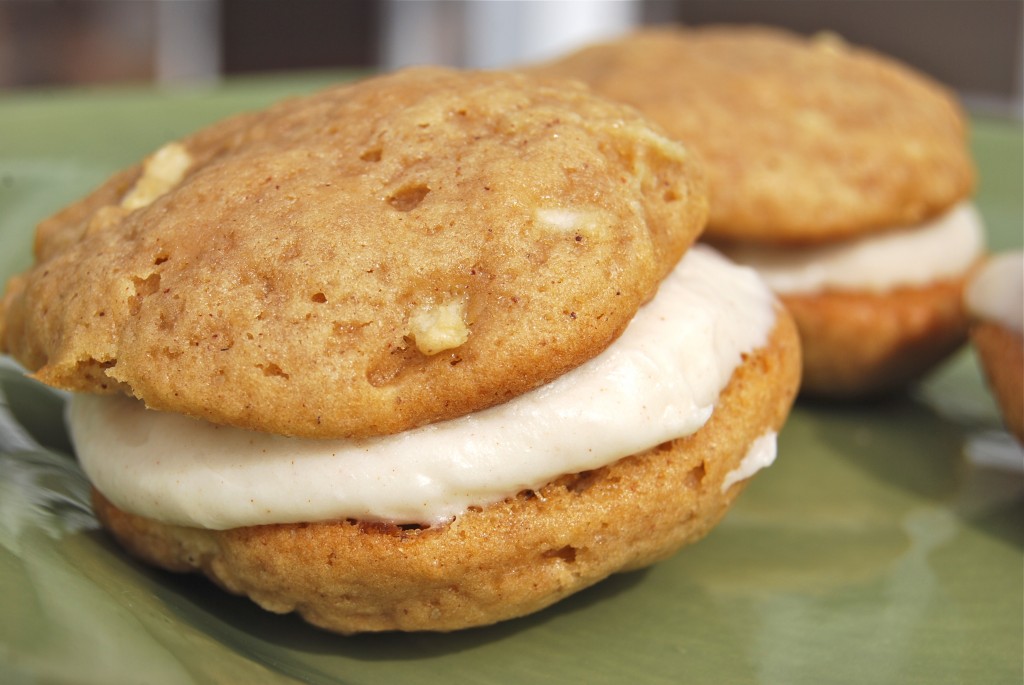 As we venture into fall, which is my favorite time of year, apple and pumpkin flavors abound.  I wanted to make something to celebrate the start of fall and since Adam is not a big fan of pumpkin (I know, the horror!!) I decided to make something apple.  I have a DEEP love for whoopie pies and thought, wouldn't it be fun to make an apple whoopie pie! So I googled my little heart out and found there are only a couple of recipes out there and after going back and forth between them, I finally decided which one to use. I knew I wanted a cinnamon cream cheese frosting so I used my favorite cream cheese frosting and added in cinnamon. This turned out to be what made this dessert go from good to delicious.  The whoopie pie was moist and not overly sweet with great texture from the grated apple and the frosting complimented the pies perfectly.  Of course, you could roll with your favorite buttercream as well and it would be equally delicious.  I stored these in the fridge and then just took them out a bit before serving to knock the chill off since they had cream cheese frosting. I'm still not sure what to do when cupcakes or whoopie pies have cream cheese frosting…I always opt for storing the fridge to be on the safe side, what do you think?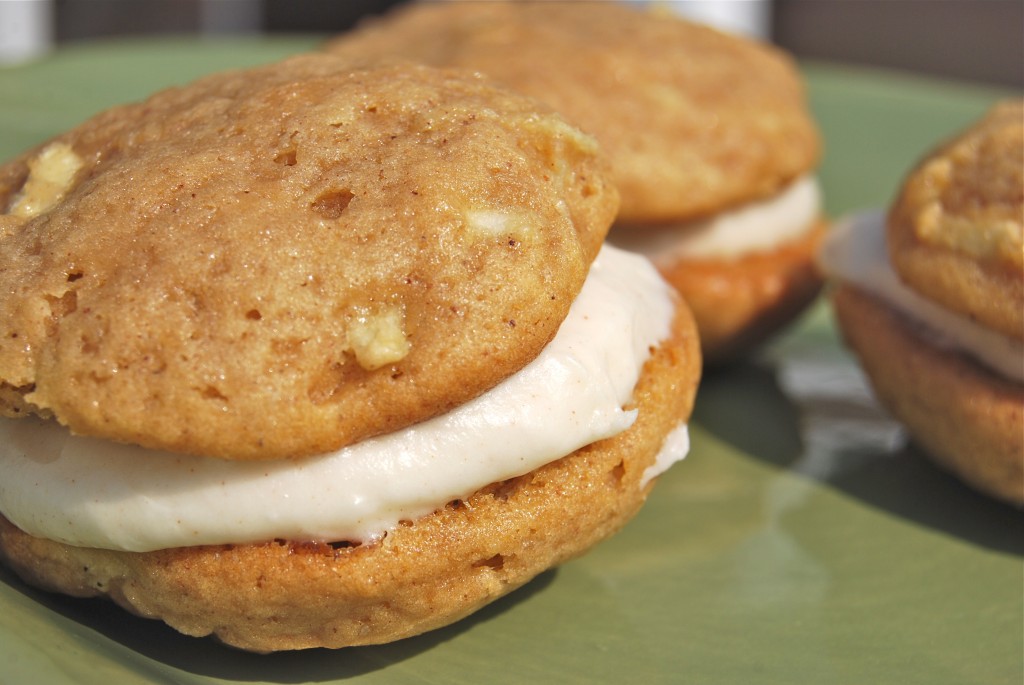 Apple Whoopie Pies with Cinnamon Cream Cheese Frosting
Source: Bread & Butter NYC, Frosting recipe from Runs with Spatulas
Makes 18 whoopie pies
Ingredients:
1/2 cup butter, softened
1 1/4 cups brown sugar, packed
1 tsp. baking soda
1 tsp. apple pie spice (or an equal combination of nutmeg, cinnamon, allspice & cloves)
1/4 tsp. salt
1 egg
1/4 cup applesauce
1/4 cup milk
2 1/2 cups all purpose flour
1 large granny smith apple, peeled and grated (approx. 1 cup)
Frosting, recipe listed below
Directions:
Preheat oven to 350 degrees.
Cover baking sheets with parchment paper, set aside.
In the bowl of a stand mixer fitted with the paddle attachment, add butter and beat on medium speed until creamy (about 30 seconds).  Add in brown sugar, baking soda, apple pie spice & salt.  Beat on medium speed until well incorporated. Add egg and beat until combined.  Add in applesauce & milk and mix on low speed until fully incorporated.   Add in flour a little at a time and mix until combined.  Add apple and fold into mixture with spatula.
Using a small cookie scoop or tablespoon, scoop dough onto prepared baking sheets approximately 2 inches apart.  Bake for 10-12 minutes until tops are lightly browned.  Let stand a couple minutes on cookie sheets to set and then transfer to cooling rack to cool completely.
Cinnamon Cream Cheese Frosting
Ingredients:
1/4 cup butter (1/2 stick), softened
4 oz. 1/3 less fat cream cheese, softened
1/2 lb. confectioner's sugar
1/2 tsp. vanilla
1/4 tsp. ground cinnamon
Directions:
In the bowl of a stand mixer, beat together butter & cream cheese until creamy.  Add in confectioner's sugar, vanilla & cinnamon.  Beat until light & fluffy and a spreadable consistency (may take several minutes).*
*Note: this is a half batch of frosting. I made a whole batch and had half left over so I recommend starting with a half batch and making more if necessary.
To assemble: 
Take one cookie and spread frosting on the bottom side of the cookie, covering the cookie liberally.  Top with another cookie and store in an airtight container.