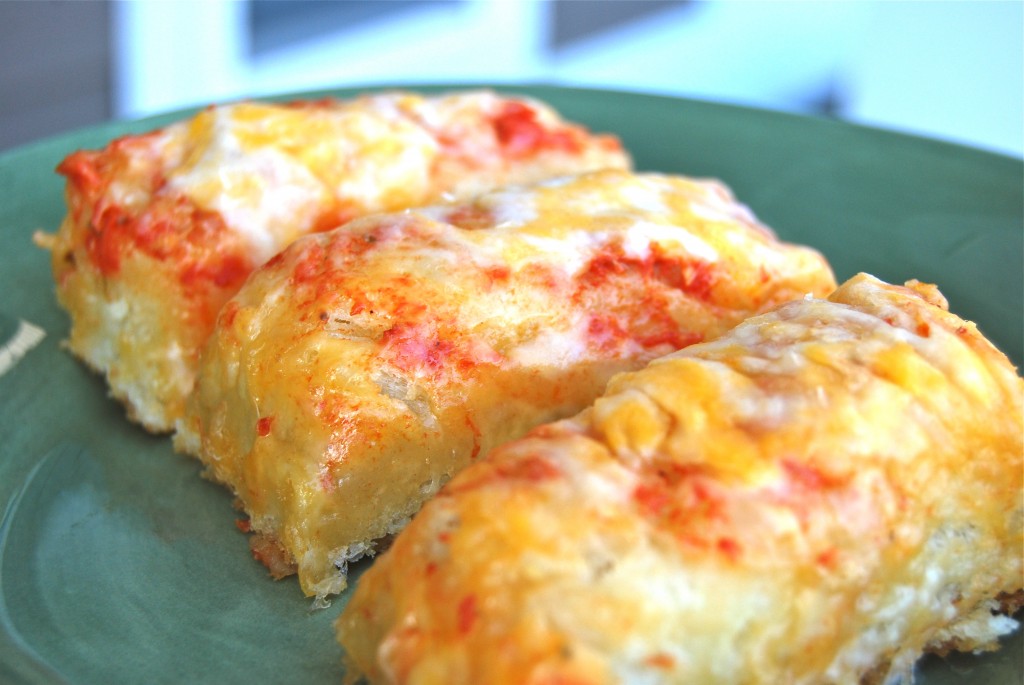 Ever been to Sweet Tomatoes? If not, it's got a yummy salad bar with equally delicious soups, not to mention they have amazing fresh baked muffins.  They also have this pizza bread they serve that we absolutely love.  It's pizza sauce & cheese atop of focaccia bread and it's fabulous.  I also saw where Buddy Valastro made some pizza bread on his show "Kitchen Boss" a while back and it had me itching to make some at home.  This turned out better than I expected and dare I say it, better than Sweet Tomatoes! The bread had a nice crunch on the outside but was soft on the inside, and of course anything topped with pizza sauce and cheese is going to be fabulous! We had these for dinner with a side but you could also do this as an appetizer or a bread to compliment your entree. Definitely make this soon! The great thing about this focaccia is you hardly have to let it rise at all! Just a total of thirty minutes!!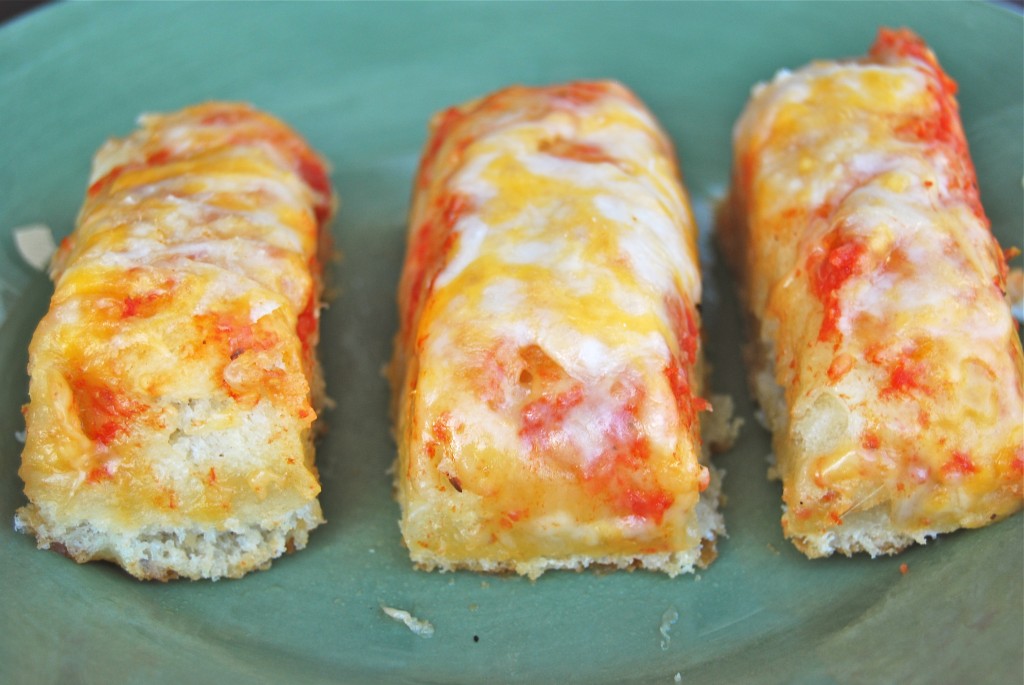 Pizza Focaccia Bread
Source: adapted from allrecipes.com  & inspired by Sweet Tomatoes & Kitchen Boss
Ingredients:
1 tbsp. honey
2 cups warm water
1 tbsp. active dry yeast
1 tbsp. kosher salt
1 tbsp. extra virgin olive oil, (plus more for greasing baking sheet)
5 cups all purpose flour
2 tbsp. extra virgin olive oil
1 recipe pizza sauce, listed below
2 cups shredded cheese of your choice (I used 4 cheese mexican blend)
Directions:
In a small bowl, add warm water and honey and stir until honey dissolves.  Pour honey mixture into the bowl of a stand mixer and sprinkle yeast on the top. Let stand for 5 minutes until the yeast begins to foam.  Add in 1 tbsp. salt & 1 tbsp. olive oil.  Using the paddle attachment, mix on low speed just until combined. Add in flour a little at a time, until the dough begins to come together.  Switch to the dough hook attachment and knead on medium high speed until smooth and elastic and the dough clears the sides of the bowl, but sticks to the bottom.
Place the dough in a lightly oiled large bowl, turning dough to coat, and cover with a kitchen towel.  Allow to rise until doubled in volume, approximately 20 minutes.
Preheat oven to 415 degrees.  Drizzle olive oil onto a baking sheet (I used one that is 16 x 12 x 1) and spread oil to coat. Turn dough out onto oiled baking sheet and spread and flatten the dough until it covers the baking sheet evenly.  Using your fingertips, make indentations all over the dough approximately 1 inch apart. Drizzle the focaccia with 2 tbsp. of olive oil.  Let rise for 10 minutes.
After the dough has risen, bake the focaccia for 7 minutes.  Remove from oven and spoon pizza sauce over the dough and then top with cheese, leaving about a half inch around the border. Bake for approximately 10-12 minutes until cheese is bubbly and crust is lightly golden.  Remove from oven and cut into squares or rectangles to serve.
Pizza Sauce
Source: Annie's Eats, orginally from Cook's Illustrated
Ingredients:
1 (28 oz.) can whole peeled tomatoes, drained
1 tbsp. extra-virgin olive oil
1 tsp. red wine vinegar
2 cloves garlic, minced or pressed
1 tsp. salt
1 tsp. oregano
¼ tsp. ground black pepper
For the Sauce:
Combine all ingredients in a food processor or blender. Blend until smooth, about 30 seconds. Transfer to a bowl or container and refrigerate until ready to use. Makes enough sauce for 3 pizzas. I freeze the leftover sauce and pull it out whenever I need it.