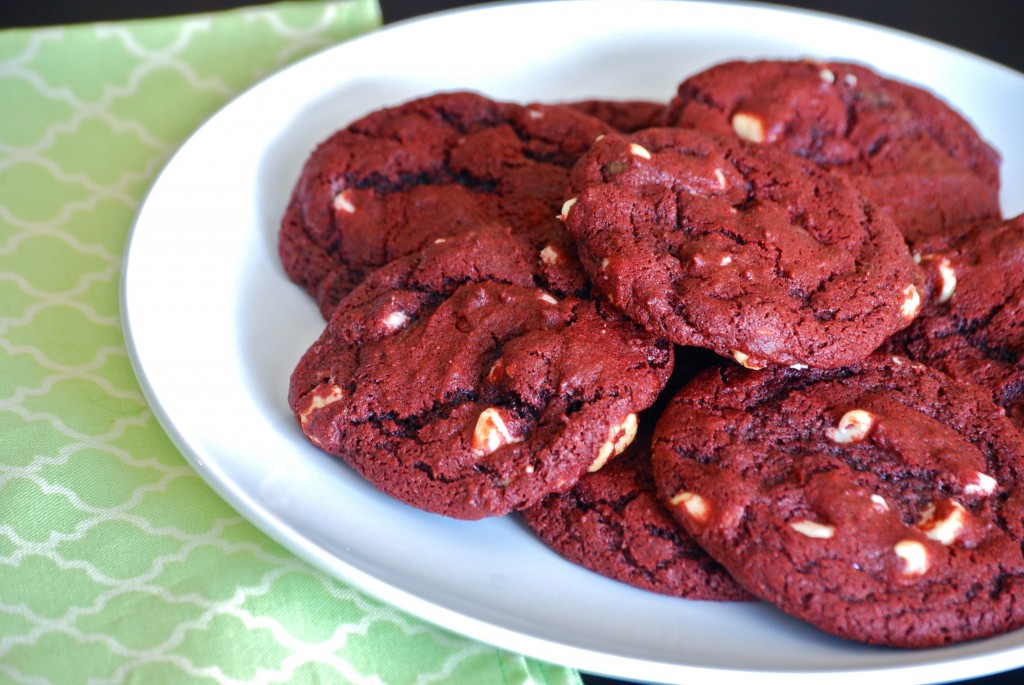 Before we get to the delicious cookies, I want to apologize for the technical problems with my blog over the weekend.  I ran an update on my blog and it caused it to crash, with the help of my hosting service the blog got back online fairly quickly, but all of my comments had been lost.  Thankfully after many prayers and time on the phone with my hosting service (which is Blue Host and they were GREAT!!) all the comments prior to March the 7th have been restored to the blog.  And thankfully, I had saved all of the comment notifications in my email from the past two weeks so I was able to copy and paste the comments back into each post exactly as they had been written originally for the comments since March 7th. So, again I apologize for the technical difficulties! Hopefully that is all behind us now!! After all that, I definitely need a cookie!
I'm sure I've mentioned my love for Red Velvet here on the blog once or twice, so I couldn't resist making these cookies! I'm so glad I gave in and made them because these cookies were great! They had a soft, yet chewy consistency and I loved the creaminess and richness the white chocolate chips added.  I made half the batch red velvet and have the batch blue velvet in celebration of my Kentucky Wildcats making it to the Sweet 16! How did your teams do? Do you all fill out brackets? Our brackets are pretty much busted with the Duke & Missouri losses, but the tournament is still so fun! Lots of great, close games this past weekend! Anywhoo, the blue ones didn't turn out quite like I wanted them, but they still tasted great!! The original recipe calls for regular chocolate chips, so feel free to use those instead of the white chocolate. I just love the red velvet/white chocolate combination.  You could even make these into cookie sandwiches with this white chocolate buttercream! By the way, this recipe is from one of my favorite blogs, How Sweet It Is, you should definitely hop over and check it out! Also, I should mention the batter is very thick and I followed Fake Ginger's lead and added some milk at the end to thin it out and it worked great!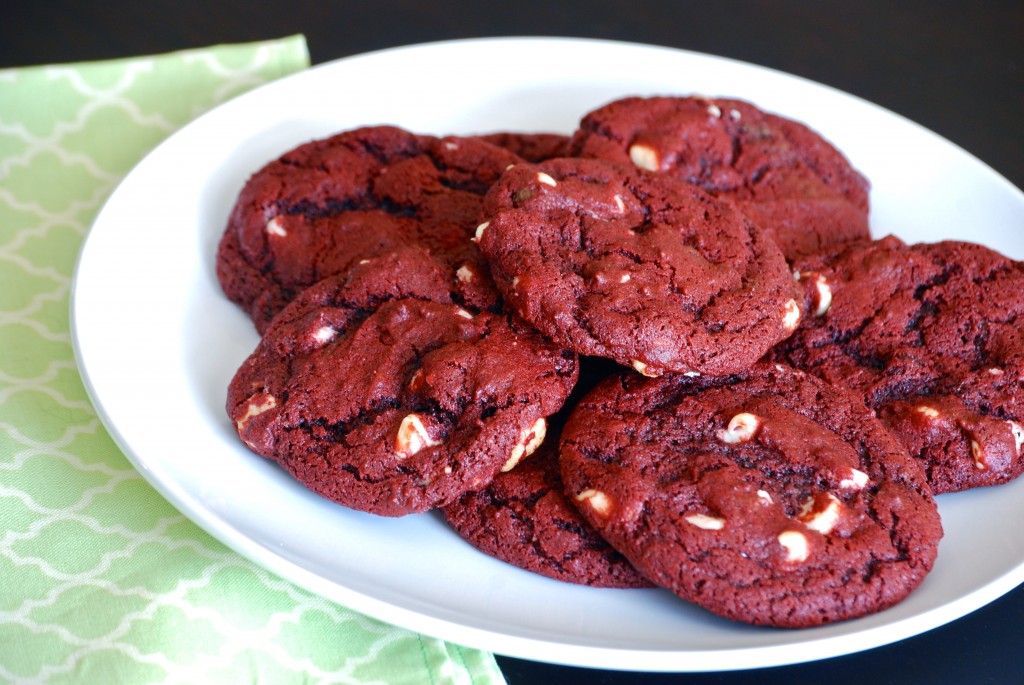 Red Velvet White Chocolate Chip Cookies
Source: How Sweet It Is
Makes approximately 2 dozen cookies
Ingredients:
1/2 cup unsalted butter, room temperature
1/2 cup sugar
1/2 cup light brown sugar, packed
1 egg
1 tsp. vanilla
1 1/2 cups all purpose flour
1 tsp. baking soda
1/4 tsp. salt
1/3 cup cocoa powder
1 tsp. no taste red food coloring
1 tbsp. milk
1/2 to 3/4 cup white chocolate chips
Directions:
Preheat oven to 375 degrees.  Line baking sheets with parchment paper, set aside
In a small bowl, whisk together flour, baking soda, salt & cocoa powder, set aside.
In the bowl of a stand mixer, cream together butter, sugar & brown sugar until light and fluffy.  Reduce speed to low and add in egg and vanilla.  Mix until fully incorporated.  Add in red food coloring and mix until evenly distributed and mixture is red (add more food coloring if needed).  Scrape down the sides of the bowl, and with the mixer on low speed, gradually add in the flour mixture, beating until just incorporated.   Add in the tbsp. of milk (or more if needed) and mix to combine.  Stir in white chocolate chips, starting with 1/2 cup and adding more if necessary.
Using a small cookie scoop, scoop out the cookie dough (approximately tbsp. sized scoops) onto the baking sheets, spacing them 2 inches apart.  Bake for 10 to 12 minutes.  Remove from oven and cool on pans for 1 to 2 minutes, then transfer to a cooling rack to cool completely.  Store in an airtight container at room temperature.