One of my favorite blogging friend's, Krystal of Mrs. Regueiro's Plate is expecting! She and I met on the Cooking forum on The Nest several years ago when I had just started blogging and became fast friends.  She is such a sweetheart and is always so encouraging and thoughtful! I jumped at the chance when asked to participate in a Virtual Baby Shower for her and her "Cookie" that she is expecting! Krystal & Eric are keeping the sex of their baby a surprise and so they refer to him or her as their little "cookie"! I can't wait to meet her cookie and find out what she is having! Be sure & visit What's Cookin' Chicago for the round up of what everyone is bringing to the shower!
One really fun aspect of this baby shower was to highlight either Filipino or Cuban cuisine, as that is where Krystal & Eric's families are from. I have never made anything cuban or filipino before and I was excited to try it! I researched desserts and found that while tres leches is rumored to have it's origins in Nicaragua, it is very popular in Cuba, as well as other Latin American countries. Tres Leches literally means three milks and it is a sponge type cake that has a mixture of evaporated milk, sweetened condensed milk and heavy cream soaked into the cake.  It's traditionally topped with a meringue or whipped cream.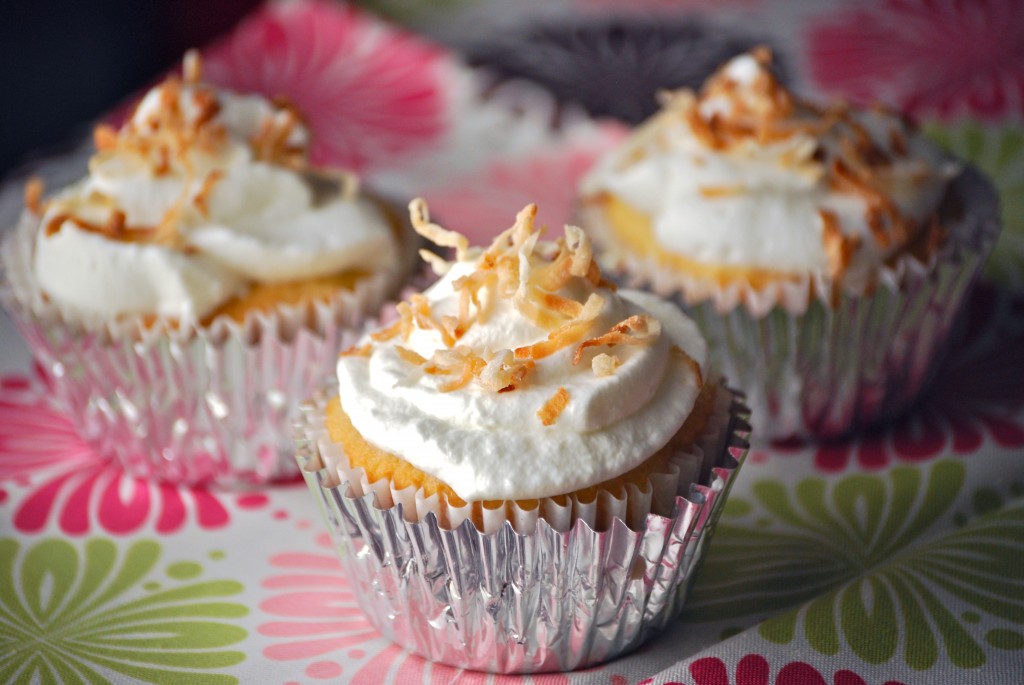 I thought it would be fun to make it in a cupcake version to have it as individual servings for a shower type setting.  Pouring the milk over was a bit tricky, but I thought it worked great as a cupcake! Definitely use foil cupcake wrappers with paper liners, so the milk mixture doesn't seep out.  This cake was moist but not overly soggy and the whipped cream topping kept the cake from being overly sweet. Adam isn't that big a fan of tres leches, but he said this was the best tres leches he's ever had.  You can definitely use this exact same recipe and method for a 9 x 13 cake and just bake it for 35 to 45 minutes. I topped half of these cupcakes with toasted coconut, but you can also top with a cherry or strawberry or leave them plain.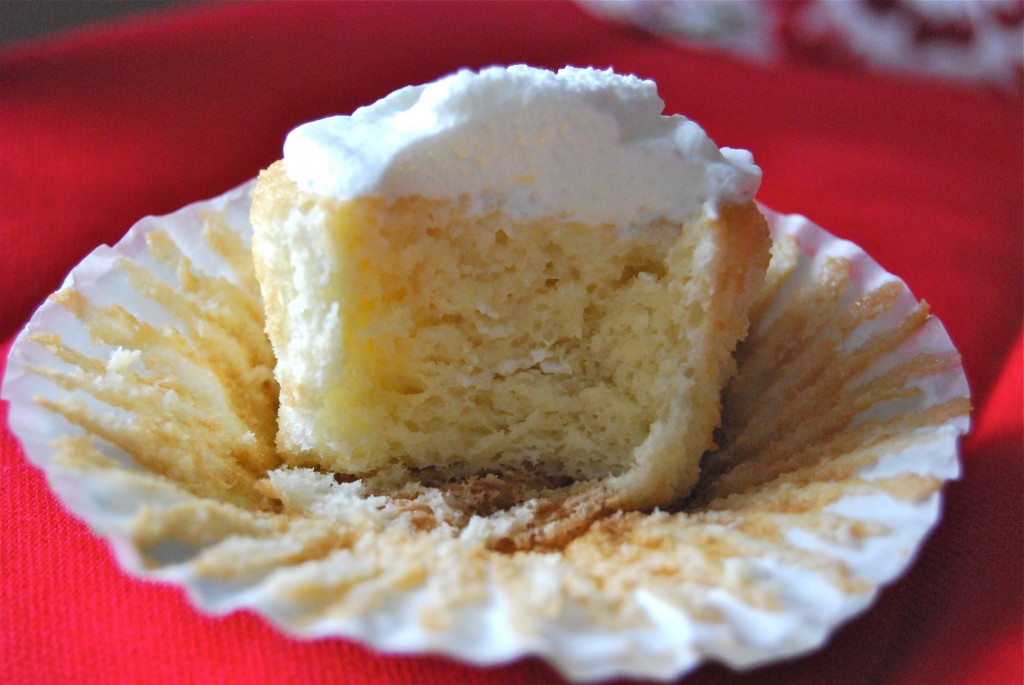 Tres Leches Cupcakes
Source: Pioneer Woman
Makes 24 cupcakes
Ingredients:
For the Cake:
1 cup all purpose flour
1 1/2 tsp. baking powder
1/4 tsp. salt
5 whole eggs, separated
1 cup sugar, divided
1 tsp. vanilla
1/3 cup milk
1 12 oz. can evaporated milk (fat free works great)
1 14 oz. can sweetened condensed milk (fat free works great)
1/4 cup heavy cream
For the Whipped Topping:
1 pint heavy cream
3 tbsp. sugar
Directions:
Preheat oven to 350 degrees.  Line 2 cupcake tins with foil wrappers with the paper liners inside, set aside.
In a large bowl, whisk together flour, baking powder, and salt, set aside.
Separate egg yolks from egg whites into two separate bowls. In the bowl of a stand mixer, beat egg yolks with 3/4 cup sugar until pale yellow in color. Mix in milk, then vanilla.  Pour this egg yolk mixture over top of the flour mixture and stir to combine until flour is moistened.
Clean out & dry the stand mixer bowl.  Add the egg whites and using the whisk attachment, whisk until soft peaks form. Add in remaining 1/4 cup sugar and whip on medium high speed until stiff peaks form.  Gently fold egg white mixture into the egg yolk batter until incorporated, taking care not to deflate egg whites.
Scoop batter into cupcake tins, filling tins 2/3 full.  Bake for 10 to 12 minutes, until a light golden brown and toothpick inserted comes out clean. Place cupcake tins on cooling racks to cool completely.  Once cool, remove cupcakes from tins and place on a rimmed baking sheet.
In a liquid measuring cup, add sweetened condensed milk, evaporated milk and 1/4 cup heavy cream.  Stir to combine.
Using toothpicks, poke several holes in the tops of the cupcakes.  Holding the cupcake over a container to catch drips, spoon or drizzle the milk mixture over each cupcake and place cupcake back onto baking sheet.  Spoon the liquid over each cupcake a second time.  You want to use all but 1 cup of the milk mixture.  (Just discard the rest of the milk mixture, if you use all of it the cupcakes will become too soggy). Allow cupcakes to absorb the milk mixture for 30 minutes.
Meanwhile, in the bowl of a stand mixer, using the whisk attachment, add 1 pint heavy whipping cream and 3 tbsp. sugar. Whip until soft peaks form and it is a spreadable consistency. Place whipped cream in a ziploc or pastry bag and pipe onto cupcakes.
Store cupcakes in an airtight container in the refrigerator.  (I would recommend refrigerating the cupcakes for a few hours or overnight before serving if possible, though they still taste good just after making them). If desired top with toasted coconut, a cherry or strawberry.
*To make this as a 9 x 13 cake, follow the same method and instructions and bake for 35 to 45 minutes.
*The cupcakes really absorb the milk mixture for the most part.  They might be slightly sticky or have a little moisture in between the cupcake liner and the foil wrapper, but you should still be able to eat them with your hands, just have some napkins near by just in case.