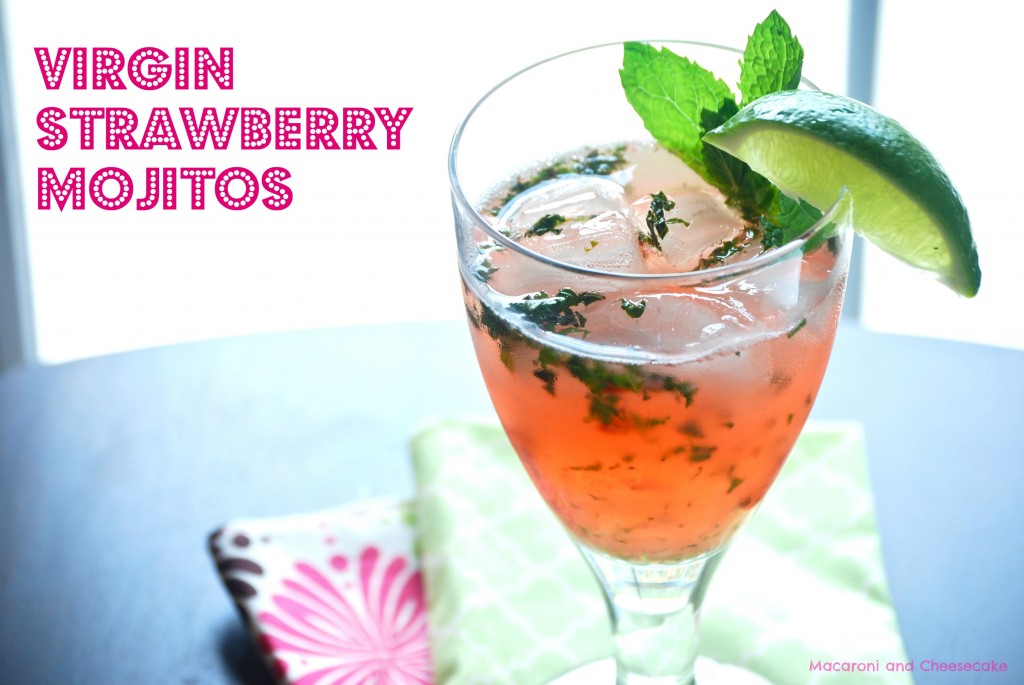 Have any of you seen 27 Dresses? I just love that movie! It's one of my favorites! Well in one of the scenes Kevin is trying to get Jane to meet him for drinks and he tells her when she doesn't have some "Mojito and Burrito" couples shower to attend to give him a call.  Well the other day when I was brainstorming about what I wanted to make this scene popped in my head and I realized I'd never had a mojito before! Plus it's the perfect thing to get ready for Cinco de Mayo! And yes I pretty much know all the words to that movie!;)
 I thought it would be fun to switch it up a bit and add strawberry and went in search of a recipe and found a great one! This drink was so refreshing with the mint. I actually liked it even better when the fizziness died down a bit and the strawberry flavor really added so much.  I thoroughly enjoyed my virgin mojito on a Monday afternoon to get my week going! This recipe is easily adaptable too if you want to use blueberry or another fruity flavor.  I even saw blood orange sorbet which sounded great.  These would also be great for a fun baby shower or just a gathering of friends, or just for you! The recipe listed below is halved and will serve approximately 7 to 8 people, so you can easily double to serve 14-16 or halve it again to serve 4 if you're just making it for a few people.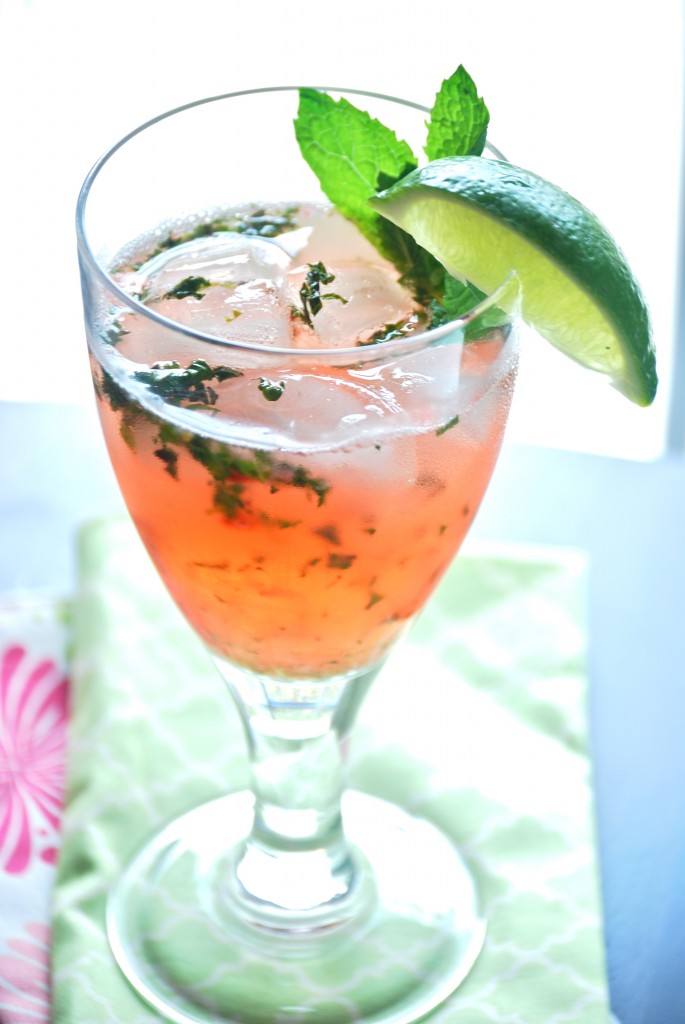 Virgin Strawberry Mojitos
Source: Pampered Chef found on Food.com
Recipe below serves approximately 7-8, double to serve 14-16, halve to serve 3-4
Ingredients: 
1 1/2 cups water, divided
3/4 cup sugar
1/2 cup mint leaves, chopped (Use 1 cup if you like it extra minty)
1 cup strawberry sorbet
1/2 cup lime juice (juice of approximately 6-7 limes)
4 cups club soda (approximately 1 liter)
Lime wedges & mint springs, for serving
Directions:
In a small saucepan, add 1 cup water and the sugar.  Heat over medium low heat until dissolved, stirring occasionally. Once dissolved, remove from heat and stir in 1/2 cup chopped mint leaves.  Let stand for 5 minutes.
In a pitcher, add remaining 1/2 cup water and sorbet.  Stir to combine and use back of the spoon to break up the sorbet. Carefully pour in the sugar & mint mixture.  Stir to combine.  Pour in club soda and gently stir together.  Pour over glasses filled with ice.  Garnish with a wedge of lime & sprig of mint.
(You can make ahead of time but wait to add the club soda until right before you serve).
*Submitted to Inside BruCrew Life's Trick or Treat Tuesday!