So I've been in a bit of a dinner rut ever since we got back from vacation.  We've been eating lots of grilled chicken and veggies or sandwiches for dinner, so I went in search of some fun new entrees and remembered taquitos have been all the rage in the blog world and I've yet to try them.  These were really good and I thought they were even better when dipped in ranch, then dipped in bbq sauce.  Mine weren't quite as creamy as I would've liked, but I think I added more chicken than it called for, so make sure you just use 2 cups of chicken. These would also be great with pulled pork as Pink Parsley did when she made them.  This was a great weeknight dinner because I prepped the filling before hand and then just filled, rolled and baked them when I got home in the evening.  The tortillas give you a nice crunch and then the creaminess of the filling makes for a great texture.  I bet your kids will love it too! I'm excited to try out different kinds of fillings with these, I'm certain they will be in our regular dinner rotation now!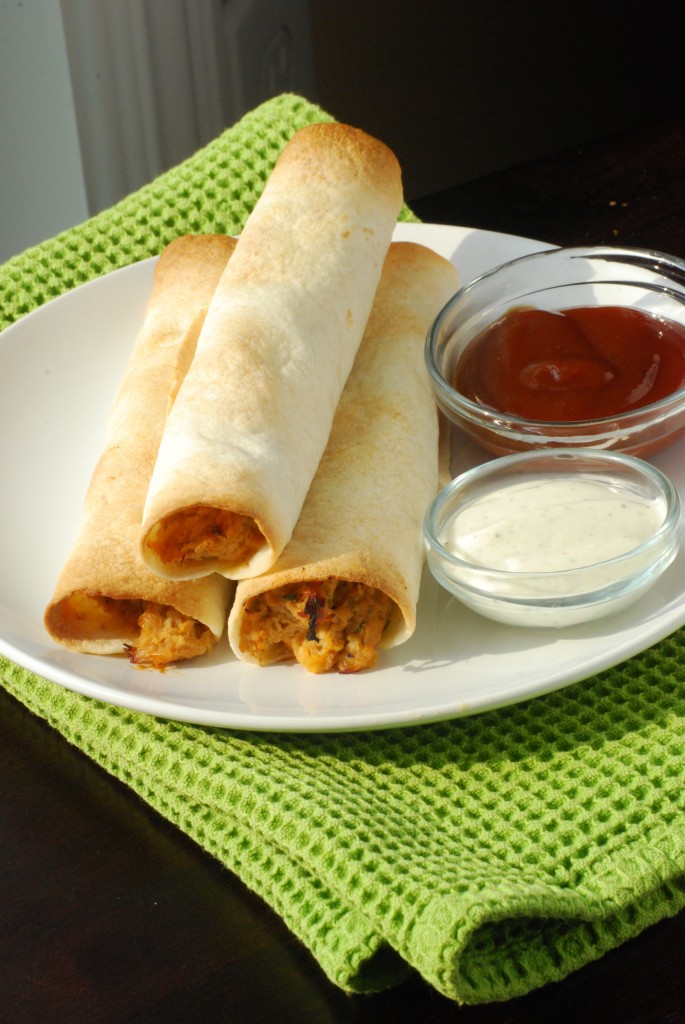 Baked BBQ Chicken Taquitos
Source: Pink Parsley, inspired by Our Best Bites
Ingredients:
3 oz. 1/3 less fat cream cheese, room temperature
1/3 cup bbq sauce (or more to taste)
1/2 tsp. paprika
1/2 tsp. chile powder
1/2 tsp. garlic powder
1/2 tsp. mustard powder
1/2 tsp. brown sugar
1/2 tsp. liquid smoke
pinch ground cayenne pepper
kosher salt & freshly ground black pepper, to taste
1/4 cup onion, finely chopped
3 green onions, thinly sliced
2 tbsp fresh cilantro, finely chopped
2 cups pulled cooked chicken or pork
1 cup sharp cheddar cheese
8-10 6 inch flour tortillas
cooking spray
Ranch Dressing & BBQ Sauce for dipping
Directions:
Preheat oven to 425 degrees. Spray a baking sheet with cooking spray, set aside.
In a large bowl,  mix together cream cheese, bbq sauce, paprika, chile powder, garlic powder, mustard, brown sugar, liquid smoke, cayenne, onion, green onions, cilantro and 1/4 tsp. salt & 1/4 tsp. pepper until all are fully incorporated.  Add in the chicken (or pork) and cheese, gently stir to combine.  Taste and add salt & pepper and more bbq sauce if needed.
Place 3 to 4 tortillas on a microwaveable plate, slightly spread out but overlapping.  Cover with a damp paper towel (helps soften the tortillas) and microwave for 20 seconds.  Repeat with remaining tortillas.
Fill each tortilla with approximately 2 to 3 tbsp. of filling and roll tightly.  Place each filled tortilla seam side down on your baking sheet. Spray rolled tortillas with cooking spray and lightly sprinkle with salt.
Bake for approximately 15 to 20 minutes, until lightly golden brown and tortillas are crispy.  Dip in ranch &/or bbq for serving.