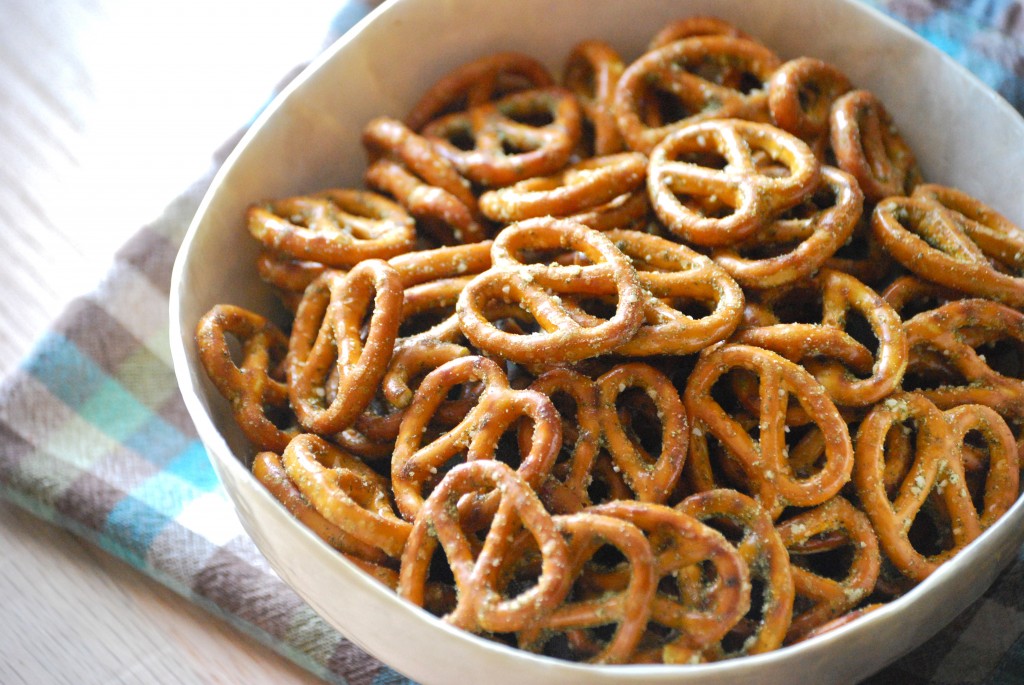 So this may not look like much. You may think, pretzels, big deal! What could be so great about a bowl of pretzels? That's kind of what I thought when my mom told me about this new snack she made for a party.  Well then she made them for my birthday party and I was instantly hooked! They are addictive little suckers! Seriously, I eat one or two and close the container and go sit back down.  Then seconds later, I'm back up at the pretzel bowl! There's just something so savory and enticing about these bad boys.  I'm a salty girl, so these are right up my alley.  Don't get me wrong, I love desserts but put me in front of chips & salsa or a savory snack like these pretzels and I'll go straight past the chocolate for these.  These are super great for a party because you can easily half or double the batch (or triple!) and they keep for several days in an airtight container.  They would also be a great travel snack too!
My mom made these recently for a ladies retreat I was working on and all the ladies were immediately asking me to text my mom and get the recipe! So I did and decided to share it with you all.  This is a guest post of sorts, as I've not physically made these pretzels.  My mom made them and just let me photograph and share them with you.  Thanks mom! Look for another quasi guest post on Thursday from Mom to make your own ranch dressing mix to pair with this recipe.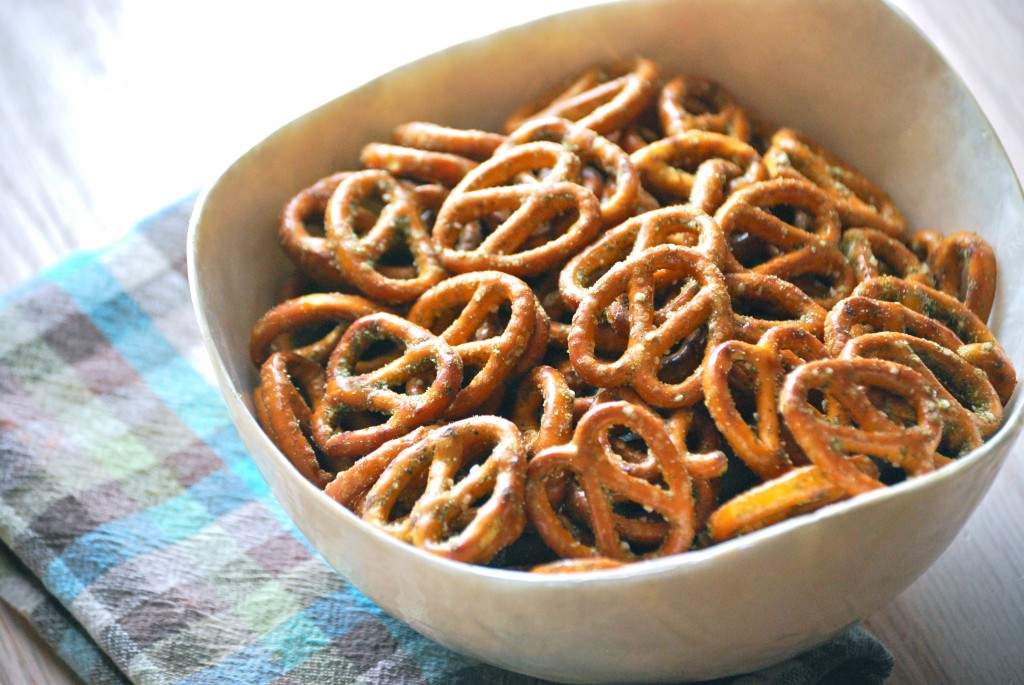 Ranch Pretzels Party Snack
Source: My mom
Ingredients:
2- 10 ounce bags mini twisty pretzels
1/2 cup (4 oz.) Orville Redenbacher Popcorn Oil (found in popcorn aisle)
2 packets Ranch Dressing Mix* (can use spicy ranch if you like a kick)
Directions:
Make these 24 hours prior to when you wish to serve them.
Place pretzels in a large bowl or ziploc bag.  Pour popcorn oil over top of pretzels and stir (or shake if using bag) to coat pretzels.  Add ranch mix and stir (or shake) to coat. Place in airtight container or keep in the zippered bag for 24 hours before serving.  Every couple of hours stir or shake pretzels, with the exception of during sleeping hours of course, approximately 10 to 12 times within 24 hours.
Keep stored in an airtight container.
*If using homemade ranch dressing mix, use approximately 3 to 4 tbsp.
*Edited 1.16.13: If using store bought ranch mix, you need 2-16 ounce bags pretzels