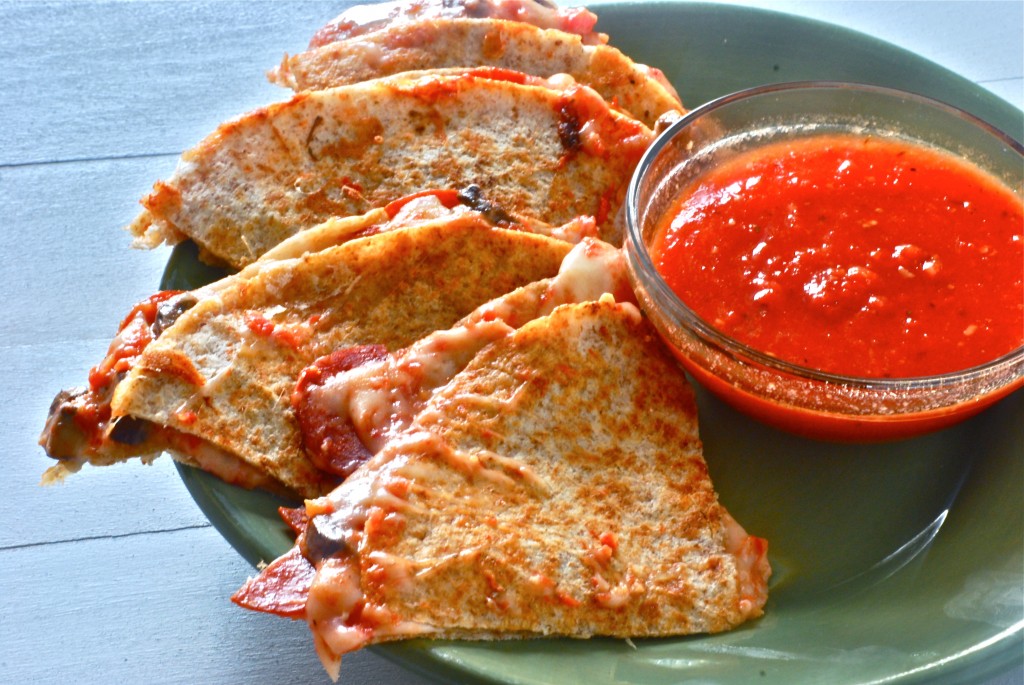 I mentioned last week that I've been looking for some new, quick & easy meals to make on weeknights. So anytime I find one that I think sounds fantastic I pin it.  Well this week, I've been trying to actually make some of the things that I've pinned.  So hopefully, if I get my projects finished, this weekend I will share some of those projects with you! This meal was SO good! And it was really easy to put together.  I used pizza sauce that I had made ahead of time and put in the freezer, so I just pulled it out and thawed it and then you just stir fry the ingredients and assemble.  The flavors were spot on and it was a fun alternative to regular pizza and so fun to dip in the sauce!:) Great quick meal for a busy night. You can serve it with a big salad on the side and even some breadsticks if you want.  This is easily halved to serve 2 or cut down to serve 1, but the full recipe is below. Also to lighten this up a little, I used turkey pepperoni & whole wheat tortillas and it tasted great.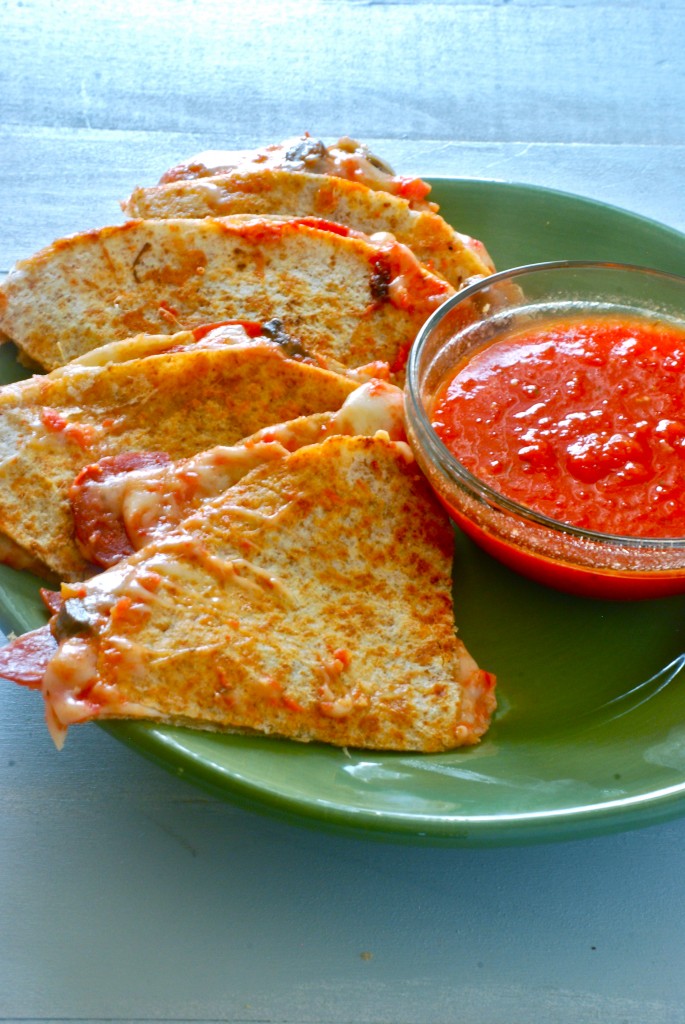 Pizza Quesadillas
Source: Snixy Kitchen
Serves 4
Ingredients:
8 Flour Tortillas (whole wheat works great)
8 oz. shredded part skim mozzarella cheese
1 package pepperoni or turkey pepperoni
1/2 of a recipe of pizza sauce (or use the jarred kind)
1 tbsp. extra virgin olive oil
1 small package of sliced baby bella mushrooms
Optional: add other pizza toppings of your choice, onions, bell pepper, etc.
Directions:
Spray a medium sized skillet with cooking spray.  Over medium heat, fry the pepperoni, turning it every so often until it turns a dark red color and gets slightly crispy.  Transfer to a plate covered with a paper towel to drain.
In a medium sized skillet, add 1 tbsp. olive oil and heat over medium heat.  Add the mushrooms and cook until tender and they darken and shrink up, turning every so often.
In a large skillet, add one tortilla and top with a generous sprinkling of cheese.  Spoon pizza sauce over the top and then sprinkle the pepperoni, mushrooms and any other toppings over that.  Top with additional cheese and place a second tortilla over the top.  Cook over medium heat, turning after 1 to 2 minutes.  Cook until both sides of tortilla are browned and crisp.  Transfer to a cutting board and cut into fourths.  Repeat for remaining tortillas.  Serve with pizza sauce for dipping.
Notes:
I would recommend sticking the finished quesadillas onto a baking sheet in a 25o degree oven to keep them warm while you make the others.
Also, you can start with the pizza sauce on the bottom first, I just found that the tortilla "stuck" better to the filling with the cheese on the bottom and top.
I've tried several brands of wheat tortillas and my favorite ones are the Chi-Chi's brand (not compensated from them, they are just my favorite).