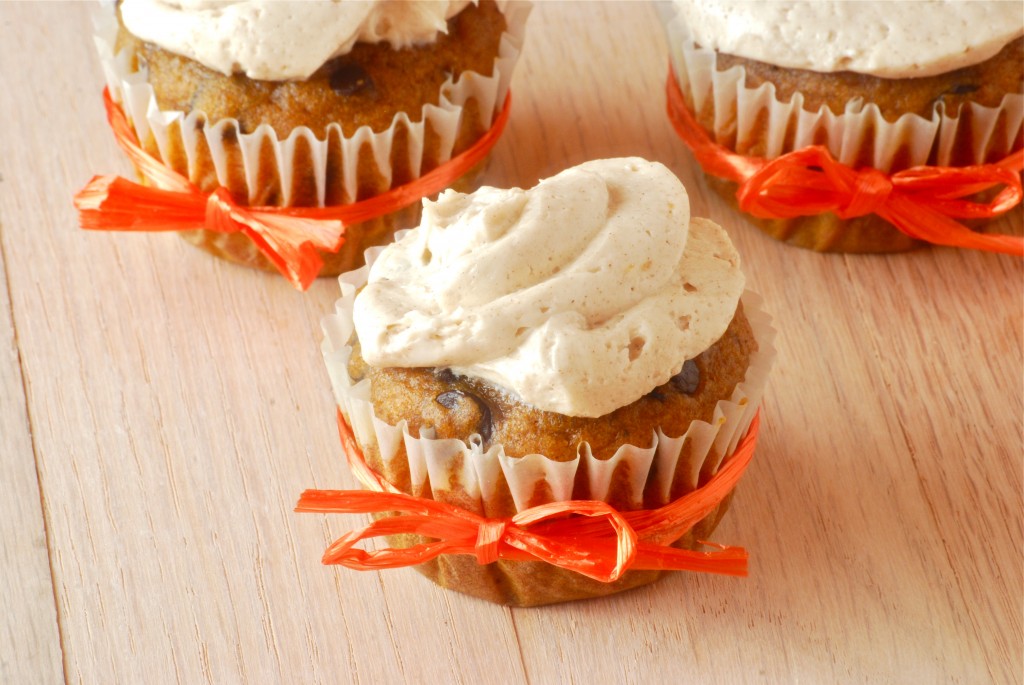 It's October and you know what that means…It's Pumpkin time!! I couldn't resist starting out October with a delicious pumpkin treat.  There's just something so addictive about the pumpkin/chocolate combination.  I've probably mentioned this before, but Adam doesn't like pumpkin (I know, I don't understand it either!) so I wasn't sure he would like these.  But he really loved them.  He said it wasn't overly pumpkin and they were moist and he loved how the chocolate balanced out the pumpkin.  What puts these over the top is the cinnamon buttercream icing! You could also use this cinnamon cream cheese icing too. Oh and I ran out of cupcake liners, so I made a loaf cake as well using half the batter.  It bakes for 25 to 30 minutes, until a toothpick comes out clean.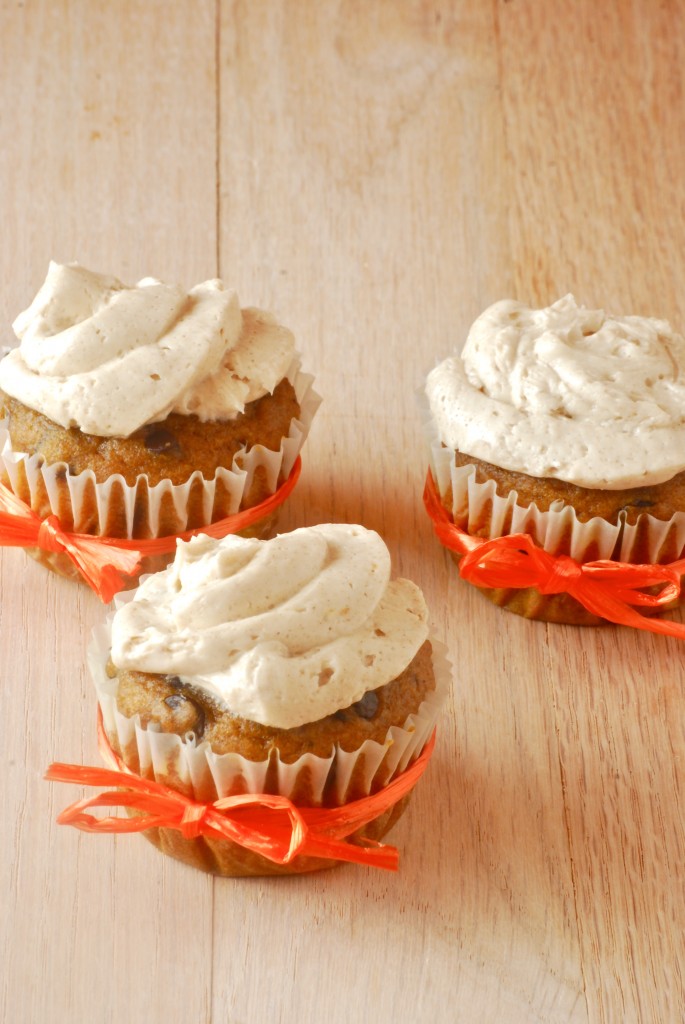 Pumpkin Chocolate Chip Cupcakes
Source: Bird on a Cake, originally on Ryan Bakes
Makes approximately 32 cupcakes
Ingredients:
2 1/2 cups all purpose flour
1 1/2 tsp. cinnamon
1/4 tsp. each nutmeg, cloves and ginger
1 1/2 tsp. baking soda
1 tsp. baking powder
1/2 tsp. salt
1 1/2 cups sugar
2/3 cup vegetable oil
1/2 cup buttermilk*
1 (15 oz.) pure pumpkin
4 eggs
1 tsp. vanilla
1 cup semi-sweet chocolate chips
Directions:
Preheat oven to 350 degrees.  Fill cupcake tin with cupcake liners.
In a medium sized bowl, whisk together the flour, cinnamon, nutmeg, cloves, ginger, baking soda, baking powder & salt.
In the bowl of a stand mixer, beat together sugar, oil, buttermilk, pumpkin, eggs & vanilla until fully incorporated.  Reduce mixer speed to low and add in flour mixture a little at a time until just incorporated.  Gently stir in chocolate chips until evenly distributed.
Using a large scoop, scoop batter into the cupcake liners, filling each one 2/3 full.  Bake for approximately 18 minutes until a toothpick inserted comes out clean.
Let cool in tins slightly, then remove from tin and let cool on a cooling rack.  Once completely cool, top with desired icing.
*Buttermilk substitute: Add 1/2 tbsp. vinegar into a 1/2 cup liquid measurement. Fill the rest of the way to the 1/2 cup mark with milk. Let set for 10 minutes before adding.
Cinnamon Buttercream
Source: Georgetown Cupcakes via Live with Kelly
Ingredients:
16 tbsp. (2 sticks) unsalted butter
4 cups confectioner's sugar, sifted
1 tsp. milk
1 tsp. vanilla
1/8 tsp. salt
1 tsp. ground cinnamon
Directions:
In the bowl of a stand mixer, add the butter and confectioner's sugar.  Beat for several minutes until creamy.  Add in milk, vanilla, cinnamon & salt and continue to beat until frosting is light and fluffy and spreadable consistency.  Spread icing on top of cooled cupcakes, or place in ziploc bag and cut the tip off and pipe onto cupcakes.