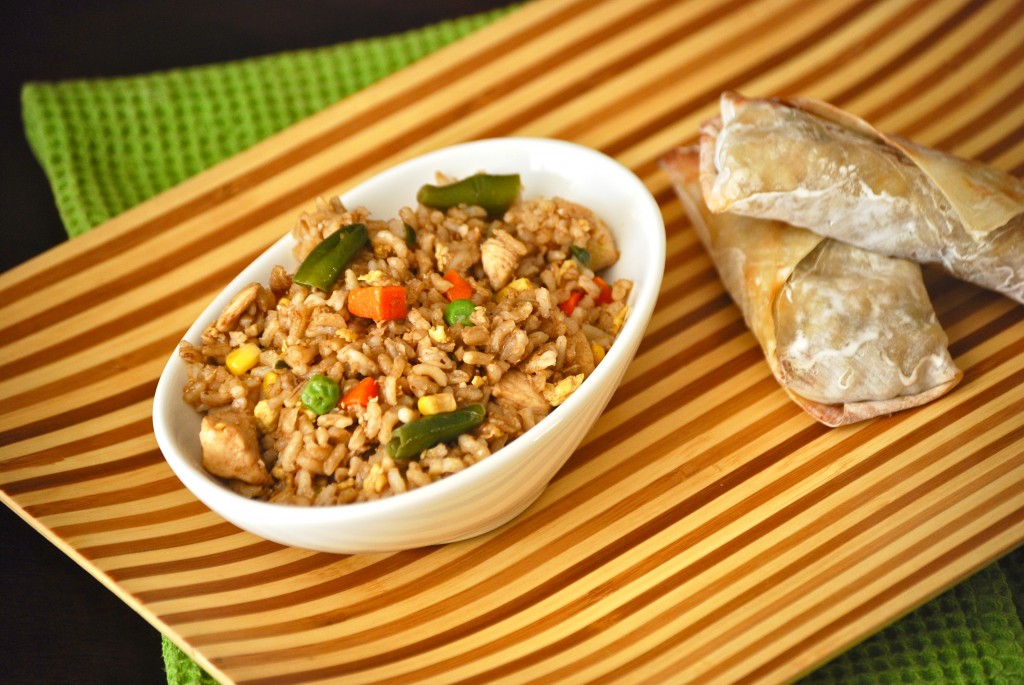 I'm not a huge Chinese food person.  I like about 3 entrees of chinese: beef & broccoli, lettuce wraps and I absolutely LOVE chicken fried rice! Especially the kind from the mall food court, right?! But it is super greasy and I can't imagine how many calories, so I thought I would try an at home version that I came across.  This was really good and gave me that chinese food fix without all the calories and grease.  It was fairly easy to pull together if you chop and place out all your ingredients ahead of time and have them ready to throw in.  I served these alongside of baked egg rolls (which are so good)!
Healthier Chicken Fried Rice
Source: Iowa Girl Eats
Serves 4
Ingredients:
4 cups cooked brown rice*
2 boneless skinless chicken breasts, cut into bite sized pieces
Salt & Pepper
1 cup frozen mixed vegetables
2 green onions, chopped
2 cloves garlic, minced
2 eggs
4 tsp. sesame oil, divided
1/4 cup low sodium soy sauce
Directions:
Prepare, chop and measure out all ingredients so they are ready to throw in when you need them. Whisk the two eggs together with 2 tsp. sesame oil, set aside. Season chicken pieces with salt  & pepper.
In a large skillet or wok, heat 1 tsp. sesame oil over medium heat. Add chicken to skillet and cook, stirring frequently until chicken is cooked through.  Once chicken is cooked, remove from skillet and transfer to a plate.
Add remaining tsp. sesame oil to skillet. Stir in the mixed vegetables and green onions and cook for approximately 2 minutes, until fork tender.  Add in garlic and cook about 30 seconds more.  Scoot vegetables to the side of the skillet and add in your egg mixture and scramble the eggs.
Once eggs are scrambled, add the chicken back to the skillet along with the cooked brown rice and soy sauce.  Stir together until everything is fully incorporated.  Cook for a few minutes until heated through.  Serve with additional soy sauce for drizzling over top.
*Note: It is best to use rice that you cooked at least one day prior and stored in the refrigerator.  Maybe use leftovers from a previous meal, or I just cooked the rice specifically for this dish one day ahead.