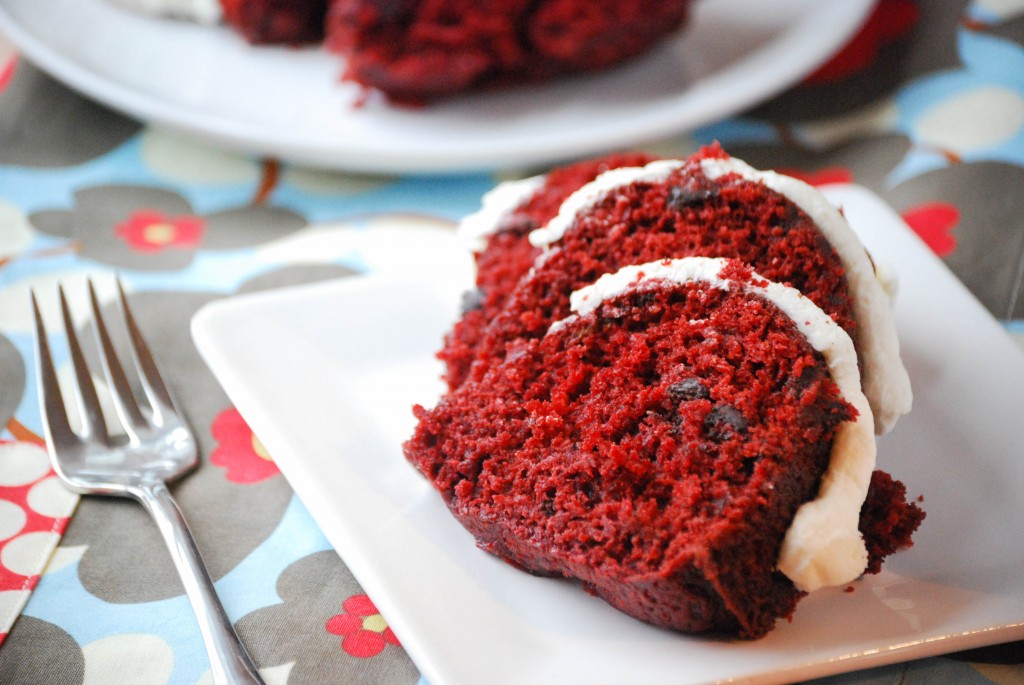 Happy Birthday to my wonderful husband Adam!! Today is his birthday and this is the cake I made for him to celebrate.  I sliced it up and sent it to work with him today so that he would have cake to share with his coworkers and then also some to keep here at home.  I've mentioned it before but we love the cakes from Nothing Bundt Cakes but don't live near one (we could've had it delivered but I didn't think far enough ahead), so I set out to find a recipe that might be similar.  This cake came very close! It was so moist and I added the chocolate chips just like they do at Nothing Bundt Cakes. This really makes the cake and adds great flavor! I topped the cake with white chocolate buttercream and it took it to a whole 'nother level! This cake is rich, moist and definitely a crowd pleaser!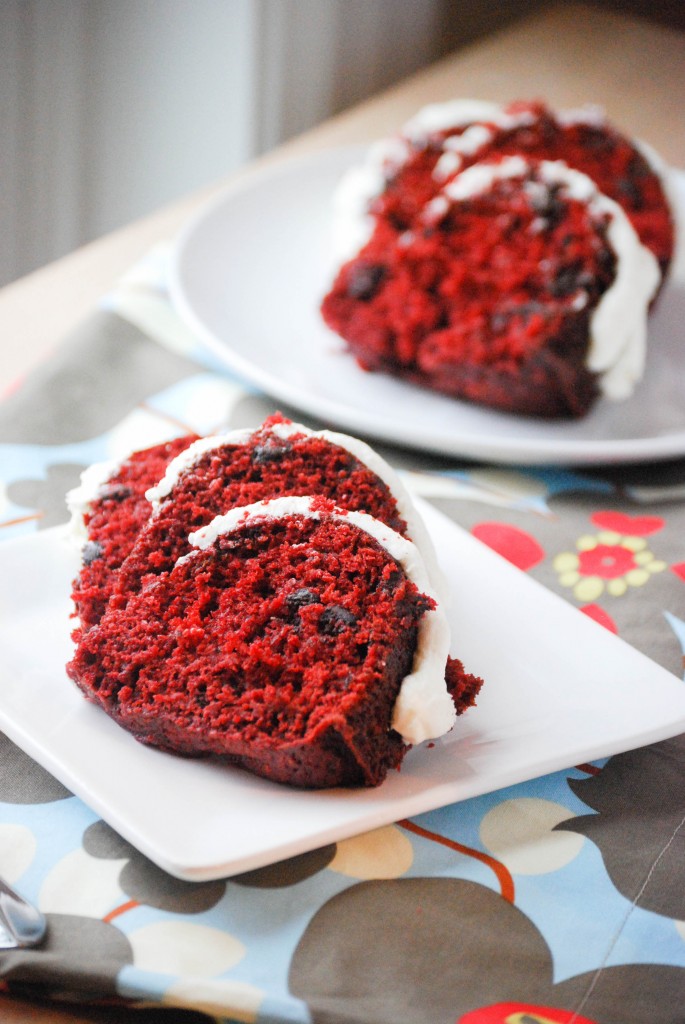 Red Velvet Chocolate Chip Bundt Cake
Source: Cake from Bird on a Cake, Frosting from How Sweet It Is
Ingredients:
2 eggs
1 cup vegetable or canola oil
1 tbsp. white vinegar
1 tsp. vanilla
1 cup buttermilk
1 ounce "no taste" red food coloring
2 1/2 cups all purpose flour
2 cups sugar
1 tsp. baking soda
1 tsp. salt
3 tbsp. unsweetened cocoa powder
3/4 cup semi-sweet chocolate chips
White Chocolate Buttercream Frosting
Directions:
Preheat oven to 325 degrees.  Spray a bundt pan liberally with cooking spray, set aside.
In a medium sized bowl, add eggs and whisk until beaten.  Add in the vegetable oil, vinegar, vanilla, buttermilk and red food coloring. Whisk together until fully incorporated, set aside.
In the bowl of a stand mixer, add in the flour, sugar, baking soda, salt, and cocoa powder.  Mix briefly on low to combine. With the mixer on low, slowly, pour in the wet ingredients.  Increase speed to medium and beat until incorporated. Remove bowl from stand and stir in chocolate chips until evenly distributed.
Pour batter into your prepared bundt pan.  Bake for approximately 50 to 55 minutes, until a toothpick inserted comes out with just a few moist crumbs attached.  Keeping cake in the pan, place pan on top of a cooling rack to cool completely.
While cake cools, prepare your frosting.  Once cake is completely cool, turn pan out onto your serving dish. Frost with the white chocolate buttercream frosting. Store leftovers in an airtight container at room temperature.