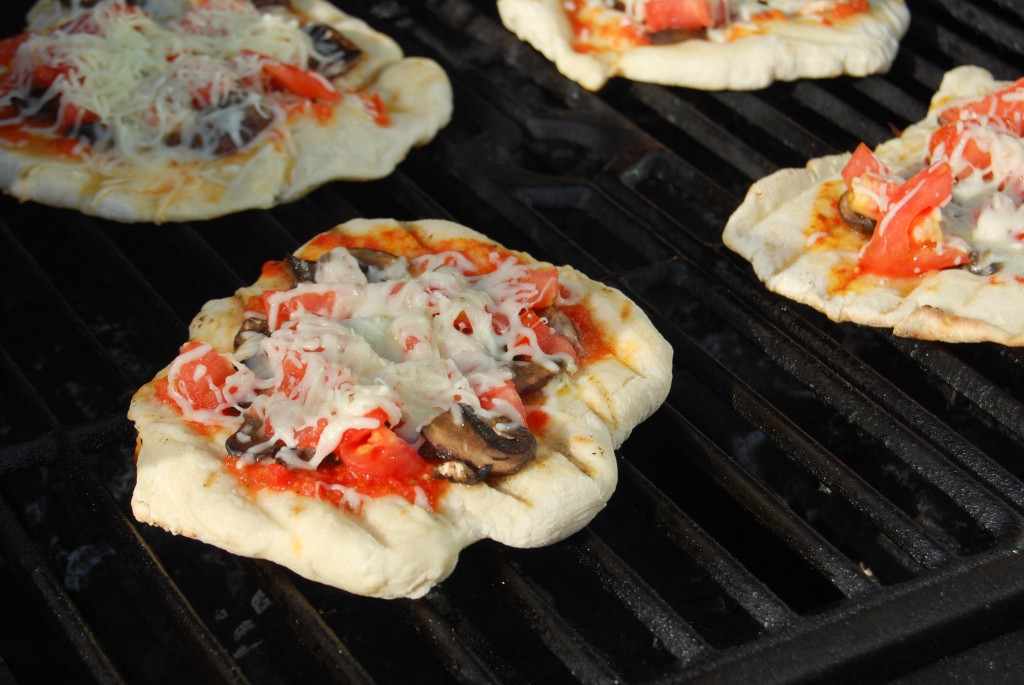 I've been wanting to utilize our grill for more than just chicken and burgers for a while now and I remembered seeing Ina Garten grill pizza on one of her Barefoot Contessa episodes and I knew immediately that was the thing to try.  I also thought it would be fun to try more of a flatbread crust to make individual sized pizzas instead of regular pizza dough and it worked great! The flatbread had a nice crunch but yet chewy texture at the same time and the smokiness from the grill added so much! Plus it was just cool to say we put pizzas on the grill! This is so versatile and you can customize with your favorite toppings!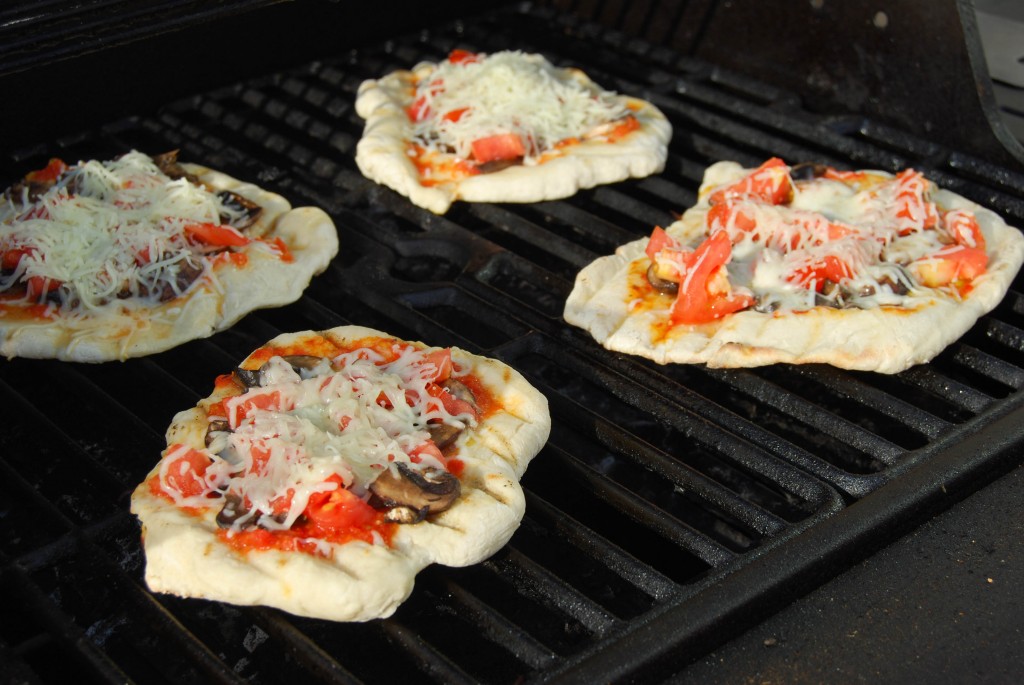 Grilled Flatbread Pizza
Source: Flatbread recipe from Chef-in-Training, originally from Mel's Kitchen Cafe
Makes 4 individual pizzas
Ingredients:
For the Flatbread:
1 1/2 to 2 cups all purpose flour
1/2 tsp. salt
1/4 tsp. instant yeast
3/4 cup milk
1/2 tsp. sugar
1 tbsp. butter, melted
For the Pizza Toppings:
Pizza Sauce
1 tomato, diced
1 cup mushrooms
Mozzarella Cheese
Directions:
For the Flatbread:
Heat milk in a liquid measuring cup in the microwave until warm (approx. 110 degrees).
In the bowl of a stand mixer, add the warmed milk, sugar, yeast, salt and 1 1/4 cups flour.  Mix until incorporated. You want a soft slightly tacky dough that clears the sides of the bowl.  If too sticky, add in flour 1/4 cup at a time until the dough comes together.
Using the dough hook on the stand mixer, knead the dough on medium speed for approx. 3 to 5 minutes, until smooth.
Spray a large bowl with cooking spray and place dough into the bowl. Cover loosely with plastic wrap.  Let rise in a cool area for approximately 2 hours.
After dough has risen, lightly flour a clean surface and divide dough up into four equal sections.  Roll each section into a ball.  Cover with a kitchen towel and let set for 30 minutes.
After 30 minutes, lightly flour a clean surface to roll out dough.  Roll each ball of dough out into a 6 to 8 inch circle, flouring as needed.  Lightly brush the tops of each circle of dough with water.
For the pizza:
Heat grill to medium low heat (approximately 325 degrees).  While grill heats up, prep your toppings.  Dice tomatoes and gather the sauce & cheese.
Place 1 tbsp. olive oil in small skillet over medium heat.  Add mushrooms and saute until they have shrunk slightly and darkened in color. Remove from heat, set aside.
Once grill has preheated, spray grill liberally with cooking spray. Place each circle of flatbread dough onto the grill.  Heat for approximately 3 to 5 minutes until light grill marks appear and they begin to puff slightly.  Flip to the opposite side and brush the tops with melted butter.  Spoon pizza sauce over top and then top with desired toppings (tomatoes, mushrooms & cheese).  Grill for approximately 3 to 5 minutes more, or until cheese melts.  Remove from grill and serve immediately.
Notes:
*Alternatively you can bake flatbread in a 500 degree oven on a pizza stone.
**Since you serve the pizza immediately, I would recommend having your side dishes prepped and ready to go.  I served this with salad & fruit salad and made them ahead of time.