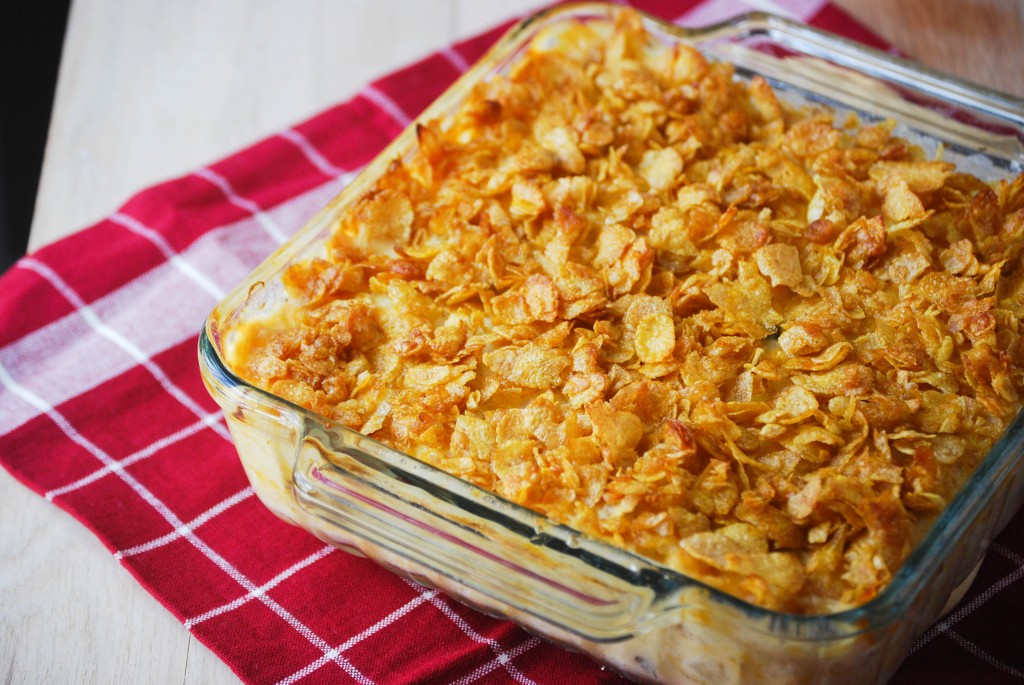 This was one of my favorite dishes my mom made growing up! It is such a great side dish and is perfect for a potluck or cookout.  I used fresh potatoes, but you can certainly sub with frozen hash browns and save some time.  This dish does call for cream of chicken soup, but I used some homemade cream of mushroom that I had on hand. It's super easy to make from scratch and then you can keep it in the freezer to use in casseroles, etc.  This may not look like much, but trust me, your family and friends are going to love it! I halved the recipe below and we got 3 or 4 meals out of it for the two of us.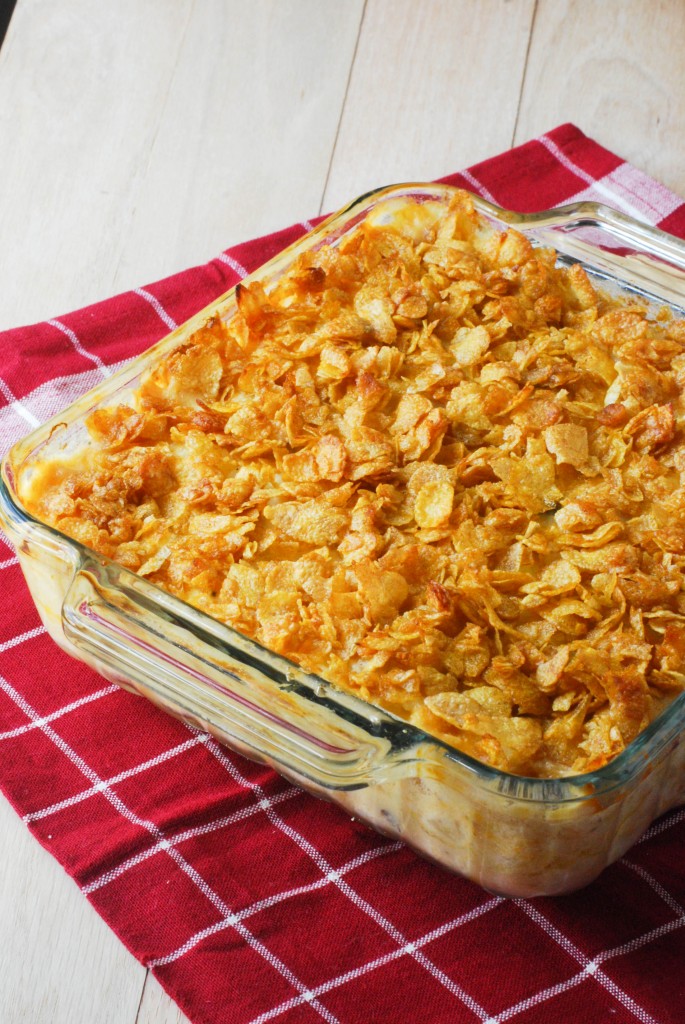 Hash Brown Casserole
Source: My Mom
Ingredients:
1 5 lb. bag yukon gold potatoes, peeled, cubed & boiled*
16 oz. light sour cream
1 onion, chopped
1 can cream of chicken or mushroom**
8 oz. sharp cheddar cheese, grated
1/2 cup milk
1 1/2 to 2 tsp. salt
1/4 to 1/2 tsp. freshly ground black pepper
For Topping:
1/2 cup butter, melted
2 cups cornflakes, lightly crushed
Directions:
Peel and cube up your potatoes.  Place in a large pot and cover the potatoes with water.  Bring pot of potatoes to boil and let boil for 30 minutes.  Drain and let cool.  (Can refrigerate at this point and then when ready to assemble casserole take out just ahead of time to get the chill off).
Preheat oven to 350 degrees.  Spray a 9 x 13 glass baking dish with cooking spray, set aside. (Can also use two 8 x 8 or 9  x 9 dishes).
In a very large bowl, combine sour cream, onion, cream of chicken or mushroom, grated cheddar, milk, salt & pepper. Stir to combine.
Add in potatoes and toss to coat, may want to taste and add more salt & pepper if necessary. Pour mixture into prepared baking dish and spread evenly.
In a medium sized bowl, combine melted butter and lightly crushed cornflakes. Stir to coat cornflakes.  Spoon cornflake mixture over top of the potato mixture in the baking dish, evenly distributing.
Bake for approximately 50 minutes, until bubbly and cornflakes are crunchy.  Serve warm and store leftovers in an airtight container in the refrigerator.
Notes:
*Can use 1 large bag frozen cubed hash browns
**Can use this homemade cream of chicken or mushroom soup
***To reheat: Bake in oven at 350 degrees for approximately 15 to 20 minutes, until bubbly and heated through.