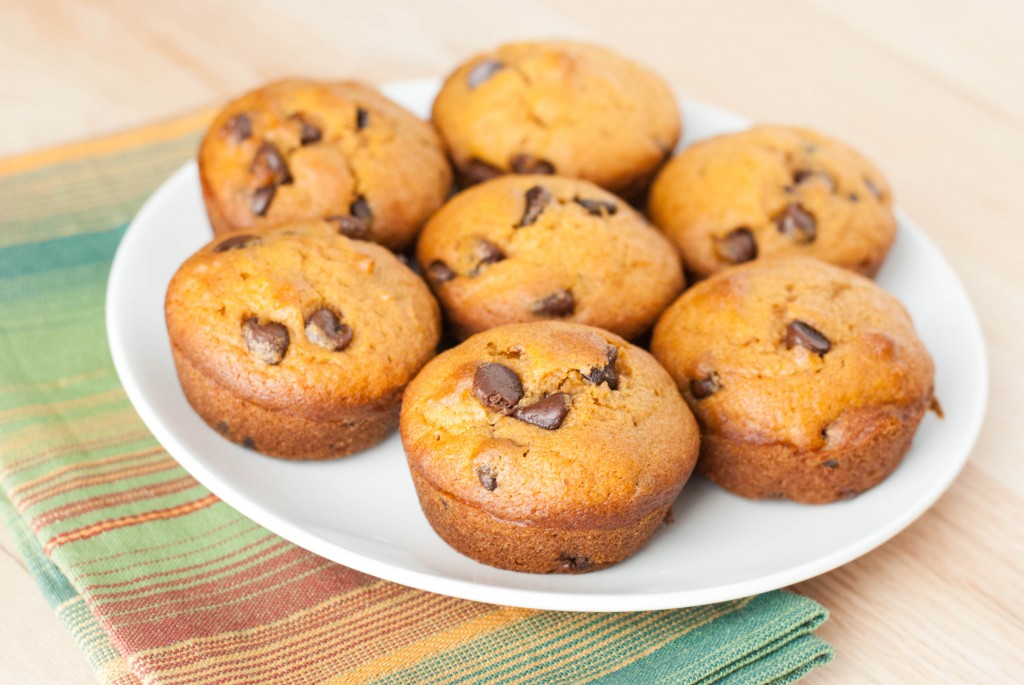 After making the pumpkin cheesecake and pumpkin roll bars, I had one can of pumpkin left from the few I picked up at the grocery and I just HAD to use it! 😉 I went to a mom's conference recently and at one of the breakout sessions, the speaker gave everyone a recipe for these pumpkin chocolate chip muffins. She said they were the kind that were fail proof and everyone always asks her for the recipe, so I knew I needed to try them.  These definitely lived up to the hype! The muffins were so moist and the chocolate chips gave them just the right amount of sweetness.  The recipe below makes approximately 30 to 32 muffins, but this recipe is easily halved if you aren't feeding a crowd. Or you can do like I did and keep some out and put the rest in the freezer for an easy breakfast treat.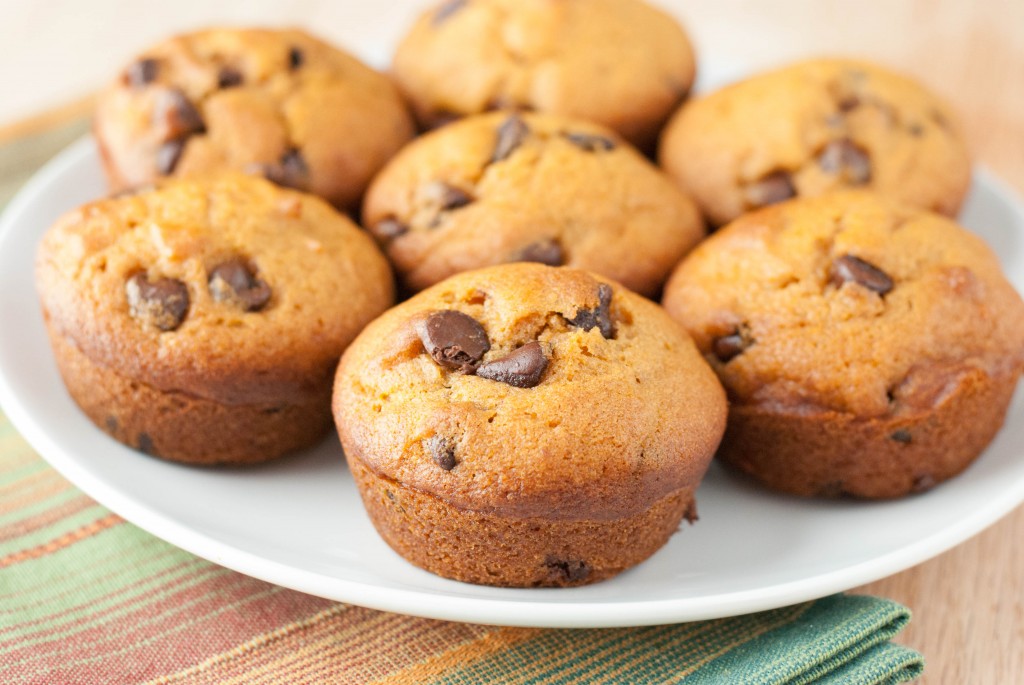 Pumpkin Chocolate Chip Muffins
Source: Angela Thomas
Makes approximately 30 to 32 muffins
Ingredients:
4 large eggs
2 cups sugar
1 can (15 oz.) pure pumpkin
1 1/2 cups canola oil
3 cups all purpose flour
2 tsp. baking soda
2 tsp. baking powder
1 tsp. ground cinnamon
1 tsp. salt
2 cups semi-sweet chocolate chips
Directions:
Preheat oven to 400 degrees.  Fill muffin tins with paper liners, or spray liberally with cooking spray, set aside.
In the bowl of a stand mixer, add eggs, sugar, pumpkin, & oil.  Beat together until fully incorporated.
In a separate medium sized bowl, whisk together the flour, baking soda, baking powder, cinnamon & salt. With the mixer on low speed, gradually add the flour mixture into the pumpkin mixture until incorporated.
Remove bowl from stand and stir in chocolate chips until evenly distributed.  Using a large cookie scoop, scoop batter into the prepared muffin tins, filling approximately 2/3 full.
Bake for approximately 16 to 20 minutes, until a toothpick inserted comes out clean.  Let cool in pans for just a minute. Then run a knife around the edge of the muffins and pop out of the pan.
Place muffins on a cooling rack to cool completely. Store in an airtight container at room temperature.