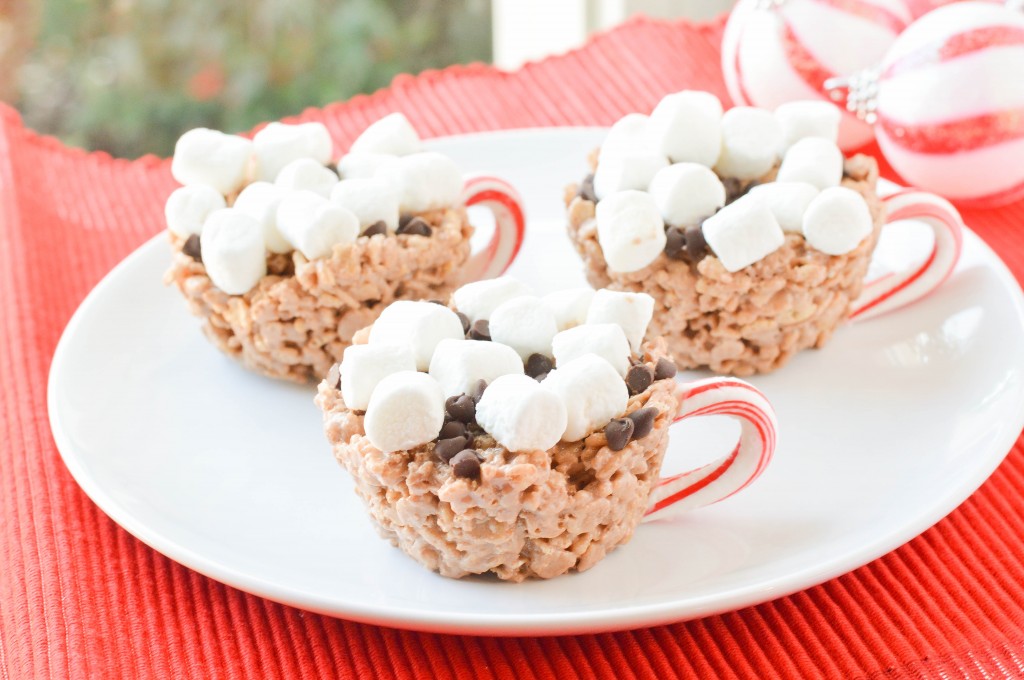 I don't know about you but I absolutely love hot chocolate! Adam & I have the tradition of baking & decorating a fun treat at Christmas every year. One year it was a Gingerbread house complete with skating rink, a few years it's been sugar cookies. This year we were brainstorming of making a treat that looked like a mug of hot chocolate. I thought why not make a treat that tastes like it too! Turns out I'm not the first to think of hot chocolate krispie treats, but we twisted it up a bit & made them into little cups and topped them with marshmallows. These turned out even cuter than I imagined! And they taste Ah-mazing!! I am already planning to make another batch to take to our family Christmas gathering.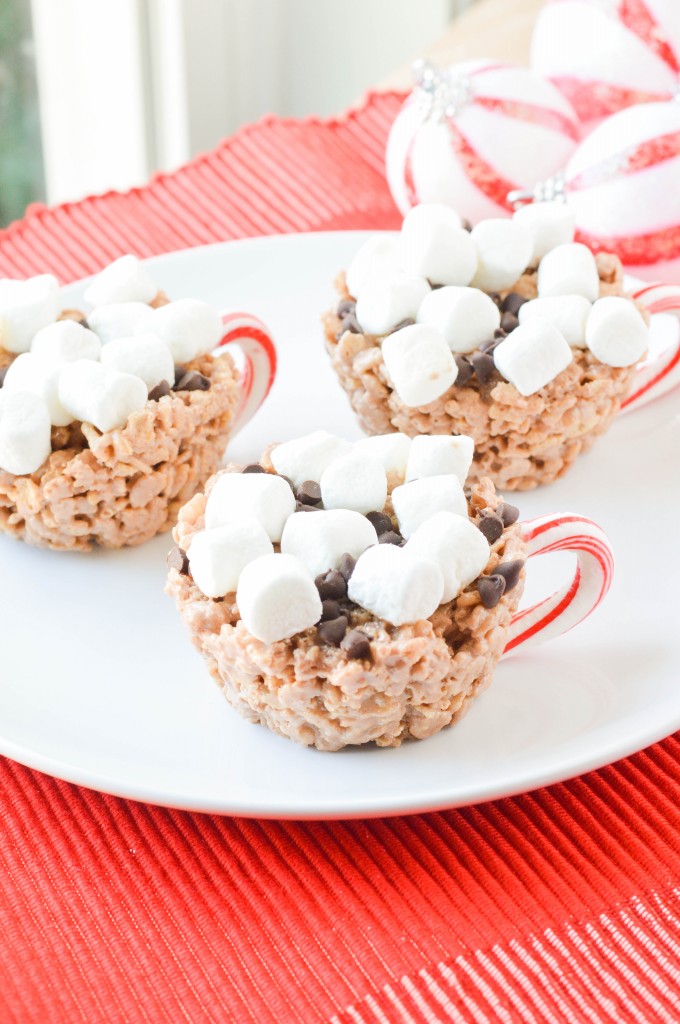 Hot Chocolate Rice Krispie Treats
Source: Just Us Four/Sweet As A Cookie
Makes approximately 18 cups or 1 9 x 13 pan
Ingredients:
For Treats:
6 cups Rice Krispies Cereal
4 1/2 tbsp. butter
1 1/2 tsp. vanilla
1 & 1/2 (10 oz.) bags mini marshmallows
2/3 cup hot chocolate mix (approx. 4 packets)
For Topping:
Approx. 1 1/2 to 2 cups mini marshmallows (about 10 per cup)
Approx. 1/4 cup Mini Chocolate Chips
Directions:
Spray cupcake tins with cooking spray (or a 9 x 13 pan), set aside.
Pour Rice Krispies into a very large bowl, set aside.
In a large pot, add butter and vanilla and heat over low heat until butter is melted. Add in marshmallows and cook until melted, stirring frequently. Add in hot chocolate mix and stir until fully incorporated. Remove mixture from heat.
Pour mixture over Rice Kripies and gently stir until krispies are completely coated.
Spray your hands or spoon with cooking spray and press krispie mixture into prepared cupcake tins, filling each completely full. Once full, press on the tops gently with the back of a spoon or spatula to compress together.
Top each cup with approximately 10-12 mini marshmallows and sprinkle with mini chocolate chips. Press down slightly to make sure they attach to the treats. Let set for about 10-15 minutes, until cooled & set. Run a knife around each cup and pop out. Store in an airtight container.
If you would like to attached the "handles" on the sides. Cut the curve off of a mini candy cane. Melt a little chocolate or almond bark and dip the edges of the candy cane into the melted chocolate and attach to the cup and let set.
Notes:
*As I mentioned, you can make these in a 9 x 13 pan instead, you will just have to cut into squares.
*If you want to make these even more festive, once the cups are set, melt some almond bark in the microwave. Flip the cups over and spoon almond bark over the bottoms and sides and then decorate with m&ms. Let cool until almond bark has set.