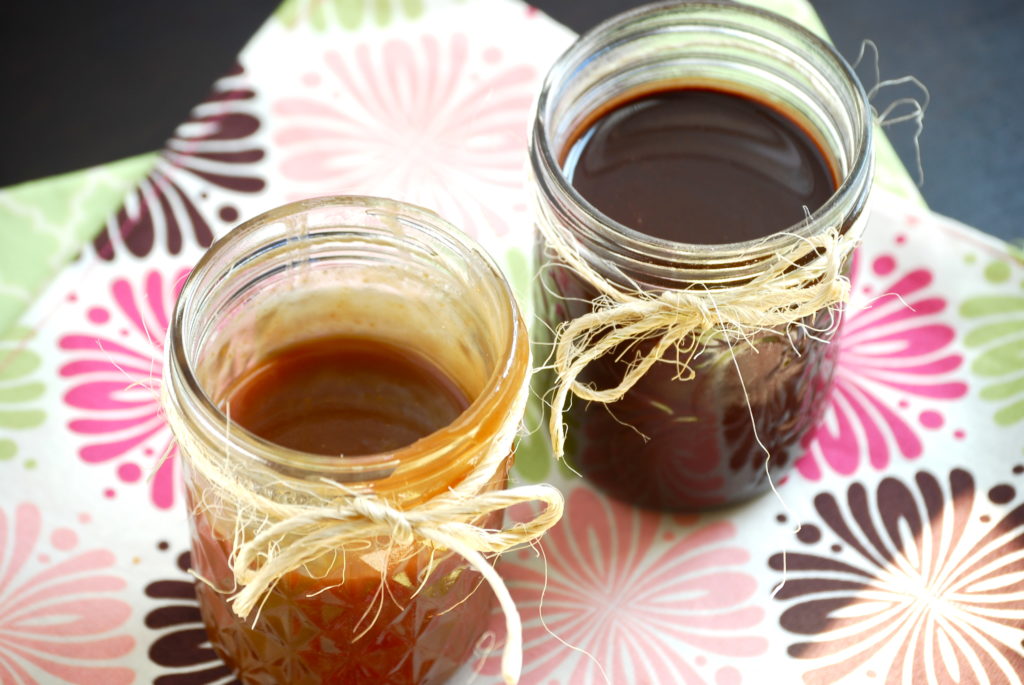 So last week I promised you this recipe for the homemade caramel that I used on the butterfinger cake, so here it is! This sauce is seriously amazing! It's sweet and gooey and I kept going back for little tastes (with a clean spoon of course)! I could hardly stay out of this stuff.  This would be perfect to top ice cream or to swirl into a batch of brownies.  They would also make great gifts around the holidays. For the sake of full disclosure, it did take me 3 batches to get this caramel right.  The first batch was so close, but I burned it. The second was great in color and consistency, but I added too much salt for my taste, and just like goldilocks, the third batch was "Just Right."  My candy thermometer is apparently not the best, so I just had to eyeball it on the color of the sugar mixture.  You want to remove from the heat as soon as the mixture turns a deep yellow and begins to turn brown.  The first time I waited until it was all a light brown and it was too late.  So this is one of those, hold your mouth right, can be a little tricky kind of recipes.  Once you get it right, it's phenomenal and so worth the three tries it took me.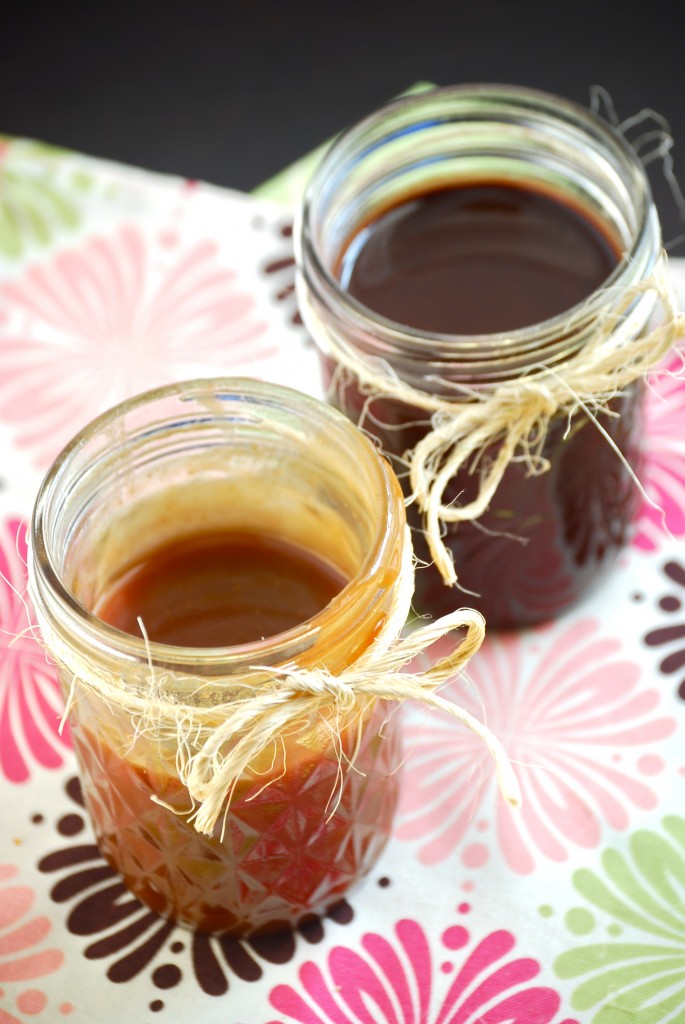 Homemade Caramel Sauce
Source: My Baking Addiction
Ingredients:
1 cup sugar
1 tbsp. corn syrup
1/4 liquid cup water
1/2 liquid cup heavy cream, heated until warm
2 tbsp. unsalted butter, softened
pinch salt
1 tsp. vanilla
Directions:
In a heavy pot (one that holds at least 5 cups), add the sugar, corn syrup and water. Stir together until the sugar is moistened completely.  If using a candy thermometer, place in pot at this time, ensuring that tip is all the way in the sugar mixture.
Heat over medium heat, stirring constantly, until sugar dissolves and the mixture is bubbling. (If crystals begin to form on the sides of the pot, wipe them down using a heat safe brush dipped in water). Stop stirring the mixture and allow to come to a boil until it begins to turn color.  Once the mixture becomes a deep yellow and has a hint of brown, remove it from the heat.  Very carefully, slowly pour the warmed heavy cream into the caramel mixture.  This will bubble up like crazy.
Using a heat resistant spatula, stir the mixture until no longer bubbling and smooth, scraping up any bits on the bottom. Add in the butter and pinch salt and stir together.  Allow to cool for 3 minutes, then slowly stir in the vanilla.
Allow to cool slightly and pour into containers for storage or serve over top of ice cream or use in your favorite brownie or cookie recipe.
Store any extras in a sealed container in the refrigerator.  Will keep for approximately 3 weeks. To reheat, place in a microwave safe container and heat in 20 second intervals until it is a smooth pourable consistency.