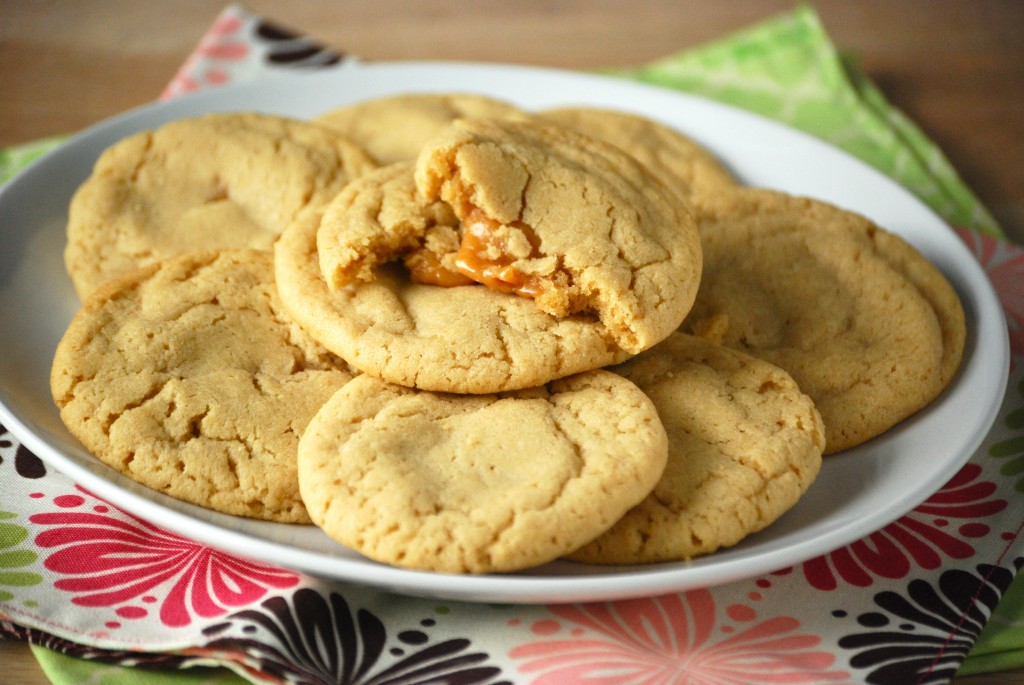 I know I've gone a bit apple crazy this month, making the apple cake, muffins and now these cookies, but I just couldn't help myself.  I had seen these on Pinterest and just couldn't resist trying them out.  I love apple cider and these cookies had all the flavors of apple cider and a sweet yet tart flavor and I loved the creamy caramel in the middle .  When these are slightly warm the consistency of the cookie is fabulous! Soft with just a slight crunch. The only thing I would say is that these cookies aren't the best to take to a party, unless you can serve them warmed or are serving hot drinks and then they are perfect after sitting over a mug of cider, coffee or cocoa.  You can also microwave them for 7 to 10 seconds to get the same effect.  The recipe below makes 50 cookies, but I halved it to make 25.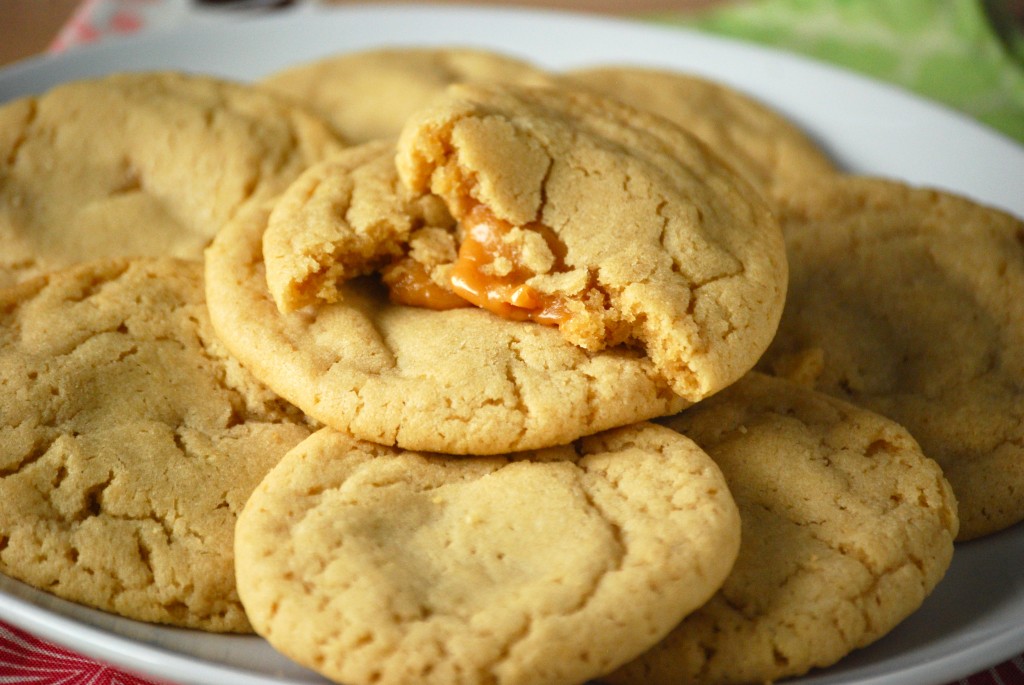 Caramel Apple Cider Cookies
Source: The Cooking Photographer via Scrambled Henfruit
Makes Approximately 50 cookies
Ingredients:
1 cup unsalted butter, nearly melted
1 cup sugar
1/2 tsp. salt
1 (7.4) ounce box Alpine Spiced Apple Cider Instant Drink Mix (not sugar free)
2 eggs
1 tsp. vanilla
1 tsp. baking soda
1/2 tsp. baking powder
3 cups all purpose flour
1 (14 oz.) bag Caramels
Directions:
Preheat oven to 350 degrees.  Line baking sheets with parchment paper, set aside (it's important to use the parchment since the caramel will stick a bit), set aside.
In the bowl of a stand mixer, add butter, sugar, salt & all 10 packets of apple cider mix.  Beat until smooth and fully incorporated.  Add in eggs & vanilla and mix to combine.  Mix in baking soda & baking powder, then with the mixer on low, add in the flour a little at a time until just incorporated.
Using a small cookie scoop, scoop out the dough.  Place  dough into the palm of your hand and flatten the dough.  Place a caramel in the center of the dough and then wrap the dough around the caramel, completely coating it.  Then roll into a ball in your hand to seal it.  Place on prepared baking sheets, two inches apart.
Bake for approximately 12 to 14 minutes.  Cookies should be light in color and not quite fully set.  I baked the first batch until golden around the edges and they came out a bit too hard.
Once you remove the baking sheet from the oven, carefully transfer the parchment paper with the cookies to the counter. Let cool just until you can touch them without burning your hand and twist each cookie off of the parchment.  Cool on a cooling rack, top side down so that the caramel doesn't stick.  Store in an airtight container.
*These cookies are best served after sitting over a warm drink for a few minutes to soften up.  Or you can microwave them for 7 to 10 seconds, top side down, to soften up slightly.   Also, if the cookies cool too much before you twist them, freeze them for a bit and then twist them off.